by Linda Burlingame
Branson offers many shows and attractions that elicit "Ooh's" and "Ah's," but around the Fourth of July those exclamations are for area fireworks displays that light up the night skies. The Fourth is right smack in the middle of the week this year … start celebrating before the end of June and let the good times keep rolling!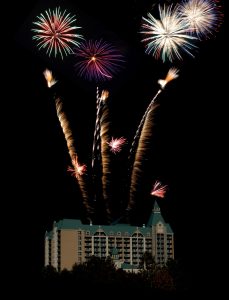 The Branson Ferris Wheel on the "76 Strip" presents Summer Boomapalooza June 29th at 7:30 pm — live music, food trucks, and fireworks. Kimberling City's annual Fireburst is June 30. Boat on over to the Kimberling Bridge for this show! Branson Landing's Liberty Light Up Concert is July 3. Chateau on the Lake Resort & Spa has their annual celebration July 4. Yakov Smirnoff "Famous Russian Comedian" has shows July 6 & 7. Yakov has a comic, and sometimes poignant, take on being an American, "What a Country!"
For fun in the daylight hours you have a long list of options. Branson Zipline & Canopy Tours at Wolfe Mountain, just a few miles north of Branson, offers a several ways to enjoy the Ozarks in the beautiful Wolfe Mountain Preserve. Take one of several Zipline tours. The Avalanche tour has three ziplines, a ride in a Pinzgauer Swiss Army Troop Carrier, and two sky bridges. The Canopy Adventure has two Pinzgauer rides, eight ziplines, and ten sky bridges! There are more Zipline adventures and a one and a half mile Walking Tour that includes a Pinzgauer ride.
Branson's oldest attraction has something new: The Shepherd of the Hills ATV Adventures. Get hands-on instruction, then head for the hills! (Must be 21 to drive.) Make time for the Vigilante Extreme ZipRider, and that evening come back for the famous outdoor drama, The Shepherd of the Hills.
Runaway Mountain Coaster is one of the new mountain coasters in Branson. This "low profile" coaster uses natural topography to propel you down the hill to wind through the trees. Lots of ways to enjoy the scenery around here!
Another out-in-the-woods adventure is a visit to the National Tiger Sanctuary, just a few miles north of Branson. I love seeing the big cats in their large, outdoor areas. Tours are guided as you walk through the sanctuary. I was impressed with the cleanliness and the demeanor of the animals. They've been rescued from some unhappy situations and are now just happy to play … and watch you watch them!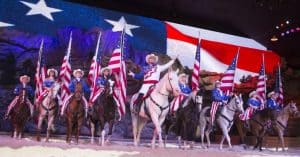 Food is an important part of vacation; I think Dolly Parton's Stampede is a great choice. Dolly says, "It's the most fun place to eat in Branson, I guarantee it!" I agree; the food is wonderful. It's prepared in state-of-the-art kitchens at the Stampede, and enthusiastic servers get it to you hot and fresh. (The Creamy Vegetable Soup is the best. And, it's available in the gift shop! You're welcome.) 2018 is the Stampede's 24th season here. Thirty-two magnificent horses and a cast of skilled riders perform amazing stunts in the beautiful 35,000 sq. ft. arena. Add spectacular special effects, comedy escapades, a "buffalo" stampede (six tons of American bison!), musical productions, longhorns, wild horses, friendly competitions — like Canine Capers this year's new Cowboy Joust. Be sure you arrive early, to enjoy the Horse Walk and meet the equine stars of the show, gleaming and polished — both "stars" and stalls!
Back at the west end of "the Strip," you'll find Butterfly Palace & Rainforest Adventure. The aviary is the main attraction in the multi-storied venue. It's enchanting, home to more than a thousand butterflies; this botanical garden is filled with lush greenery, towering palms, a waterfall, orchids and other exotic plants. Between 500 and 700 butterflies in the Chrysalis (pupa) stage are imported each week, from butterfly farms in countries like Costa Rica, Australia, Columbia … farms that are a vital part of the rainforest. In smaller countries it may be their only way of life. The project also promotes rainforest preservation. You'll also enjoy the Banyan Tree Adventure, Rainforest Theater, the Emerald Forest Mirror Maze, and the Living Rainforest Science Center. Have fun!
Back down the road, Ride the Ducks is a fun-for-the-entire-family land and lakes adventure. The Ducks are modeled after WWII DUKW-353 amphibious vehicles. Originally designed to transport men and supplies from offshore cargo ships to beaches during the war, they traveled so slowly in the water (six mph) that they were nicknamed "sitting ducks." (Two thousand were launched on Normandy Beach; forty percent were destroyed.) The Ride the Ducks – Hwy 76 tour transports you down the "Strip," across Table Rock Damn, up to the top of Baird Mountain (great views!), then to a gentle splash into Table Rock Lake. What fun! On Ride the Ducks – Branson Landing tour, you'll see Historic Downtown Branson and then slip into Lake Taneycomo for a view of that shoreline. Your Ducks captain will share some history and anecdotes … and yes, a few tall tales!
Branson Landing is home to Parakeet Pete's Waterfront Zipline. Sit down, get strapped in, and zip up to the top of the bluff on the other side of Taneycomo — what a view from there! With all the exciting adventures Branson offers, you might think about adding a safari hat to your vacation wardrobe!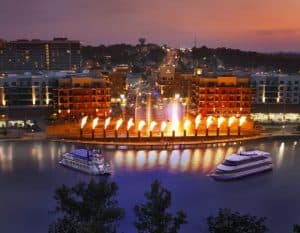 South of the Landing, Main Street Lake Cruises Landing Princess on Lake Taneycomo is a quiet, elegant way to enjoy an evening. Glide along the lake in this extraordinary 100-ft. yacht while enjoying a fabulous meal in an elegant setting. Chicken Marsala and pork tenderloin with béchamel sauce are two savory entrees … and oh, the chocolate raspberry cake! There's a cash bar; there are two climate-controlled decks for viewing. It's a pretty shoreline; dogwood, cottonwood, sassafras, oak, black walnut — hundreds of varieties of trees, along with ducks, geese, Great Blue Herons. The American Bald Eagle, nesting nearby, often makes an appearance, too! Check out other activities at Main Street Marina, the Lake Queen Cruise, Craig Cats (so-o-o much fun!) and Paddle Wheel Restaurant.
Branson has legendary live music shows; right now Branson Tourism Center has some nice offers for you on show tickets. Check that out by following this link HERE
Whatever you do, enjoy your Fourth of July holiday in Branson and come see us again soon!