Branson is world famous for live music shows, but Branson live entertainment offers more than incredible music; you might even say our shows are magical!
From sleight of hand to large scale illusions, from charming trickery to mystifying magic of monstrous proportions, Branson plays host to an array of delightful, enchanting artists of prestidigitation. These masters of magic can be found throughout Branson's theater community; they headline their own shows, and have featured roles in music shows. There are also shows with acts so incredible, it's hard to believe that magic plays no part…acrobats, dancing animals, and more can be found in Branson, making just about every show feel magical!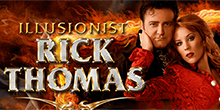 Illusionist Rick Thomas was bestowed with the coveted World Magic Award of Magician of the Year and honored as the Stage Magician of the Year by the Academy of Magical Arts. Trained in the art of ballroom dancing as well as in the world of illusion, Thomas is exceptionally skilled at bewitching you with magic, dazzling you with dance, and weaving it all together with beautiful music. He's a globe traveling, world class artist of enchantment, who begs the question …is it just an illusion…or is it truly magic?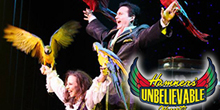 At Hamners' Unbelievable Variety, you'll discover a truly beautiful show, a collection of brilliant fabrics expertly sewn together with the golden threads of music and magic! Exotic birds, gorgeous costumes, and fascinating entertainers bring you amazing feats of magic, edge-of-your-seat acrobatics, and exceptional dance. Enjoy magicians Dave and Denise Hamner; singing impressionist, Jeff Brandt; vocalist, Tamra Tinoco; dancer/choreographer, A.J. Heard; and dancer, Ken Brown.
There's magic everywhere, and then there's the magic found only in Branson! Grand illusions, escape artists, sleight-of-hand trickery, disappearing magicians, and spell-binding wizardry that's at once edgy enough to capture the imagination of the most skeptical teenager, and genuinely friendly enough to delight the youngest fan in the family, you'll find all this and more, so what are you waiting for…come fall under the spell of Branson!
Give us a call to see how we can help!
1-800-785-1610 Web Code ---