All Day Fun!
It was just past breakfast time, and Main Street Marina on Lake Taneycomo was already bustling. A young couple was heading out on hydro bikes. A lady and her granddaughter chose to take an Eco-Tour on the exciting, sometimes high-speed, CraigCats®! Families were making reservations for the lunch sightseeing cruise on The Lake Queen and the dinner cruise on The Landing Princess. Others folks were considering the kayaks or standup boards. There's a myriad of activities that delight visitors at Main Street Marina. All day lake fun for all!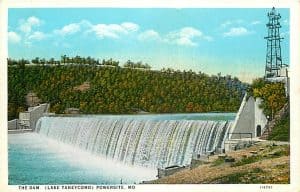 Lake Taneycomo was the first lake on the White River, created when Powersite Dam was built in 1913. The 85 ft. Lake Queen is a replica of early paddlewheelers that navigated the river; on the sightseeing lunch cruise (two tours, most days) your Coast Guard Certified Captain shares some history of the White River – from the days when Osage Indians were local residents, to 1880 when Reuben Branson opened a trading post on the river, to Branson today. Much of the shoreline is covered with trees and limestone outcroppings and is home to all kinds of creatures, great and small, much like generations ago. In some areas, steep bluffs give way to lawns that slope gently down to the water. Most tours have the rare pleasure of seeing an American Bald Eagle. And those gangly Great Blue Herons? They seem to pose for passengers. Spotted on logs or roofs of docks, they are almost camouflaged by their shape as well as their calm, quiet ways. Missouri is home to hundreds of varieties of trees. Dogwood, cottonwood, sassafras, cedar, buckeye, sycamore, black walnut, several species of oak – they give the shoreline stunning changes with the seasons.

While you're enjoying gliding along the water, a light lunch is served. (Perfect after that breakfast buffet at the hotel, right?) Food for the sightseeing cruises and the evening dinner cruise on The Landing Princess is prepared in house and served fresh. Hot food is hot, and cold food is cold. Lunch selections include a ham or turkey croissant. The cash bar offers themed cocktails like "Lake Water" and "A Crooked Sailor," as well as fruit smoothies and other drinks the kids enjoy. "Kids of all ages" enjoy a turn at "driving" the boat.

The Landing Princess dinner cruise is enjoyable for families, perfect for couples, and the 100 ft. luxury yacht is also available for corporate events, reunions, birthdays, weddings – there's even a bridal changing room on board. The event coordinator can help make your event an affair to remember. Dinner is an elegant experience. Both decks are climate controlled, and every beautifully set table offers the perfect spot for enjoying the scenery as the Princess slips along. The gracious and attentive wait staff doesn't rush you, if you want to take time between courses to explore another deck or just relax and revel in the moment. Start dinner with a wedge salad, then savor chicken Marsala and pork tenderloin with béchamel sauce. And indeed you might want to take a stroll before you have the chocolate raspberry cake! There is a cash bar available if you'd like wine or a cocktail with your dinner. It's an enchanting, quiet time on the water. The light reflecting off the water, the sun going down, the cruise is the perfect way to end a busy vacation day. And as you near the end of the cruise, you have a ringside seat for Branson Landing's $7M water, fire, and light show.

There are three captains who pilot the cruises. Captain Gus has captained boats for many years in many ports, including Alaska and 28 years in the Pacific. Captain Jason built docks on the West coast before he decided to become a captain. Captain Nichole Raab has an especially interesting story. After college she detoured from marine biology to dancing professionally, eventually getting into aerial acrobatics, and made her way to Tall Ship Providence. (You may have seen that ship in Pirates of the Caribbean 2 & 3!) As events coordinator Nichole created an aerial show on the mast of the ship. She later became licensed to sail and sailed private ships in the Caribbean. Captain Nichole has been with The Landing Princess since the fall of 2016.
Main Street Marina is at the south end of Branson Landing, near Bass Pro Shops parking area. In addition to all the water activities at the marina, you can just relax and unwind at The Paddlewheel Pub. This floating restaurant and bar is part of the original Lake Queen that was a popular Branson attraction for decades. The original ship's wheel is upstairs, along with fascinating photos of early days on Lake Taneycomo, which is named for Taney Co. MO. One area features pool tables, darts, and big TV screens (You want to keep up with your team while you're on vacation!), and there are lovely outdoor areas – tables with umbrellas, fire pits, tiki torches, and live entertainment many evenings. The food is delicious, and the menu is outstanding. The fish tacos come highly recommended! Food is an important part of your vacation; your taste buds are tempted and pleased everywhere at Main Street Marina.
Fishing on Lake Taneycomo is a relaxing way to spend time on the water. The water in Taneycomo comes from the bottom of Table Rock Lake; the 48° water is a perfect environment for trout. Because of the cold water, it's always a bit cooler by the lake. There's something mystical about the water. People want to be on it, have fun in it, live near it, and dine by it. Popular signs say it all, "Life is better at the lake!" You'll frequently see three generations of a family enjoying time together at Main Street Marina. Main Street Lake Cruises offers both the excitement of water sports as well as the passive pleasures of pure, relaxed enjoyment. It really is fun for all, all day long – all at Main Street Marina!