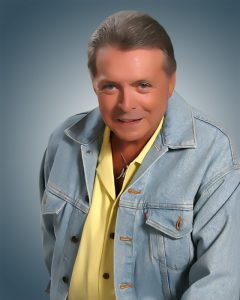 BRANSON, Mo., April 16, 2014 – "Last year I took my fans through 'my life in music' and this year we're going 'down memory lane,'" said the legendary Mickey Gilley as he starts his 25th season of performing the Mickey Gilley show in Branson. "The producers have been working diligently on the new show, I'm excited and want my fans to know I'm alive, kicking and doing well," he added.
Twenty Five years ago Gilley moved to Branson and bought a theatre on the strip, only to have it burn to the ground.  Gilley didn't give up, he wanted to get off the road and settle in one location, he wanted Branson to be his home, so he rebuilt.  In 2009, another tragedy struck.   While helping his friends move furniture, he fell and was paralyzed for 3 months and then began the long grueling and painful therapy to walk and use his hands.   Each small step was a major accomplishment and his fans and staff were there each step of the way offering encouragement.
In the fall of 2013 he went to the golf course and swung his clubs for the first time since 2009, and he is now able to walk across the stage. He accomplished some of his goals.  Now he is working on playing the piano!
Gilley has 17 #1 Hits, performed on the Grand Old Opry, and was awarded Male Vocalist of the year, Entertainer of the year, & Song of the year by the Country Music Association.  He did a USO Tour for our troops, sang for Presidents, has a Star on the Walk of Fame, sang on the Grand Old Opry and has received numerous awards throughout his career.
October 5, 2014, Mickey will celebrate 25 years in Branson with a special show.  Celebrities and dignitaries will be in Branson to honor this "living" icon.  The show is open to the public and there is limited seating. For information or tickets for the Mickey Gilley Show, or any of Branson's other shows and attractions or for lodging,  please contact the Branson Tourism Center, one of Branson's largest and most respected vacation planning services, by calling 1-800-785-1550 or through its website, www.BransonTourismCenter.com
.