"Back by popular demand!"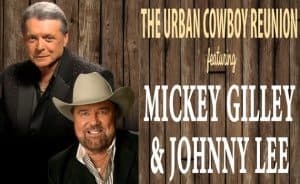 Mickey Gilley recently announced he has sold his Branson, MO, theater and has been invited back by the new owners for performance dates in 2017. Gilley and Johnny Lee are teaming up for the Urban Cowboy Reunion at the Mickey Gilley Grand Shanghai Theatre. The theater is the new home for the Amazing Acrobats of Shanghai show.
Mickey Gilley has had 17 #1 Hits and 30 Top 10 Country Hits. His national popularity went beyond country music when he appeared in the hit movie Urban Cowboy. He still calls his Grammy Award-winning band the Urban Cowboy Band, and his backup singers are The Urbanettes – Stephanie Hall and Georgina Holiday.
Gilley's first shows in Branson were tour dates in 1987 at the Roy Clark Celebrity Theater. Gilley had doubts about how well he would do, with 2 and 8 pm weekday shows. Road dates were usually weekend evenings; he even tried to cancel the Branson appearance. But the shows sold out, and in 1990 Gilley decided to get off the road and open his own theater in Branson. Gilley's show soon became one of Branson's most popular, and the rest, as they say, is history. His timeless ballads like Room Full of Roses, Talk to Me, I Overlooked an Orchid, The Window Up Above, City Lights, True Love Ways, Stand by Me, and That's All That Matters to Me remain audience favorites. Branson visitors and locals alike welcome these 2017 appearances!
Johnny Lee's first hit was in 1980 when he sang Lookin' for Love in Urban Cowboy. The song became #1 on the country charts and #5 on pop charts. Lee had played at Gilley's, opening for Gilley and performing as headliner when Gilley was on the road. "Gilley's," Mickey Gilley's honkytonk bar in Pasadena, Texas, was the central location for the Urban Cowboy movie. Lee went on to have more country hits, including One in a Million, Pickin' Up Strangers, Hey Bartender, and Prisoner of Hope.
The background on several of Gilley's song is interesting. In 1974 a lady who owned jukeboxes in Pasadena wanted Gilley to record She Called Me Baby for her jukeboxes. Room Full of Roses was a last-minute decision for the "B" side, although Gilley wasn't crazy about the song. However, after a local DJ played that "B" side, Room Full of Roses quickly became popular. It was Gilley's first #1. It was picked up for national distribution by a new record company – Playboy Records. That same year he won the Academy of Country Music's Top New Male Vocalist Award. Two years later in 1976, the Academy of Country Music honored Gilley with Entertainer of the Year; Album of the Year; Single of the Year; Song of the Year; Top Male Vocalist.
When not performing in Branson, Gilley is still "on the road" with shows all over the country. He recently received an invitation to appear on the Grand Ole Opry. Mickey Gilley loves performing. "It's not about fame or fortune," Gilley says, "it's about the music."
Urban Cowboy is scheduled for eight weeks in the spring, beginning April 2, and eleven weeks in the fall, starting September 17. There will be 8 p.m. shows Sundays and Mondays, 3 p.m. shows Tuesdays. For more information, please go to Branson.Com.