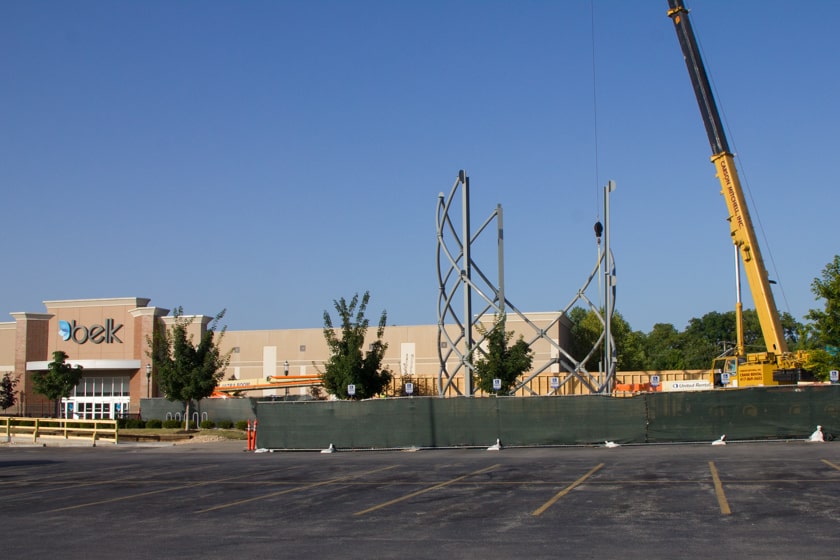 "The announcement this week that Branson Landing's newest attraction will be a hot air balloon ride that will rise 180 feet into the air while contained inside a tower answered the question that many have been asking about what was being built at the north end of the Branson Landing near the Belk Department Store," said Annette Wood, the Director of Sales and Marketing for the Branson Tourism Center. "It's also great news on yet another great activity that literally all of Branson's visitors will be able to enjoy and one that very well may become 'iconic', because of its height, the number of people that will see it and its night time illumination," she added.
The balloon ride is owned by the same company that owns "Parakeet Pete's Water Front Zipline," also in Branson Landing is, not surprisingly, named, "Parakeet Pete's Waterfront Balloon Ride." Emma Hamilton, the General Manager for Parakeet Pete's said that when the ride is completed later this fall that it will be the tallest ride of its type in North America. She also pointed out that while riders will be able to experience the thrill of a hot air balloon ride they will be able to do so without the weather restrictions that hamper the operation of the typical tethered balloon ride operating outside of a tower. Additionally, the ride will be handicap accessible and there will be no age requirement so virtually anyone will be able to experience the thrill and enjoyment of the ride.
The Branson Hilton Convention Center Hotel, currently the tallest "landmark" visible in the historic downtown and Branson Landing area is 12 stories, or approximately 120 feet, in height. By comparison, the balloon tower, at 180 feet in height, is approximately 33% higher.
The tower and ride is expected to be completed later this fall, be illuminated at night and will provide its riders a unique and beautiful view of Lake Taneycomo, Branson Landing and historic downtown Branson as well as other points. The ride itself, because of its location, height, colorful balloon and night time illumination will also be an exciting sight to see, even by those by those who are not riding it, as ascends and descends from its lofty heights.