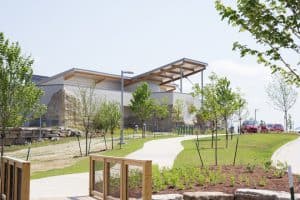 BRANSON, Mo., October 4, 2013 – "We have had questions regarding the effect of the federal government 'shutdown,' closure, on what people visiting Branson can expect," said Tammy Johnson, the Director of Operations for the Branson Tourism Center. "Although our hearts go out to those directly impacted by the shutdown of the federal government, from a 'what to expect in Branson tourism perspective,' it has no direct impact on the shows, attractions, shopping and activities that the majority of tourists typically enjoy while in Branson," she added.
Johnson points out that one area where there is an impact is the camp grounds, boat ramps and facilities owned and operated by the U.S. Army Corps of Engineers around Table Rock Lake which have been closed because of the shutdown. The good news however, is that lease operated facilities around Table Rock Lake remain open as does State Park Campground, State Park Marina, the City of Branson Campground and private campgrounds such as Compton Ridge Campground, Shenanigans RV Park and others.
The $7.9 million 15,000 square foot "Dewey Short Visitor Center" at Table Rock Dam, referred to by some as the "the crown jewel of Table Rock Lake," will remain open. Although a U.S. Army Corps of Engineers facility, it was announced that its operation will continue because it is being operated under contract with "Ozarks Rivers Heritage Foundation," whose employees and volunteers, including an active duty soldier from the army's "Wounded Warrior Program" are staffing the visitor center and its gift shop. The cruises of the Showboat Branson Belle and Ride The Ducks on Table Rock Lake are not impacted because they are a totally independent private operation. A spokesperson for Main Street Lake Cruises, operating daily sightseeing and dinner cruises, on Lake Taneycomo said that the closure has no impact on their cruise schedules or Lake Taneycomo in general.
Recent local news stories about how the closure has impacted a regional federal trout fish hatchery raised some questions about the "Shepherd of the Hills Trout Hatchery." It is a state of Missouri facility operated by the Missouri Department of Conservation. Information received from the hatchery indicates the federal closure has no impact on the operations of the hatchery, the quality of the trout fishing on Lake Taneycomo or the operation of its visitor center.
Johnson offers the services of the Branson Tourism Center to answer any questions anyone might have regarding the impact of the federal closure on the shows, attractions, shopping and other activities available in Branson through its toll free number 1-800-785-1550.