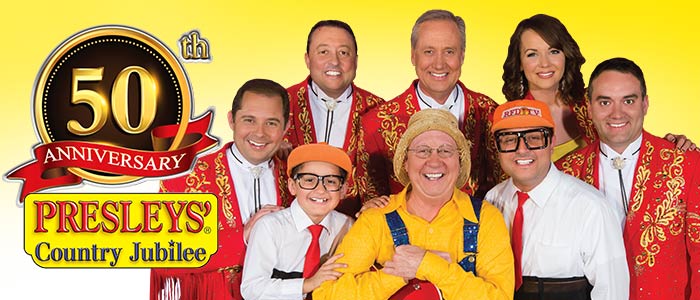 The lobby is bustling with an air of excitement before the show. There's activity in the gift shop, the concession stand is busy, folks are enjoying those oh-so-popular glazed almonds and pecans, and everyone is looking at the photographs.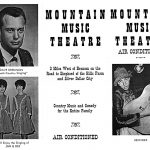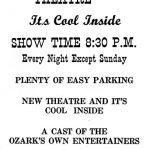 The walls are lined with photos and memorabilia beginning with the theater's early years. A brochure from 1968. Black and white stage shots. (What is now the lobby was originally the stage area.) Family photos of weddings, babies … national magazines with covers picturing the Presleys with artists like Johnny Cash, Boxcar Willie, Moe Bandy, "Herkimer" with Andy Williams, Greg and Eric Presley with Clint Eastwood. Wait … Clint Eastwood? Yes, it seems the two boys spent time in California on the golf course with Andy Williams, doing some caddying for him and his friends! It's a marvelous photographic history of this extraordinary family. There are so many chapters to the Presley story. So many verses to the song. A future they never could have foreseen.
~ ~ ~
The story begins with Lloyd Presley. When he was about ten, he and his brothers traded their "hound dog" for a guitar. "I liked the sounds of those first chords and just kept at it," Lloyd said. The first verse of the Presley song.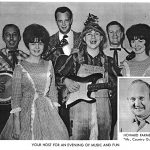 When Lloyd was older, music was weekend fun. He and friends had a bluegrass trio, the Ozark Playboys; they played music on flatbed trucks around southwest Missouri. Then Lloyd was hired by Springfield's KGBX to do the Saturday Night Jamboree, which followed The Grand Ole Opry. He and his wife Bessie had a family by then. Their son Gary was just five when he sang Rudolph the Red-nosed Reindeer on the radio. A few years later Lloyd and his family played a radio broadcast out of Fantastic Caverns in Springfield; that led to a show in a cave west of Silver Dollar City. It was successful but hard for people to get to. That's when they bought a farm on Hwy. 76.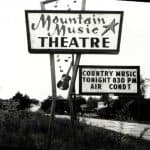 It was 1967, and the Presleys' was the first theater on what came to be known as the "76 Strip." Though it was the first building in Branson built to be a theater, it was actually designed so that it could be used for boat storage. Just in case the theater idea didn't work! Well, the idea worked and has continued for 50 years. Through the years there have been at least seven remodels and renovations. Today the theater has state-of-the-art light, sound, and video production; it seats 1500 people. The theater's first seats? Old chairs bought from The Shepherd of the Hills, for a dollar apiece!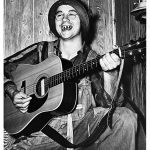 There are eight Presleys on stage now – second, third, and fourth generations. Gary and his younger brother Steve are co-producers of the show. The Presleys' show has always been a fast-paced, entertaining mix of country music, gospel, and comedy. Gary Presley's dumb like a fox character "Herkimer" has become one Branson's most iconic images. Gary and Pat's son Eric is Herkimer's hilariously talented sidekick "Cecil." And nowadays Eric's sons are second generation "Cecil's." Gary and Pat's other two sons are on stage, too. Scott plays guitar and sings; Greg plays harmonica and does percussion. And Eric, uh, "Cecil" can be seen picking a banjo. Steve and Raeanne's son John has been on stage playing the piano since he was just knee-high. He's married now, and his wife Ambrus is a vocalist with the show. (They have two sons.) Lots of costume changes show off glamorous gowns and glittering jackets. Nine other musicians and vocalists make up the rest of the cast. They become "family," too, like Jay Wickizer and his wife Devonna who have been vocalists with the show for 20 years!
Steve and Raeanne's older son Nick is the computer guru, working with video and other tech things at the theater. Gary's wife Pat ran the gift shop for a lot of years; she's passed that privilege along to daughters-in-law Malinda and Kelli. Steve's wife Raeanne handles the accounting and payroll and describes herself as a one-woman HR department. Their daughter Sarah also works in the office. Nick, John, and Sarah also work with Branson Visitor TV. Steve Presley, in conjunction with Springfield NBC affiliate KY3, created Branson Visitor TV (Channel 5 in your hotel room). It went on the air in 2009. Raeanne Presley was a Branson alderman for ten years and then devoted eight years to being mayor of Branson, also serving on state tourism commissions.
When you're not in Branson, you can enjoy Presleys' Country Jubilee Saturday nights on RFD-TV (7:30 Central). The Presleys film the show at their Branson theater, usually two at a time. 2017 is the seventh year for their national television show.
When you see the show in Branson, go early and take part in the Gospel Sing, which starts at 7:15. It's upstairs, overlooking the lobby. Old church pews furnish the seating, and there are more fascinating photos up there. You can learn even more about the Presleys in their book, The Presley Family Story.
~ ~ ~
The theater has always been a family proposition. Today the theater is owned by Gary and Pat Presley and Steve and Raeanne Presley. Lloyd Presley spent more than four decades entertaining with his family (and spending time fishing!). He was on stage when the fourth generation started performing. He retired from the stage in 2009 but continued to come to the show regularly to visit with fans and friends until his death in 2010. Never on stage, Bessie was always behind the scenes "taking care of business." She died in 2007.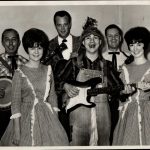 The Presleys have touched many lives through these last 50 years. The cast visits with audiences during intermission and after the show, taking photos, signing autographs, renewing acquaintances with families who have been coming to the show with their families for several generations. Gary Presley still remembers the red cowboy boots he was wearing when he was five, singing on the radio. Certainly no one knew then that his face would become an image for the Branson entertainment industry. Or that the Presleys would entertain Branson audiences for 50 years.
Congratulations on your 50th Anniversary, Presley family! Everyone looks forward to more verses to your song.