How do you purchase show tickets in Branson?
There are four basic ways:
Travel to Branson and purchase them when you arrive
Call the theater direct
Book your Branson tickets online
No matter which way you choose to purchase your Branson Show Tickets here are a few tips of the trade to guarantee you have a great Branson Experience.
Plan ahead of time. Sometimes shows are sold out.
Research before you get here. There are a lot of shows! Don't spend your valuable vacation time and gas money driving around trying to find out your options.
Use the Internet. There are tons of resources offering general information and specific show information.
Get a referral. Where did your friends go and what did they like?
Make sure the information you get is up to date. Sometimes shows change venues and schedules.
Find out the policy and procedure to change or cancel your reservations and make sure you're comfortable with the rules.
Ask about fees! Are their service fees that will be added to the ticket price?
Talk to a local! They can provide a wealth of information because they work and play here every day.
---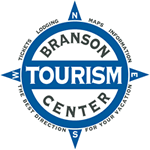 BRANSON.COM recommends the Branson travel and vacation professionals at the Branson Tourism Center ( BransonTourismCenter.com ). They are well established in the community, have over 70 employees, open 7 days a week, 364 days a year (closed Christmas Day). They sell more Show tickets to more shows than any other company and have a lengthy list of recommendations from the local businesses. They offer services from selling just one Show ticket or one nights lodging to Vacation Packages to Groups & Reunions and Convention planning and they do not charge a service fee.