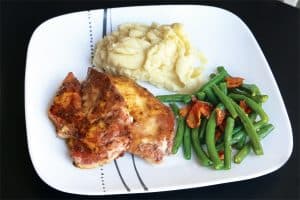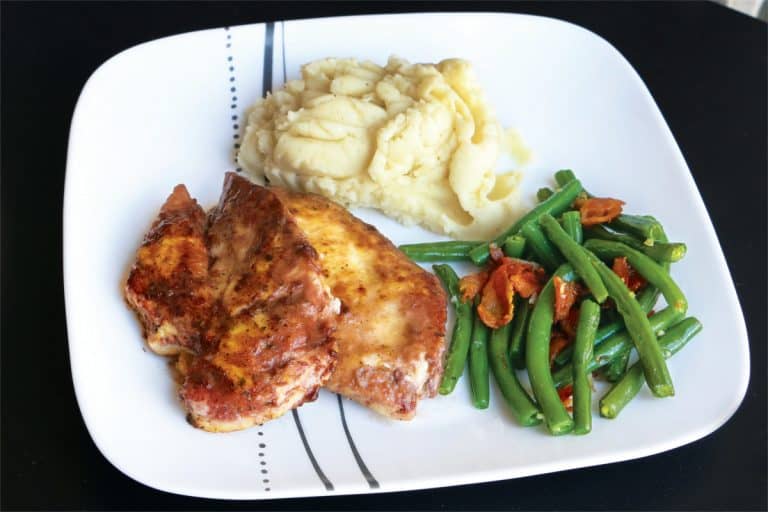 This is a first for us at Branson.com for a recipe submission. Normally we get a recipe for a dish, side item, dessert, or the like, but today we present to you a complete meal that you can wow your family with tonight. Don't let it overwhelm you, this meal was easier than it appears. And don't fret over the wine, the alcohol cooks off in the process, leaving behind a wonderful taste (without the guilt).
This simply elegant dinner is served aboard the Main Street Lake Cruise Landing Princess, and prepared by Chef Roberto (Barney) Villarauz and his incredible kitchen staff.
*Below in the recipe notes is a Marsala substitute, if you wish.*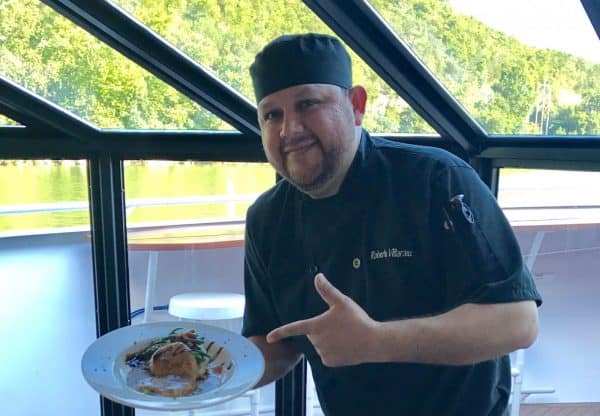 Main Street Lake Cruises' Pan Seared Chicken Marsala
Main Street Lake Cruises' Country Style Green Beans
Main Street Lake Cruises' Pan Seared Chicken Marsala

Main Street Lake Cruises' Country Style Green Beans
Main Street Lake Cruises' Pan Seared Chicken Marsala
In a medium bowl, stir together the flour, garlic salt, pepper, & oregano.

Dredge chicken in the mixture to lightly coat.

Heat olive oil and butter in a large skillet over medium heat.

Fry the chicken in the skillet for 2 minutes, or until lightly browned on one side.

Turn chicken over, and add mushrooms (if you go with the mushroom option). Cook for 3 minutes until the other side of the chicken is lightly browned.

Pour Marsala wine over chicken, cover skillet, and reduce heat to low; simmer for 10 minutes or until chicken is no longer pink and juices run clear.
Main Street Lake Cruises' Garlic Mashed Potatoes
While the chicken is cooking, bring a large pot of water to boil; add potatoes, and boil until soft (if you stick a fork into a piece of potato and it slides off easily it's ready. ) This should take 20 to 25 minutes depending on your stove.

Drain and place in a large bowl.

Combine potatoes with milk, butter, garlic, salt, and pepper. Mix with an electric mixer or potato masher to your desired consistency.
Main Street Lake Cruises' Country Style Green Beans
Toss the green beans into a large pot of boiling lightly salted water and cook until bright green in color and crisp - tender, about 5 minutes.

Drain green beans and shock in a large bowl of ice water to stop the cooking (we are just blanching the beans).

Drain the beans again and pat dry.

Cook bacon in a large, heavy sauté pan until crisp, about 5 minutes.

Remove the bacon and place on a paper towel lined plate to drain.

Spoon off the excess bacon grease (don't throw it away, store it in a jar for another time - just ask any Southerner, Grandma, or chef), leaving about 2 tablespoons in the pan.

Add the onion to the pan and sauté until soft & tender, 4 to 5 minutes. Sprinkle in the minced garlic and sauté until fragrant, about 1 more minute.

Add the green beans into the skillet with the onions and garlic until heated through, about 5 or 6 minutes.

Return the bacon to the pan with the beans (squeeze a little lemon juice if you'd like). Season with salt & pepper to taste.
You will utilize the whole stove for making this meal. While the potatoes are boiling you can work on getting the chicken down to fry. Just watch your times so you don't burn anything, and remember to have fun in the kitchen. If your chicken gets done before the other items leave it in the pan, covered and place it in a 200° oven.
*For those who do not feel comfortable cooking with Marsala wine, you can make your own non-alcoholic substitute:
Combine in a measuring cup:
1/4 Cup white grape juice
1 TBS vanilla extract
2 TBS sherry vinegar
This will give the flavor without any of the worry about alcohol.*
Cooking is like love. It should be entered into with abandon or not at all.