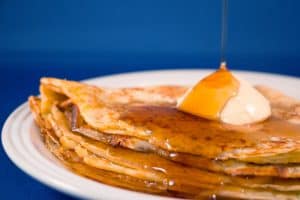 This month's featured recipe comes to us from Mama Hughes, matriarch of the Hughes Family. Keep in mind, with the size of her family now topping over 50, this recipe would have to be multiplied a few times over; like 6 or 7 times!
Mama Hughes, Lena, was a toddler when her family emigrated from Sweden to the U.S. Her mother kept her heritage alive in the Hughes household by cooking many Swedish delicacies. Lena's favorite was plattar (known as pancakes to most of us). Plattar are much smaller than regular pancakes, and are cooked in a black cast iron skillet that has seven circular depressions, each an eighth inch deep. Young Lena loved to watch as her mother mixed the ingredients and, with deft skill, ladled the batter into the heated, buttered plattar skillet. By the time she had finished filling each of the circles with batter, it was time to go around the pan once more with a table knife and gently flip each of the seven plattar. Lena could eat those seven little pancakes faster than her mother could make the next seven! Because they were so yummy plain, Lena's family usually ate them without toppings, and had them for dinner more often than breakfast.
After Lena married, she was determined to carry on her favorite Swedish tradition. However, the first time she made plattar for husband, Gary, he said, "Why are you spending so much time making seven tiny pancakes? Why not use a regular frying pan and make a big pancake?" He quickly put a regular frying pan on the hot burner, melted some butter in it, and poured a thin layer of pancake batter into it. Lena was concerned he would destroy her authentic Swedish pancakes, and that he couldn't possibly flip such a big thin pancake without it falling apart. He gave the pan a bit of a twist so the batter would spread out to the right depth…and moments later he was ready to flip the pancake. He was swift and flawless. The pancakes were served in the center of the table surrounded by accouterments; fresh whipped cream, berries, and fruits and for her traditionalist husband, homemade maple syrup. To this day, the Hughes Brothers, their wives, and their children talk about Grandpa Hughes' Swedish pancakes. Lena would remind them of her tradition…Grandpa Hughes doesn't have an ounce of Swedish in him! She's the one who taught Grandpa how to make them in the first place…or did she?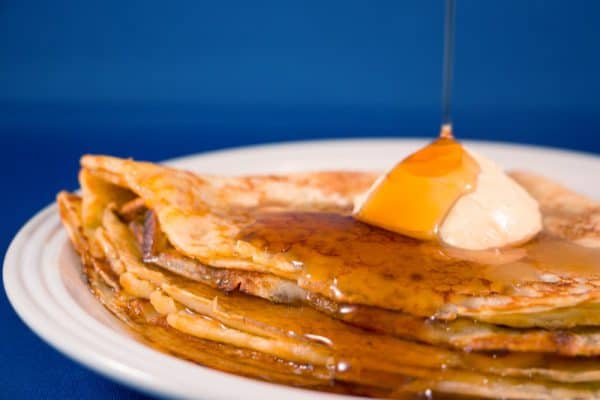 | | |
| --- | --- |
| | |
Whip together all the ingredients until the batter is smooth. This batter is much thinner than regular pancake batter.

Add butter to a small frying pan and preheat on medium heat.

Pour a thin layer of batter into the pan; a small ladle will make this easier. Tip the pan so that the batter covers the entire bottom of the pan.

Cook until the top of the pancake becomes dry enough for you to flip the pancake to cook the other side. Cook until golden brown on each side.

Serve like a regular pancake with butter and syrup, or spread with fresh cream and berries, then roll like a crepe.

You may wish to store the finished pancakes in an oven, preheated to 200 degrees, while making the rest.
These pancakes are thinner than regular pancakes and a little denser than crepes.
Typical Swedish thin-style pancakes are fairly large in diameter - about the size of a dinner plate. This amount of batter produced 6 of the standard large size, or 8 "American" size pancakes. These are a touch fluffier than a crepe, and the salt/sugar give it a lot of flavor. Eating it with fruit and cream alone would be plenty sweet.