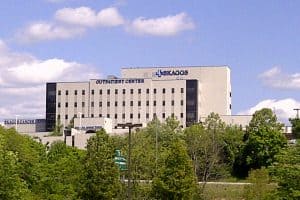 BRANSON, Mo., September 29, 2012 — "Typically, one doesn't think about the availability and quality of medical care available at a vacation or travel destination until a problem arises while at that destination," said Tammy Johnson, the Director of Operations for the Branson Tourism Center. "Visitors to Branson have the comfort of knowing that, should a medical emergency or need arise while visiting Branson, quality medical care is but moments away at the Skaggs Regional Medical Center (Skaggs)."
Michelle L. Leroux, Media Relations Specialist for Skaggs, said that the 165 "licensed bed" facility, has over 1,000 employees and holds the highest national accreditation available for medical facilities from the Joint Commission on Accreditation of Healthcare Organizations, Gold Seal of Approval™ for its advanced inpatient diabetes care and is an Advanced Primary Stroke Center through the Joint Commission on Accreditation. It offers a full complement of diagnostic services and comprehensive care in a variety of specialties, "Service Lines." These include, but are not limited to Emergency Room; Trauma, Urgent Care; Cancer including Infusion and Radiation Therapy; Cardiac including Diagnostics, Rehabilitation, and Catheterization; Diabetes and Endocrinology; Ear, Nose & Throat; Family Medicine; Nephrology and Dialysis; Orthopedics including the Skaggs Joint and Spine Center "following the Marshall-Steele model of patient care;" Pediatrics; Psychiatry, Pulmonology including Asthma, COPD, Emphysema, Pneumonia, Pulmonary hypertension and Lung Cancer; Rehabilitation and Therapy with both an acute Rehab Unit and Outpatient Services; Rheumatology; Sleep Disorder Center; Urology and a Hyperbaric and Wound Healing Clinic.
She points out Skaggs full complement of service lines and expertise is expanded even farther with the availability of the resources of its strategic partner CoxHealth. Skaggs has just entered into an agreement making it "a subsidiary of CoxHealth." CoxHealth has recently been "named as a Best Hospital by U.S. News & World Report, is accredited by The Joint Commission and distinguished as one of the nation's Top 100 Integrated Healthcare Systems (2006-2012).
Leroux indicated that the medical needs of most visitors to Branson will be of the emergency or urgent care type.
The Skaggs Emergency Room, open 24 hours, 7 days a week, is located at 251 Skaggs Road, right off the west side of the Branson Landing Boulevard Roundabout and may be reached by calling (417) 335-7218. Skaggs Urgent Care, open Monday-Friday, 8 AM to 8 PM and Saturday-Sunday, 8 AM. to 4 PM, is located at 545 Branson Landing Blvd., just north of the north side of the Branson Landing Boulevard Roundabout and may be reached by calling (417) 348-8646.
"This morning we made a post about the Skaggs Regional Medical Center on our Face Book page," said Branson Tourism Center's Johnson. "The following 'Comment' to that post, made by LeAnn Coleman Virock, seems very appropriate," she added. "Skaggs is top notch. My husband had the unfortunate luck to need the emergency room while we were visiting a few weeks back. The efficiency was unbelievable! We live in MN & do a lot of our doctoring at Mayo…..Mayo could take lessons!"