Things to Do This Spring in Branson, MO
Something is enchanting about springtime's colors and scents. The flowers bloom, and the skies are blue. Suddenly, the cities are alive again, but this time, they're colorful. This is true for Branson as well.
As the weather warms, hiking trails open, and parks become picnic areas, children can be seen playing, and we can once again enjoy outdoor activities. There's no better time of year than spring to take advantage of the great outdoors, whether camping, boating, hiking, or even ziplining!
Branson in spring is a great time to visit before the summer crowds arrive and the weather warms up.
Experience the thrill of ziplining
In addition, to live shows, Branson is now just as famous for its diverse attractions as it has always been for its live shows. A variety of ziplines are continually drawing adventure lovers here. There are plenty of zipline experiences to choose from at Branson, but the array sets it apart from the rest!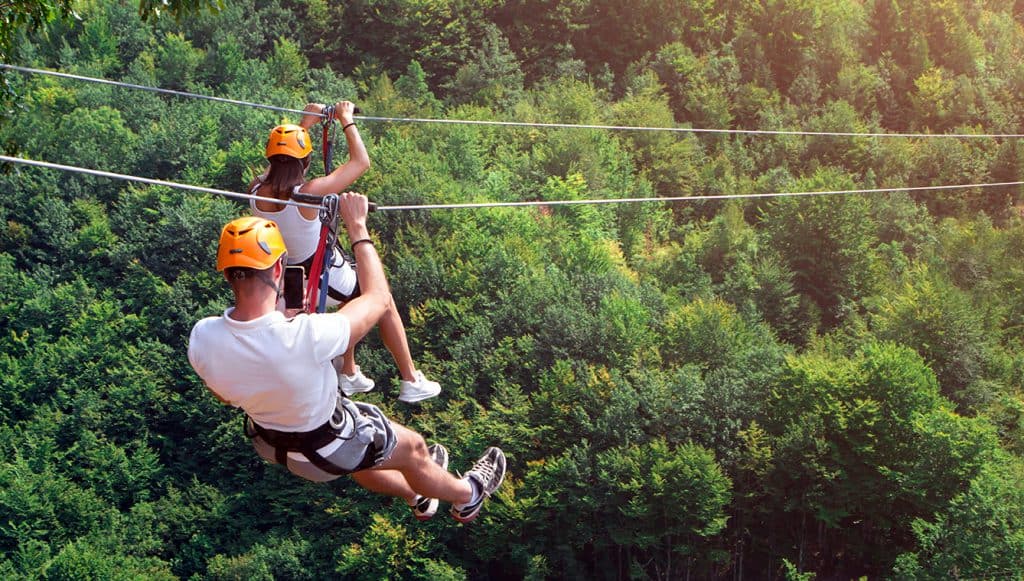 Branson Zipline at Wolfe Mountain is home to one of the premier Eco-Adventure experiences and offers visitors of all ages world-class fun. There are numerous zip lines, platforms, and sky bridges, like the 3-hr Ozarks Xplorer, 2-hr Flying Prospector, 1-hr Ridge Runner, and the Blue Streak Fast Line & Freefall Xpress—The ride starts at the top of the mountain and ends in a freefall dismount of 100 feet.
Shepherd of the Hills Great Woodsman Canopy Tours Enjoy the beauty of the Ozark terrain as you soar from tree to tree on the all-new Zipline Canopy Tour at The Shepherd of the Hills. Guests will experience breathtaking views and thrills as they zip their way across the horizon from unique tree-suspended platforms.
Go on a Hiking Adventure
There are tons of gorgeous hiking trails in Branson. We have so many beautiful courses to choose from, many of which have views of one of our two beautiful lakes, and one even has a small waterfall to enjoy! You could easily spend an entire week here and not be able to explore them all! Spending a full day on a hike improves because you are almost always free to do so.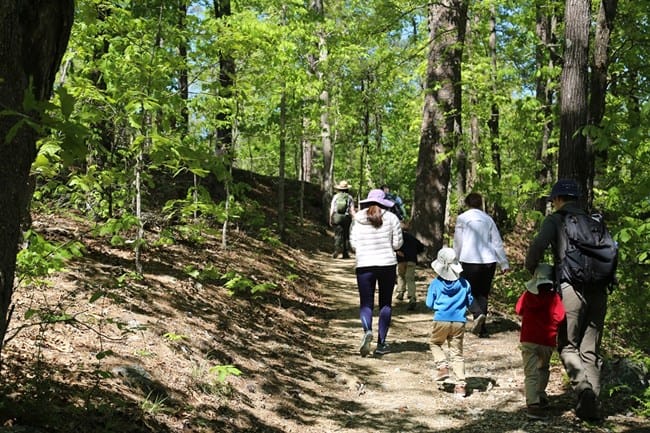 Walking paths or trails can be found in the City of Branson at:
Branson RecPlex – a 1-mile asphalt path that loops around the entire complex.
North Beach – 3/4 mile path located on the banks of Lake Taneycomo and connecting to the Branson Landing Boardwalk.
Stockstill Park is a 1/2-mile asphalt path that wraps around the playground and ball fields and takes you past Cox Medical Center. You can take a sidewalk to Branson Landing or Historic Downtown Branson.
Sunset Park – 6/10 mile paved and lighted path with exercise stations along the way.
There are also trails in these areas:
Waterfall Hiking Trail
Dogwood Canyon
Lakeside Forest Wilderness Area
White River Valley Trail System
A fishing adventure awaits you
Branson is a tri-lakes area because of its picturesque, clear water and abundance of fish. There are three lakes in the White River system, Table Rock Lake, Lake Taneycomo, and Bull Shoals Lake.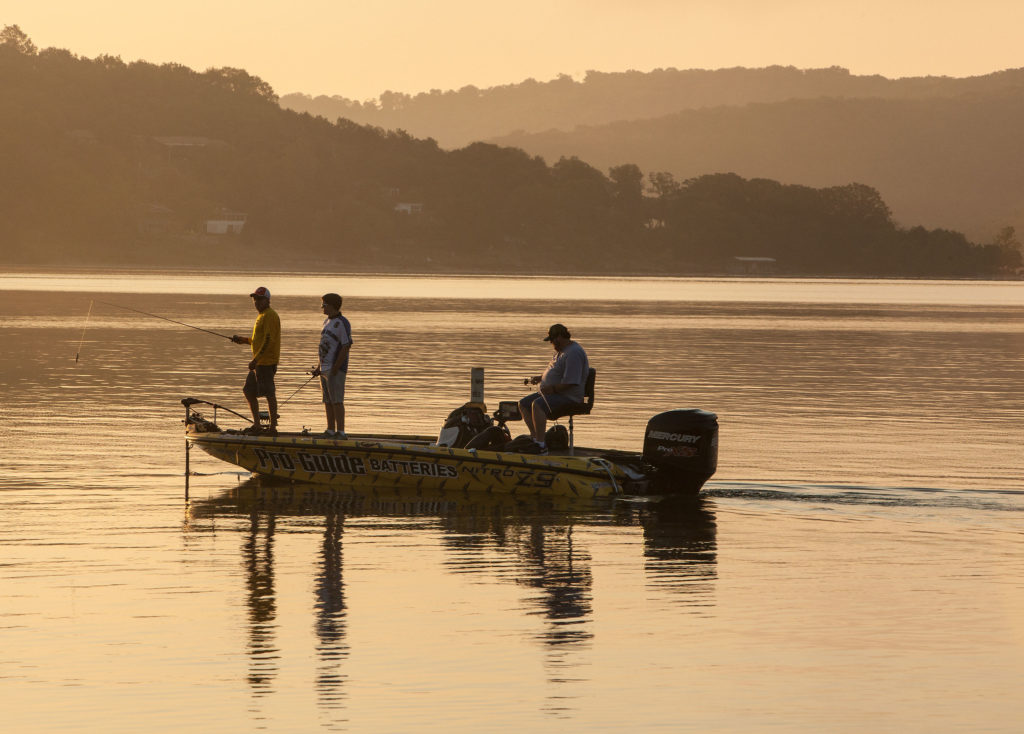 Table Rock Lake is famous boating, skiing, swimming, and fishing lake. Table Rock Lake is the closest warm lake to Branson and has a great swimming area, pleasure boats, and even a showboat. This 79-mile-long lake has 745 miles of shoreline and multiple inlets, and it is Branson's biggest lake. Bass comes in four types: largemouth, smallmouth, spotted, and white. The lake is also home to a healthy population of paddlefish, channel catfish, flathead catfish, bluegill, black crappie, white crappie, and walleye.
Lake Taneycomo is clear cold waters that provide some of the finest trout fishing available anywhere in the world. Rainbow trout and Brown trout that ply the waters of Lake Taneycomo provide year-round fishing that is both exciting and varied. Fishing in Lake Taneycomo's Trophy Trout Area, near the headwaters, to bait fishing outside the Trophy Trout Waters offers Rainbow and Brown Trout fishing at its best all year round.
Bull Shoals Lake offers some of the finest and most varied freshwater fishing. Large Mouth Bass, Spotted Bass, White Bass, Stripers, Crappie, Channel Cat, Bream, and other panfish. Walleye are some of the favored warm water species. Near the upper end of the lake, near the tailwaters of Lake Taneycomo, there is enough temperature variation to offer both Rainbow and Brown Trout fishing. In addition, the Bull Shoals Dam tailwaters feed the world-class Brown Trout fishery of the White River.
Shop until you drop
Quality, variety, and value can all be found in Branson. Discover great deals on designer clothing and specialty merchandise at two outlet malls with more than 200 stores. The city also has hundreds of boutiques, craft and hobby shops, antique stores, toy stores, jewelry stores, art galleries, and gourmet food markets.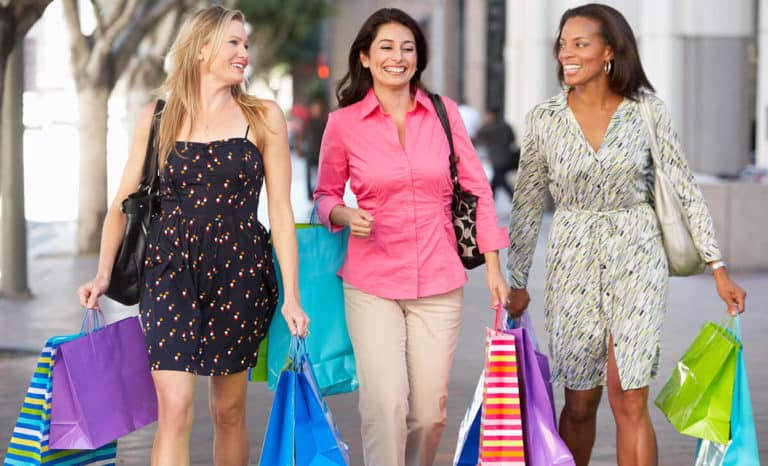 Branson Landing Enjoy a day of shopping, dining, and entertainment adventures on the waterfront of beautiful Lake Taneycomo at Branson Landing in downtown Branson. You can explore a new world with over 100 specialty stores and restaurants at Branson Landing. A spectacular $7.5 million water fountain show synchronized to light, sound, music, and fire!
Grand Village Shops offer a world of unforgettable shopping along cobblestone streets. With 18 specialty shops, you'll find a spectacular mix of boutiques, crafts, entertainment, and restaurants nowhere else in Branson. Experience Branson's best artisans, enjoy delicious food, and indulge yourself and your loved ones with jewels, fashion, and unique gifts. Grand Village will make your shopping experience a memorable one!
Historic Downtown Branson You'll find fine art, antiques, clothing and jewelry boutiques, music shows, and even two family-owned shoe stores! Dick's 5 & 10 is downtown's retail centerpiece! It's like visiting your local variety store in childhood, with green and white tiled floors, everyday household goods, and fun Branson souvenirs. Sparky the trolley is a great way to get to and from downtown and Branson Landing for free.
Spend a day unwinding on the golf course
The rolling Ozark hills provide the perfect backdrop for a beautiful golf experience in Branson, Missouri. Those who enjoy golf or want to learn will find the Branson climate ideal for playing the game almost any time of year! Whether you are looking for a day of golf or an entire vacation based around tee times, there are various golf courses to delight you.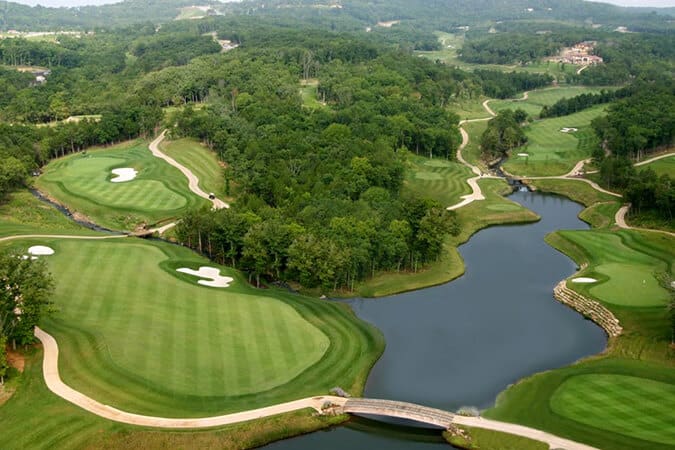 Branson Hills Golf Club is an excellent 18-hole public course that honors Legendary Missouri golfers. It has been at the top of Golfweek Magazine's list of Missouri's Best Courses You Can Play. The course incorporates the natural landscape of hills, rock outcroppings, creeks, waterfalls, and lush vegetation, presenting the perfect challenge for golfers of all levels of experience and expertise.
Pointe Royale Golf Course is popular with Branson celebrities; it's an actual shot-making course, a challenging 18-hole, 6,501-yard par 70 course that meanders through the scenic gated community of Pointe Royale alongside the trout-filled waters of Lake Taneycomo. In Branson, getting to "The Pointe" has an entirely different meaning!
Thousand Hills Golf – Visitors to Branson will find the ideal destination for their golfing needs; the place where locals play to the fullest! The 18-hole course features gorgeous hills, valleys, and streams. The club features bentgrass greens, immaculately manicured zoysia fairways, a pro shop, and a spacious clubhouse.
For information on more spring activities in Branson, Missouri, or vacation packages, stop by Branson.com. Our friendly and knowledgeable staff always love to talk to new visitors and welcome you to the magnificent Ozarks.
The Ozarks have long been a popular vacation destination, and we've helped visitors book the perfect vacation for years. Now it's your turn! What can we do to make your adventure one you'll never forget?