Branson has many activities for families with babies, toddlers, and preschoolers. These exciting and wholesome, family-friendly activities ensure that your little ones will have a blast along with you!
Listed below are the activities and attractions toddlers are sure to enjoy and must-see while visiting Branson.
Butterfly Palace & Rainforest Adventure
The Butterfly Palace is one of the top 30 attractions in Branson, MO. Home to more than 1,000 live butterflies and many tropical birds, reptiles, and plants, it's a magical place that immerses you in the beauty of the rainforest.
Discover more about the rainforest at the attraction's Living Rainforest Science Center. Geckos, salamanders, and poison dart frogs are among the amphibians and reptiles housed at the center. Visitors can examine butterfly wings under a microscope, too. Kid-friendly activities include Banyan Tree Adventure and Emerald Mirror Maze.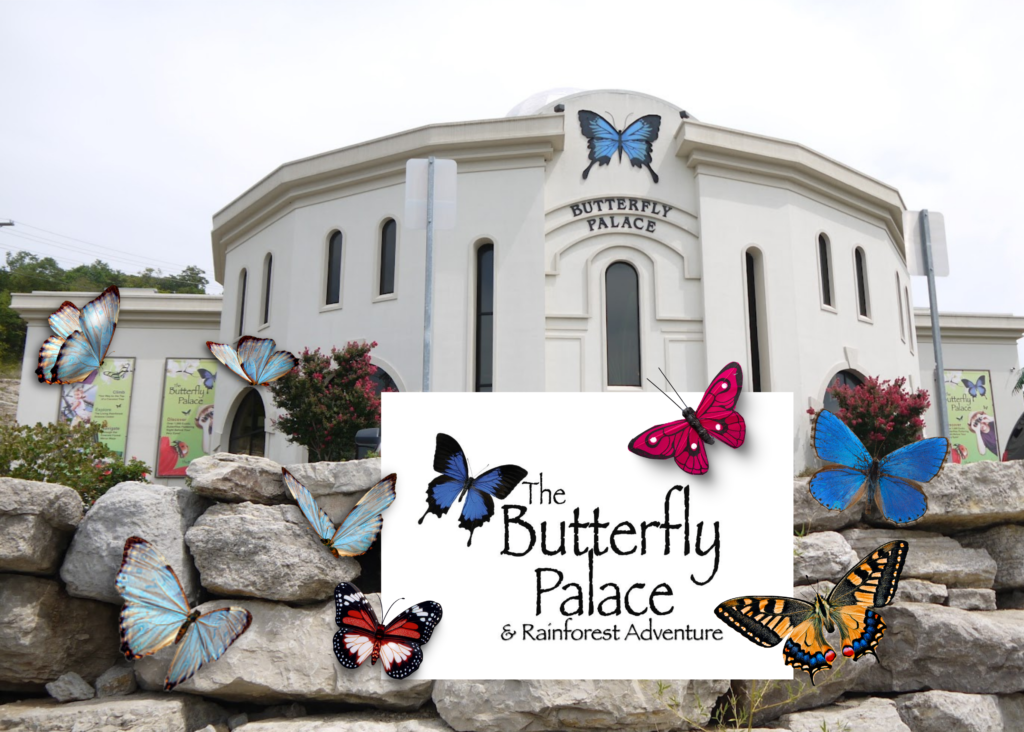 Branson Dinosaur Museum
Your family can discover plant-eating dinosaurs and herbivorous and predatory animals at the Branson Dinosaur Museum. There's a fossil exhibit, a scavenger hunt, a gift shop where you can buy a dinosaur, documentary films about dinosaurs, coloring books, and an "I Survived the Branson Dinosaur Museum" sticker.
Designed with the young in mind, Branson Dinosaur Museum offers an unforgettable experience! The museum lets them get up-close and personal with everything from the small, four-winged Microraptor to the massive Tyrannosaurus rex. The two-and-one-half-story high T-Rex is an incredible sight!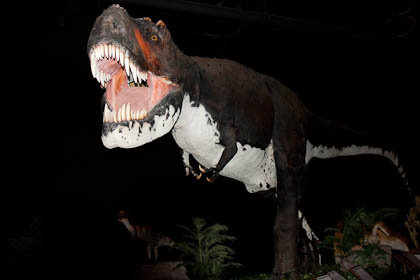 Fritz's Adventure
There's an adventure for everyone at Fritz's Adventure in Branson! Family-friendly attractions include zip lines, rope courses, multi-story slides, laser rooms, and treehouses in this indoor park. Visit Fritz's 48-foot climbing wall or try rappelling at City Wall, a scavenger hunt and underground tunnel experience in Branson, Missouri.
All 18 attractions can be accessed with an all-day, all-access pass. You may use this ticket more than once in one day. You can come back several times to see everything you want! Fritz's Adventure is an accessible attraction for people of all ages and athletic abilities. Visitors with mobility issues and additional support needs are welcome to ask about special accommodations.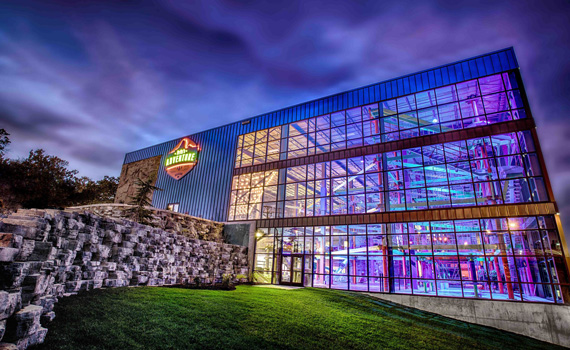 WonderWorks
At WonderWorks Branson, you can experience science up close and personal. At WonderWorks, you don't just see displays – you experience them, touch them, and control them! Over 100 different exhibits are available at WonderWorks. You can study physics, meteorology, light, space, electricity, and sound.
You'll get a sense of how it feels to stand in Category 1 hurricane-force winds at the Hurricane Shack exhibit. You can see how long you can keep your hand in 28°F water in the temperature exhibit. You can also step aboard a replica of the Mercury space capsule. WonderWorks is open yearly, so you and your family can experience all the fun and wonder. You'll want to wear closed-toe shoes for your visit to enjoy all the WonderWorks rides.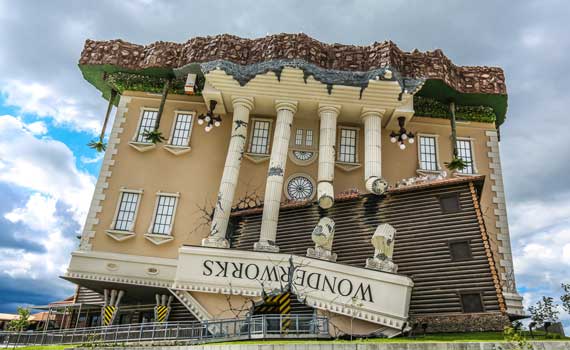 Shepherd of the Hills Fish Hatchery
Admission is FREE. Raising rainbow and brown trout at Missouri's largest trout hatchery. It includes an eight-minute video about raising trout, a live animal display, and interactive exhibits. There is a chance to feed fish for 25 cents, view 700,000 trout, access fishing (please read regulations before fishing), hiking trails, picnic area, and nature study. Their website has more info about the free interpretive programs we offer throughout the year. The Missouri Department of Conservation operates this facility.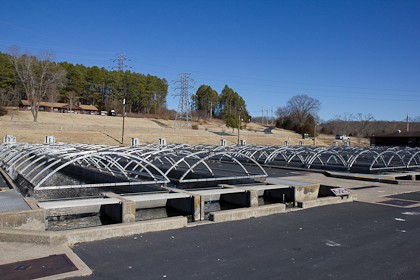 Downtown Branson
You can take a stroll through Branson's Historic Downtown. Kids of all ages will love Dick's 5 & 10. Their candy emporium is filled with candy from the past and the present. Dick's 5 and 10 is the place to go while you're on vacation in Branson for unique gifts, one-of-a-kind collections for all generations, toys from yesteryear, items for the home, games, hobby supplies, sewing, and an aisle just for the quirky and fun.
Stop for ice cream at Mr. B's Ice Cream Parlor, Branson's oldest ice cream shop. They are situated in the heart of historic downtown Branson. Old-fashioned shakes, floats, and malts are on the menu. The portions here are significant. They have fresh cobblers made in-store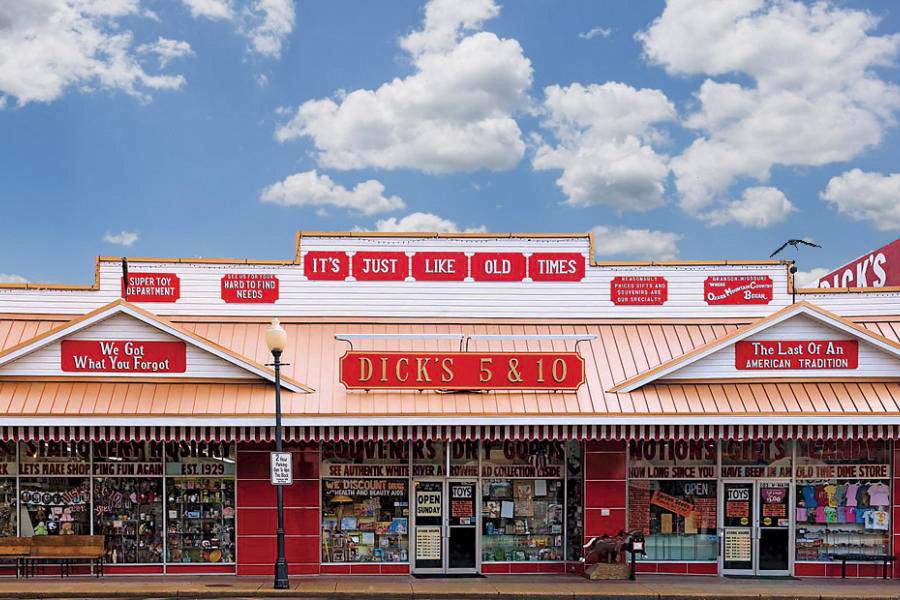 Amazing Pets
The Amazing Pets show is spectacular for animal lovers of all ages. You'll witness trained cats, dogs, and birds performing solo and group acts during the performance. You will be able to see them dancing to music, driving scooters, and soaring through hoops while wearing colorful costumes and frilly collars. During the show, look up and see the parrots flying above you! There were many animals rescued from shelters during the performance. After the performance, you may take a photo with some pets if you wish.
Excellent Pets performances are held at the Grand Country Music Hall in Branson, and the show dates vary throughout the year. The venue includes a restaurant and a gift shop. Special seating is available for guests with disabilities, and the show runs for around two hours.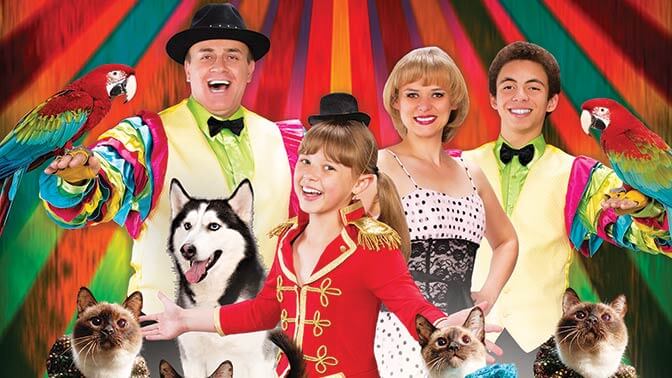 Ride Sparky, The Downtown Trolley
Meet Sparky! He's the free, downtown Branson trolley. You can hop on from any 12 stops and travel easily through downtown, including Main Street, Branson Landing, and the Branson Convention Center.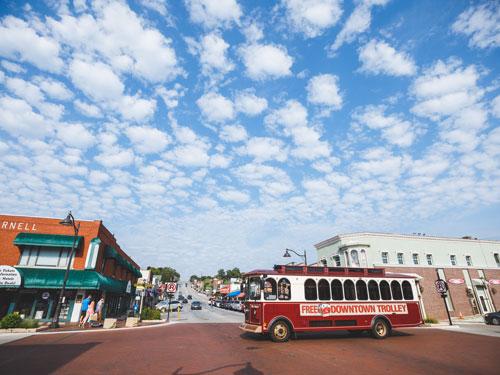 Branson Scenic Railway
Excursions aboard the Branson Scenic Railway, which travels through the foothills of the Ozark Mountains, bring back America's romance with vintage passenger trains. Polar Express is a must-see for children in November and December. Passengers aboard The Polar Express will experience a magical journey that will challenge any doubts or disbelief in Santa Claus. Enjoy live character reenactments, Santa's visit, and the original story read by Van Allsburg during the ride. Snack on hot chocolate and cookies during the ride. Dress your family in pajamas just as the young passengers did in the original story!
Branson Scenic Railway is just across the street from Branson Landing; toddlers will love the Branson Landing Fountain Show, which runs every hour.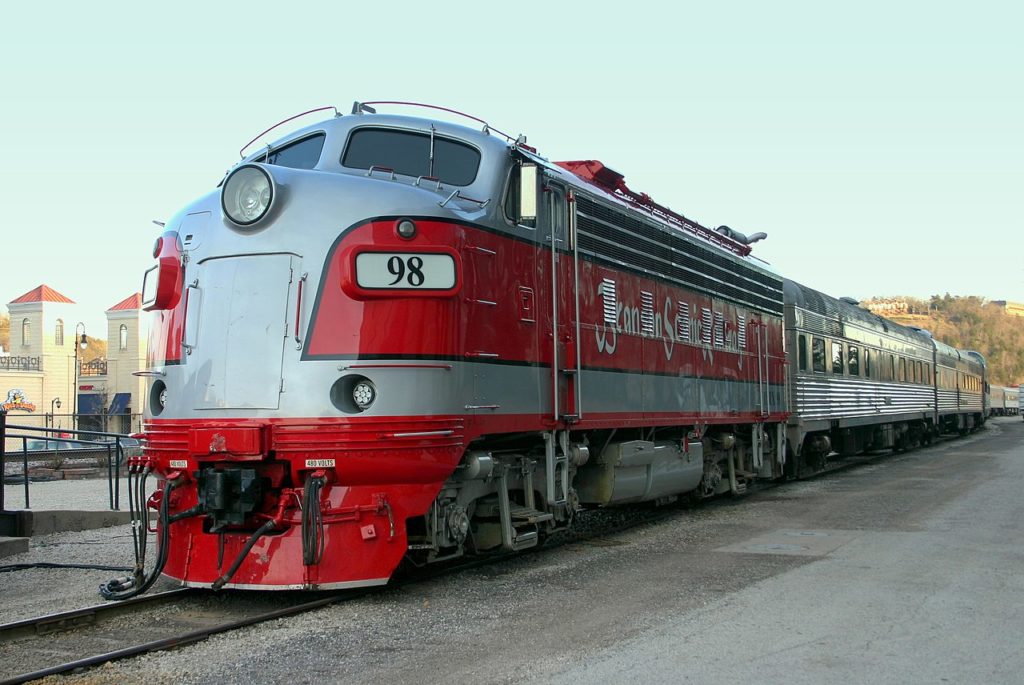 The Branson Ferris Wheel
Branson's Ferris Wheel offers fantastic views of the Ozark Mountains. Chicago's iconic Navy Pier Ferris Wheel now sits at Track 4 of The Track Family Fun Parks. The wheel stands 150 feet tall, has 40 gondolas that hold 240 people, and illuminates the night with a spectacular light show titled "Electrify," which uses 16,000 LED lights.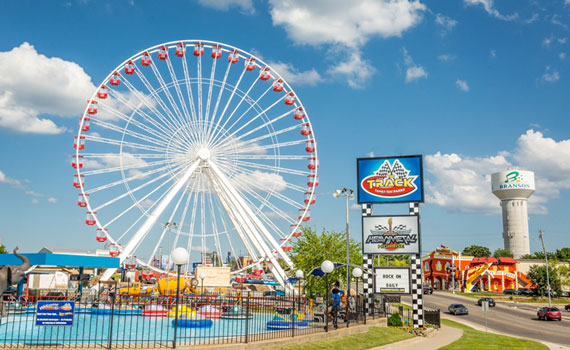 Many outdoor activities are available in Branson, including hiking at Dogwood Canyon, boating on Lake Taney Como, and exploring caves at Silver Dollar City. Branson is a great destination for kids of all ages, even toddlers.
Branson welcomes you to the Ozarks if you're ready to plan your vacation. Visit Branson.com today to schedule your Branson vacation. We have show and attraction tickets and a variety of lodging options available.
Most frequent questions and answers
Is Branson Missouri good for kids?
When it comes to kid-friendly entertainment and fun, Branson is second to none
YES! SO many family friendly shows and attractions.
Branson's reputation of being a top family vacation destination has a lot to do with its fun atmosphere for kids! 
Children of all ages will love Branson, MO. 
So many things to do!