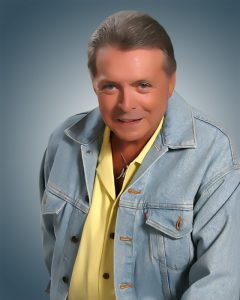 BRANSON, Mo., August 14, 2013 — The Legendary Mickey Gilley will be inducted into the National Traditional Country Music Hall of Fame, August 31, 2013, in Le Mars, Iowa.  Gilley will be part of the "38th Annual National Old-Time Country & Bluegrass Festival."  Gilley was surprised and honored to be nominated for this prestigious award.  Not only will he receive the award, but he will be doing a performance with the Urban Cowboy Band and the Urbanettes.
In 2009, Gilley was helping his buddy move a sofa and tripped and fell.  When he woke up in ICU he was paralyzed from the neck down.  Things looked bleak for Mickey and he wasn't for sure if he would ever be able to perform again.  With perseverance and hard work, Mickey was back at his theatre in Branson, MO doing live performances April of 2010.  The man is a true inspiration, which gave him the theme for his new concert he does live in Branson, MO.   Mickey chuckles as people ask if the "guy" doing the show is an impersonator…no ladies and gentlemen it's a "live" concert starring the Legendary Mickey Gilley.
Gilley has received 5 ACMA awards including Entertainer of The Year and Top Male Vocalist.  He has a Star on the Hollywood Walk of Fame for his contribution to the Music Industry and Mickey is a spokesman for the Arthritis Foundation and each year does a show donating all proceeds to the Taney County Animal Shelter.  Also, you can catch Mickey, along with his Co-Host Dalena Ditto, each week on RFD TV Fridays on "Gilley's Place" at 5:30 CDT.  Mickey showcases entertainers that have performed in Branson and tells you about the "goings on" in the Ozarks.  Check your local TV networks for dates and times.
The National Country Music Festival is a well-known event in the Midwest with hosts Bob & Sheila Everhart.  Thousands of people have attended this wonderful festival over the years.  There are stages for performers, contests, humor, food, jam sessions, so much going on and opportunities to meet and visit personally with celebrities such as Mickey Gilley.  Mickey joins the ranks of entertainers such as Bill Anderson, Michael Martin Murphy, Patti Paige, Lynn Anderson, Leona Williams, Terry Smith, and Jim Ed Brown to name a few.  Go to www.ntcma.net to see times for all the performances and learn more about the event.
You can catch Mickey's show in Branson, MO on Sunday through Tuesday evenings at 8 p.m. and Wednesday afternoon at 2 p.m. For additional information or tickets for Mickey Gilley show or for any of Branson's other shows and attractions or for lodging arrangements please contact the Branson Tourism Center, one of Branson's largest and most respected vacation planning services by calling 1-800-785-1550 or through its website, www.BransonTourismCenter.com