by Linda Burlingame
If you harbor any stuffy ideas of museums, cast them aside and plan a trip to Titanic Museum Attraction in Branson. This museum is a lively, interactive, state-of-the-art venue with exceptional ways of showcasing more than 400 Titanic artifacts and of creating an understanding of what it might have been like to be a passenger on RMS Titanic in 1912. The artifacts are amazing; just as extraordinary are the recreations of cabins and other settings that give you a glimpse into that long ago voyage.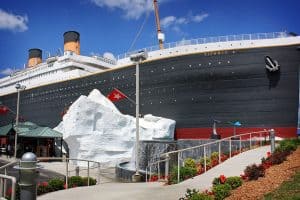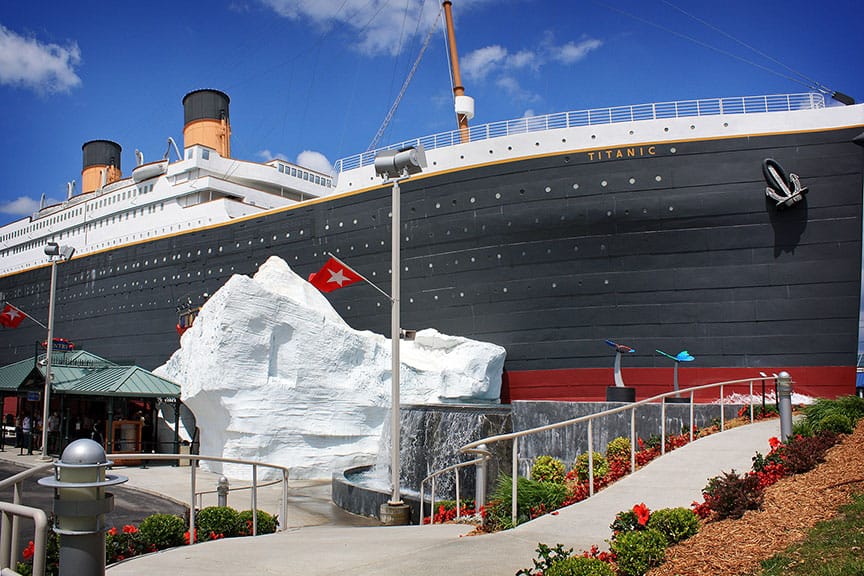 Titanic Branson has more than 20 galleries, and no two are alike. Each is unique in creating an atmosphere to tell a story. The Shipyard is one of my favorites. There are room-sized photographs of the Harland and Wolff's Queen's Island North Shipyard in Belfast, Ireland, where the Olympic-class passenger ship Titanic was built. You'll hear the clanking sounds of construction; there's an original sign from a pub where workers could gather at day's end.
The recreations of the First-class Cabin occupied by Colonel John Jacob Astor IV and his young wife, Madeleine, and of the unbelievably small Third-class Cabin are fascinating. There are four sleeping berths and a small sink in Third-class. And even though the First-class is luxurious with its elegant carpeting, chaise, and writing desk, it's also small.
There's always something new at Titanic Branson, whether it's a new artifact, an event, a new exhibit or gallery. Beginning in March 2018 Titanic Branson is honoring Amazing Women of 1912 on Titanic. (Through November) The celebration includes a dress collection from the most famous dress designer of the time, Lucy, Lady Duff-Gordon. Even if you are not a fashion aficionado, her story will fascinate you. European royalty, high society, stage and screen stars were her clientele. She had high fashion salons in London, Paris, New York, and Chicago. During her career she developed the runway-style fashion show and was the first to make models famous. She was also the first to market a branded perfume. Lucy had not planned to sail on Titanic, but urgent business in New York made it necessary to take the first available ship.
Titanic Museum is the front of the ship, built half scale. From entering Titanic at the iceberg (touch and feel how cold!), all through the ship to the Memorial Room, you'll experience a range of emotions. The poignant stories of Titanic's passengers are told remarkably well. In the Interactive Gallery you can sit in a full-sized lifeboat or try to climb the sloping decks, set up to demonstrate how Titanic listed as she sank. A stark reminder of how passengers must have struggled to stay upright as they tried to find a life boat, tried to find a loved one. Titanic collided with the iceberg at 11:40p.m. April 14. At 1:50a.m. she was sloping 12°. At 2:05a.m. it was 30° and her bow was sinking, the deck under water. By 2:18a.m. the angle was 45°. The lights blinked once and went out."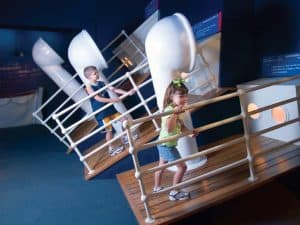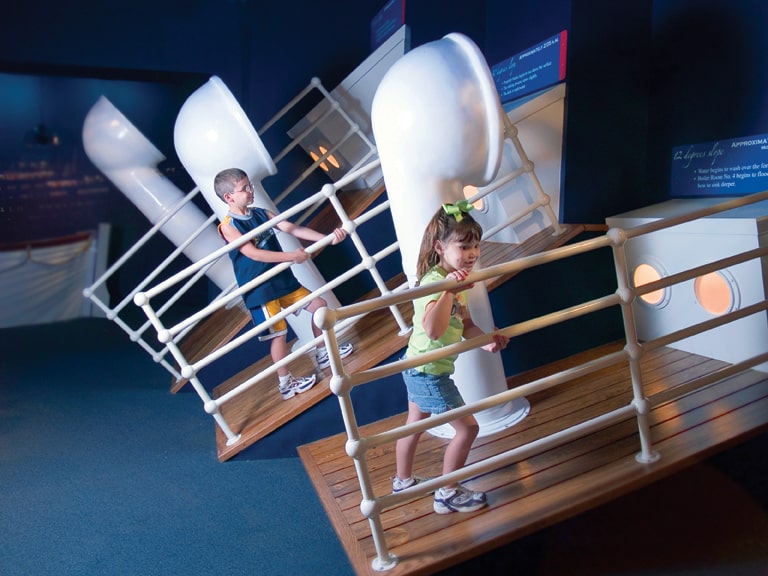 When you "board" Titanic, you are given a boarding pass with a passenger's name. The last time I visited Titanic, my passenger was Lucinda Parrish, 69. Passes include a brief interesting biography, and at the end of your journey, you'll learn if your passenger survived. (Lucinda survived and lived in Missouri until after WWI, when she moved to Hawaii. She died there at the age of 88.)
Titanic is owned by Mary Kellogg-Joslyn and her husband John Joslyn. Joslyn says Titanic remains his "magnificent obsession." The Woods Hole Oceanographic Institute discovered the wreckage of the ship in 1985. In 1987 John co-led a $6m expedition to Titanic, about two and a half miles below the surface. They were 44 days at sea. John made 32 dives in an amazing $20m submersible, to explore, retrieve, and film. John later co-produced a two-hour television documentary, Return to Titanic ¦ Live! It became the second highest rated live television documentary ever. The Museum here also makes the Titanic experience come alive.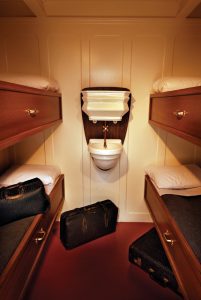 One of the newer galleries is the Musicians Gallery, a tribute to the eight musicians aboard. The band was actually two groups, a trio and a quintet. They had never played together until the night the ship was sinking. Another display I really like is the gallery with Father Browne's exceptional photographs, the only photos of passengers taken on board. (The photos are just past the Boiler Room, where you can shovel coal!)
February is Sweetheart Month at Titanic, but any month is a good time to plan your wedding or vow renewal ceremony there. The full-sized Grand Staircase is a wonderful setting! (There were twelve honeymoon couples aboard Titanic.) Titanic is a good venue for many types of events — for instance family or corporate events, for as many as 300; formal sit-down or progressive style dinners.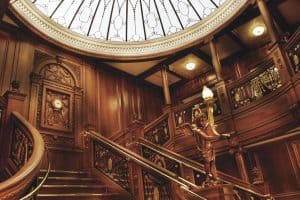 The Museum gift shop has an extraordinary selection of books, china, souvenirs and collectibles, toys, jewelry — did you know there was a gift shop on Titanic? Titanic Branson is an enthralling and educational experience, for "kids of all ages." Titanic hopes to inspire teachers to engage students and in 2018 honors teachers with a Free Crew Pass.
Everyone takes away something different from the Titanic experience. I believe everyone has a new, better understanding of what it was like to be a passenger on the RMS Titanic, a Royal Mail Ship, under contract to the British Royal Mail. The ship that set sail from Southampton on the 10th of April 1912. The ship that struck an iceberg in the North Atlantic. The ship that never reached NewYork harbor. The ship whose survivors arrived in New York on the Carpathia April 18. I hope you take away treasured memories from your visit to Titanic Branson!