In Branson, dinner is more than just a meal—it's an experience. Dining in Branson, MO, often comes with entertainment. We've tried out quite a lot of dinner shows, and here are some we think you'll love.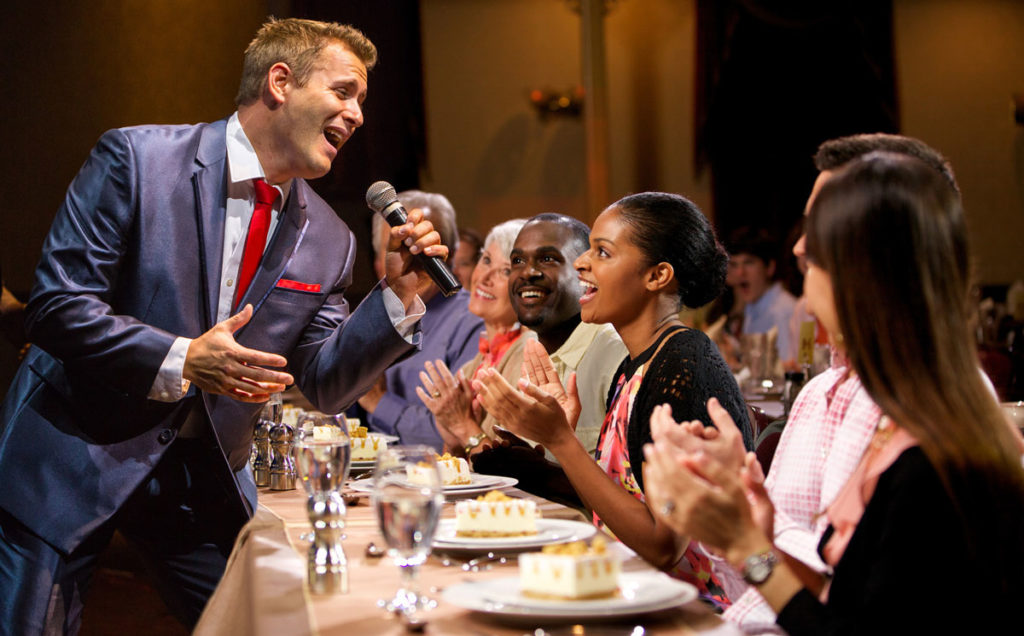 Showboat Branson Belle
Dinner shows in Branson, MO, include the Showboat Branson Belle. Dinner cruises on the Belle last for two hours, and during your tour, you'll get to float along Table Rock Lake. This scenic lake cruise features incredible views of the Ozarks.
In addition to breathtaking views, a Branson Belle ticket comes with a three-course meal and a live performance. Once onboard, you'll be entertained by talented singers performing with a live band. They'll delight you with a variety of popular songs ranging from the '60s to today's top hits. Along with professional musical performances, you'll get to enjoy dancing.
The riverboat cruise's dinner menu includes rotisserie chicken thighs, garlic mashed potatoes, and fresh green beans. You'll want to try the delectable butter cake topped with powdered sugar for dessert.
The Branson Belle is the perfect excursion for a family reunion or a special anniversary dinner. After your dinner cruise, be sure to wander through the two specialty shops located on the dock. They have a selection of souvenirs, accessories, and jewelry.
Dolly Parton's Stampede
If you haven't enjoyed enough home-cooked family dinners at the kitchen table, you'll want to get tickets for Dolly Parton's Stampede. According to Dolly, the family dinners of her youth featured plenty of loud laughter, singing, and tasty home-cooked food.
At Dolly Parton's Stampede, you'll have the chance to see friendly competition, gorgeous horses, and trick riding. During your dinner in Branson, MO, you'll enjoy a yummy feast prepared using the finest ingredients. A specialty dessert and soda, coffee, or tea complete every meal. The Stampede also serves vegetarian and gluten-free meals for those with more restrictive dietary needs.
The competition is between the theater's two sections. Once seated, you'll find out which side you'll be cheering for throughout your show. There's Ozark Mountain music and 32 horses with 32 professional riders showing you what they can do. The Stampede show includes carriage races, barrel racing, and lumberjack relays. The Dolly Parton Stampede features a real buffalo stampede and pyrotechnics. It is sure to be fun for every member of your family.
Shepherd's Chuckwagon Dinner
As one of the best dinner shows in Branson, MO, Shepherd's Chuckwagon Dinner includes music, skillful picking, and tall tales. At dinner, you'll also get to hear beautiful poems about the great American cowboy. Dinner is served at 5:00 p.m., and the show goes from 5:15 p.m. to 6:30 p.m. The show's musicians are skilled harmonica, acoustic bass, and guitar players.
The show changes during the Christmas season. If you're there during the holidays, you'll get to hear the dinner entertainers play traditional Christmas songs. These tunes range from "Blue Christmas" to "Christmas for Cowboys."
You'll love the Shepherd's Chuckwagon Dinner menu. It includes food items like barbecue beans, smoked pulled pork, and beef brisket in addition to sourdough yeast rolls and Dutch oven cobbler.
WhoDunnit Hoedown Murder Mystery
Top Branson experiences include the WhoDunnit Hoedown Murder Mystery show. When Fiddler Squeeky Bowman is murdered, it's up to the dinner guests to determine who the killer is, and trust us, the list of suspects is incredibly long. The show's actors put their all into each performance, and they'll keep you laughing and guessing about whodunnit.
Dinner during the show consists of smoked pulled pork, chicken breast, grilled corn on the cob, and dinner rolls. Dessert is white birthday cake, and you'll also have your choice of beverage.
Escape Reality Dinner & Magic Show
One of Branson's most amazing dinner shows is the Escape Reality Dinner & Magic Show. This exciting production features elaborate illusions combined with a tasty dinner. Magic shows appeal to people of all ages, so feel free to bring your kids and parents.
The Escape Reality Dinner & Magic Show will keep you scratching your head while trying to figure out how they did those incredible tricks. Garry and Janine Carson are the show's stars, and they bring the magic to you. You'll love the intimate nature of the performance since it lets you participate in it.
Garry is the magician, and he uses Vegas-style magic that has earned him several awards. He started his magic career at just ten years old, so you know that he's had plenty of time to hone his craft.
The dinner menu includes a garden salad with a choice of dressing and a combination plate of slow-roasted beef and marinated boneless chicken breast that's grilled. You'll also get roasted red potatoes and fresh vegetables.
At this dinner show, you can select either a vegetarian or vegan main course option. The vegetarian meal is pasta primavera with Parmesan cheese, while the vegan meal is the same main dish but minus the cheese. Dessert options are a brownie delight or sugar-free mousse.
Branson's Murder Mystery Show
Branson's Murder Mystery Show will entertain you with its outrageous whodunnit mystery that is sure to keep you laughing. On the night of your reservation, your evening will begin with a tasty buffet-style dinner.
Each meal is cooked fresh in the kitchen by on-site expert chefs. The menu includes meatloaf, baked chicken, and macaroni and cheese. You can also dish up mashed potatoes, green beans, and a homemade yeast roll.
After dinner, you'll sit down for the show. The story of the murder mystery begins with the killing of an innocent person. Law officials need everyone's help to solve it. The show's cast comes from the audience. If you're selected, you'll be given a cowboy hat to wear and a prop gun. Then, they'll send you out onto the stage to become a part of the performance. Those who remain in the audience will get to participate by solving the crime.
Enjoy Our Favorite Dinner Shows in Branson, MO
Dinner shows in Branson range from experiencing what it was like to be a part of Dolly Parton's family to solving a murder. These unique dinner shows will not only keep you fed, but they will also make sure that you're entertained.