by Linda Burlingame
Love, Look What You've Done to Me; Here Comes the Hurt Again; Could I Have This Dance; Lookin' for Love … if it's been awhile since you've watched Urban Cowboy, you might have forgotten how many great songs there are. The Urban Cowboy Reunion, with Mickey Gilley and Johnny Lee is an exceptional show that features songs from the movie as well as classic hits from Gilley and Johnny. Twenty-two #1 and 51 Top 10 Billboard hits between them — a combination that creates a show packed with timeless music and lots of fun.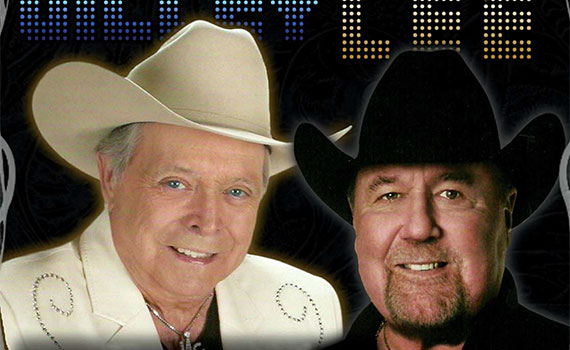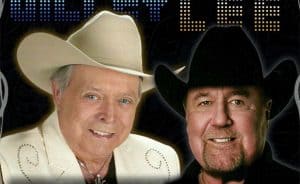 You'll be tapping your feet as soon as the curtain goes up and Johnny kicks things off with Hey Bartender, Highways Run on Forever, One in a Million, which was his second #1, in December of 1980. His first #1 was in September of that same year. Remember? Stay tuned. Not every song is a big hit, of course. When he sings Sometimes I Cry, Johnny quips, "It sold well under a million." Sweet sounds of Norman Carlson's saxophone on that one! Gilley's Urban Cowboy Band boasts some of the best musicians anywhere, and most of them have been with Gilley for decades.
Gilley made his first record in 1957, but it was 17 years before he had his first hit. That first record was made with a $200 investment. Gilley will tell you how it made him tens of thousands of dollars, more than 50 years later! His Room Full of Roses was intended for the "B" side, he says. That song, written by Tim Spencer (a member of Sons of the Pioneers), became Gilley's first national #1 single (on the Playboy Records label!). Things don't always turn out the way we think they will, right? I enjoy the stories behind the songs, and Gilley and Johnny share some interesting tales with you.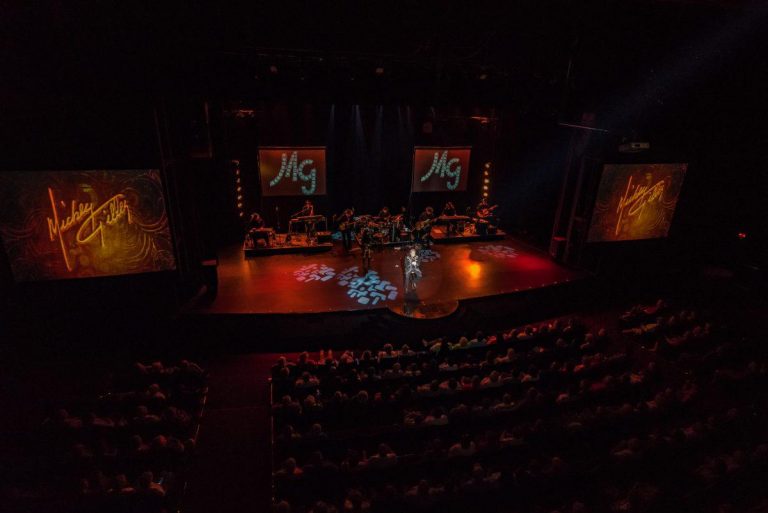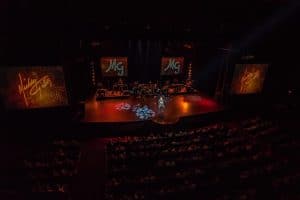 They have been touring the US and Canada with Urban Cowboy Reunion, and the show is on stage in Branson at the Mickey Gilley Grand Shanghai Theatre, where the Amazing Acrobats of Shanghai also perform.
I've known Gilley since 1990. He loves entertaining, loves his audience and his ardent fans. Enthusiastic fans that make the show even more fun. I visited with him during intermission. There were other friends there, and a couple of band members came in to find out what songs he wanted to start out with in the second half. What was it? #1 C&W Boogie Woogie Blues Man … I love that song! It was Gilley's song the night in 1977 when he won six (SIX!) awards from the Academy of Country Music: Album of the Year, Single of the Year, Song of the Year, Top New Male Vocalist, Top Male Vocalist, and … wait for it — Entertainer of the Year! He's still going strong; I think his voice sounds better than ever.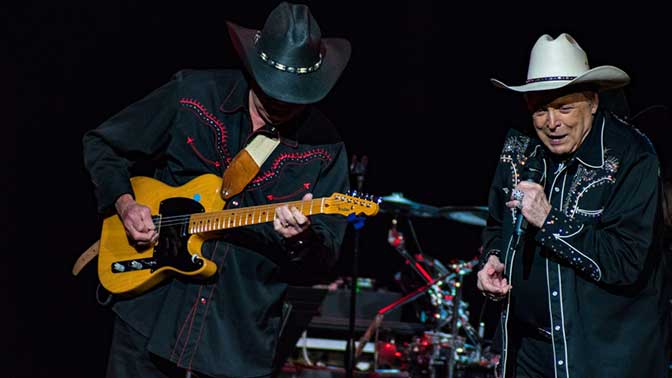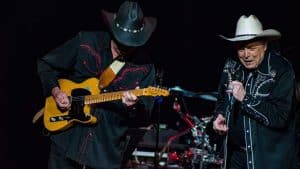 Stephanie Hall and Georgina Holiday sing backup for Gilley and for Johnny. They do fine solo work, too. Stephanie's Could I Have This Dance and Georgina's Darlin' were especially nice. And of course, you'll love Gilley's hits. I Overlooked an Orchid; True Love Ways; That's All That Matters to Me … the ballads are my favorites! When Johnny joins Mickey on stage, background video clips bring back memories of the songs they're singing, melodies including Orange Blossom Special; Sweet Honky Tonk Wine; Hello, Texas. And of course, Lookin' for Love, Johnny's first #1. What a fun "chorus line" when all four do Don't It Make Ya Wanna Dance! "Don't it make ya wanna smile!" You'll smile as you enjoy the music, delight in the stories. After the show Gilley and Johnny come out to the lobby to meet you, sign autographs … what a fun time you'll have at the Urban Cowboy Reunion!