Find out what you need to know before visiting White Water.  
White Water is an excellent summer destination for the entire family. USA Today recently named White Water one of the leading outdoor water parks in the country. White Water's drop slides provide lots of exciting thrills. Young children can enjoy themselves in the interactive play area, and visitors who do not wish to get splashed can relax by the pool.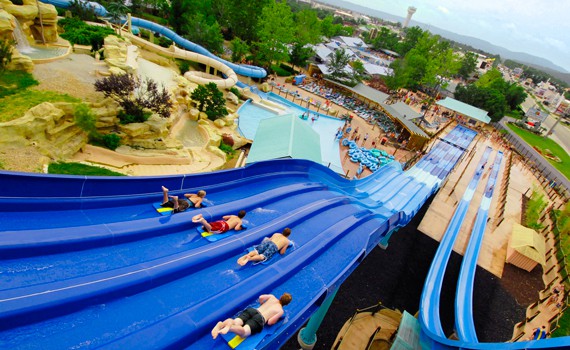 Slides and Rides
Coconut Cove

White Water's Coconut Cove is the perfect place for the youngest splashers in your family! The exciting play structure includes five slides, four water blasters, hose jets, tipping buckets, and more, all designed for interactive play.
Surf's Up Wave Pool

Your entire family can enjoy floating, swimming, and playing in this colossal, 500,000-gallon pool! But a 4-foot wave erupts when the bell rings, sending everyone scrambling to tube or body surf!
Kalani Towers Mat Racer

Compete against your family and friends on the 4-lane multidrop mat racing slides, traveling over 25 mph and 312 feet to the finish line. Wet, nerve-racking, heart-pounding, spine-tingling rides to the bottom await!
KaPau Plummet

Two 245-foot slides launch riders from a drop-floor into a 70-degree plunge, exceeding the thrills found at White Water, Branson's 13-acre tropical water park. You'll experience a heart-pumping thrill starting with an enclosed slide atop a 40-foot tower.

Aloha River at Hula Hula Bay

The Aloha River at Hula Hula Bay is White Water's longest ride, at more than 800 feet and 300,000 gallons of water. It also offers plenty of seating areas, shade, and cabanas!
Kalani Towers Drop Slides

As your body surfs at speeds over 40 mph and freefalls 75 feet down the 300-foot-long drop slides, you'll feel a rush of pure adrenaline!
Waikiki Wave

Waikiki Wave features a double-speed slide that you can use to double your fun! It's a race to the finish line between two 200-foot slides. This family favorite features deck space and cascading waterfalls in the middle of the park.
Ohana Falls
Your group can enjoy this water-filled adventure, careening around corners, experiencing dips and drops, twisting, and turning.

Splashaway Cay

The 20,000-square-foot island-themed attraction offers water slides, aqua-shooters, splash geysers, elevated walkways, and a 150-foot-long escape slide.
Pipeline Plunge

A twisting and turning race to the finish awaits you on this fast and furious slide! A splash landing determines the winner in the water below and emerging water-soaked.
Dining Options

At White Water, you will undoubtedly work up an appetite and find abundant food options.
Big Kahuna Pizza & BBQ

Offering delicious pizza & slow-smoked BBQ
North Shore Coffee & Cones

Cool off with iced coffees and frappes and creamy shakes.
Gourmet and traditional style tacos, burrito bowls, and nachos.
Surf's Up Snacks

family favorites such as fresh hand-cut fries, funnel cakes, and more.
High Tide Hannah's Island Cafe

Cheeseburgers, chicken strips, salads, and fruit cups available.
Big Island Marketplace

looking for a quick snack or something ice-cold to beat the heat, you'll find frozen chocolate bananas, bagged candy, chips, and cookies.
Cabanas are available; if you're planning a trip to White Water, are you looking for a private retreat? Cabanas are conveniently located throughout the park and provide a private oasis for your family with additional amenities and exclusive use of White Water's premium deck space. There are a limited number of cabanas available.
The water park is open from late May to early September. It is open every day in June and July. Check the schedule for other dates. Attend the "Night Water" events on Saturdays in July for a special treat. You can enjoy the water park until 10 p.m. during these events.
FAQ
What Is White Water?
White Water is a water park that features water slides, raft adventures, pools, and more. In addition to thrilling rides for adults, the park includes interactive play areas for children.
Where Is White Water?
You'll find the park at 3505 W 76 Country Blvd.
When Can I Visit White Water?
White Water is open from late May through early September. In May, August, and September, you can visit on certain dates. In June and July, the park is open every day.
White Water opens at 10 a.m., and closing times vary by date. Depending on the date you choose, the park may close at 6 p.m. or 7 p.m. On Saturdays in July, you can visit the park for "Night Water." During "Night Water" celebrations, the park stays open until 10 p.m.
Will Kids Enjoy White Water?
Yes, absolutely! At the Splashaway Cay area of White Water, kids can enjoy splash geysers, aqua shooters, and slides. Toddlers and young children love Coconut Cove, a play structure that features water blasters, bubbling fountains, hose jets, slides, and tipping buckets.
What Should I Wear to White Water?
To fully enjoy your time at White Water, wear clothing that can get wet! You may want to wear a swimsuit or a T-shirt and shorts.
Are White Water Tickets Available by Phone?
Yes, you can purchase your tickets to White Water at 1-800-727-9062.