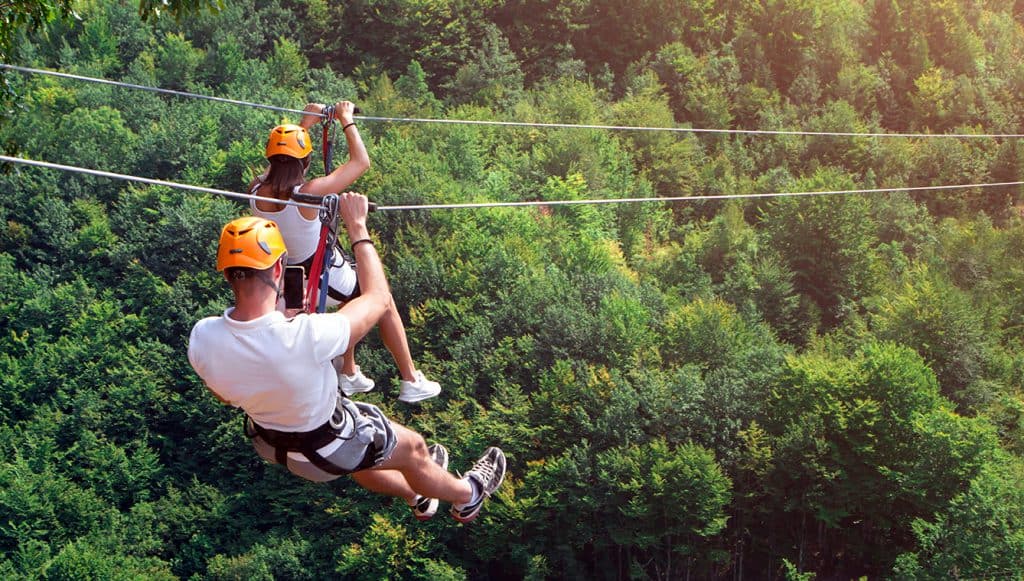 Branson has become just as famous for diverse attractions as it's always been for live shows, and the allure of several ziplines is bringing adventure fanatics here throughout the year! Almost every destination seems to have jumped on the zipline craze, but Branson's variety of zip line experiences make it stand out from the rest!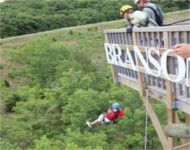 Branson Zipline, located just north of Branson on Highway 65, inside the Wolfe Creek Preserve, is an eco-adventure that features several different experiences: the 1.5 hour Flying Prospector Canopy Tour, the 2.5 hour Ozarks Xplorer Canopy Tour, the 3.5-hour Canopy Adventure Combo, and, for the ultimate thrill, the Blue Streak Fast Line & Free Fall Xpress. Being one of the only themed zipline courses globally, guests are ensured that their entertainment will be multi-faceted. From checking in at Wolfe Creek Station to riding in a Pinzgauer Swiss Army Troop Carrier and interacting with knowledgeable, trained, & certified guides – every aspect of the experience will create memories for a lifetime. There are also non-zipping adventures like the Wolf Creek Photo Safari and Ol' Blue Gemstone Mining.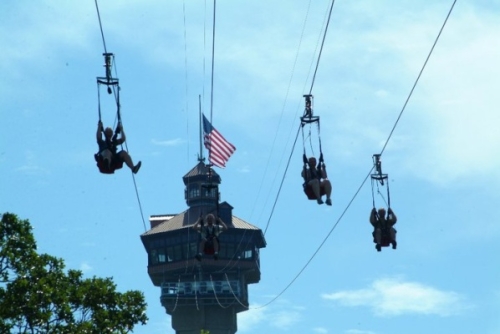 The Vigilante Extreme ZipRider at the Shepherd of the Hills Homestead stands high above the others; literally…it launches riders down from 170 feet at speeds up to 50 mph! Located near the top of Inspiration Tower, the "Vigilante" doesn't require a lot of uncomfortable rigging or harness fitting or a long list of riding instructions; nor does it require the rider to do anything other than enjoy the thrill of flying through the air, safely secured in a comfortable seat. Designed to brake automatically as it descends cable gradients between 5% and 40% and to slow to a stop at the bottom, guests can just breeze through the fresh mountain air and enjoy the trip! You'll zoom down over a mile and a half, and then take a scenic shuttle ride through the homestead back up to Inspiration Tower. And because four riders launch side-by-side at one time, it's easy for a family to zip together. And make sure you save a little time to enjoy the stunning panoramic view from Inspiration Tower, it stands 230 feet high and, on clear days, you can see as far as 90 miles away! It's the ideal way to enjoy the beauty of the Ozarks' countryside.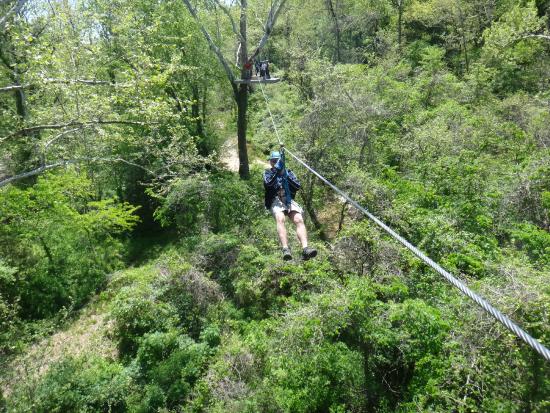 Zip Line USA, located in Reeds Spring, 14 miles northwest of Branson, is a zip line designed for all ages. With no towers to climb, it is also the most user-friendly canopy tour possible. 4×4 buses deliver participants right to the top of the course, and only 8 stairs to climb. Imagine soaring through the treetops while gaining a bird's eye view of the beautiful Ozark Mountains of Missouri. Experienced guides will escort guests on an adventure, where all will delight in an adrenaline rush & learn about the local ecology from a bird's eye view. Offering the adventurous souls, a thrilling opportunity to soar through the treetops, high above the forest floor. The canopy tour involves traversing from one platform to another along a steel cable suspended up to 350 feet above the forest floor and spanning distances of 500-3200 feet.
There are several other zipline experiences in Branson, including:
Adventure Ziplines, the attraction that lets you zip right in the heart of Branson; the only zipline attraction located within the city limits, it features seven different dual cables, steel constructed ziplines up to 2,000 feet in length that will reach speeds up to 50 mph.
Indian Point Zipline Adventure Tours is located just outside the city limits on this beautiful Table Rock Lake peninsula, the popular resort area where Silver Dollar City is located. Its six ziplines employ a sitting harness trolley system that'll take riders 2,700 feet through the Point's forest land.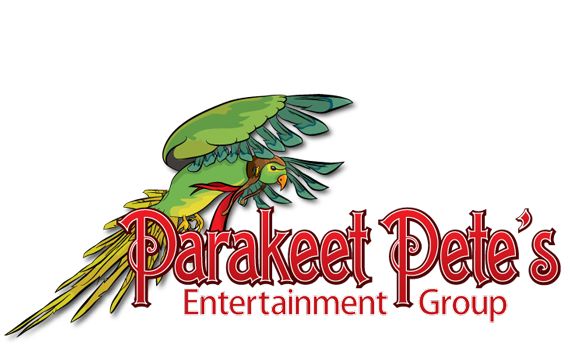 Parakeet Pete's Waterfront Zipline at Branson Landing utilizes a proprietary seat system that keeps you securely strapped in, but harness free…just sit down, glide along, and enjoy the scenery of Lake Taneycomo and Branson Landing. Parakeet Pete's also operates the Steampunk Balloon Ride, where you can enjoy a 360-degree view high above the lake and the Landing.
For breathtaking zipline adventures that are, at once, family-friendly and offer something for the thrill-seeker, you won't find a better destination than Branson…it's the ultimate "zip trip!"
For More Information Please Call
1-800-785-1610 Web Code —