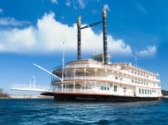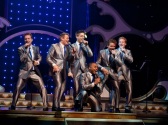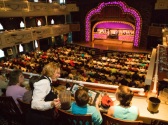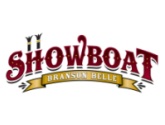 Showboat Branson Belle
Call Branson Tourism Center at: 1-800-785-1610
Made In The USA 12:00 pm Lunch Show
This stellar salute to the stars and stripes features the amazing voices of the four-member, all female quartet The ShowBelles, master pianist Julie McClarey and dynamic fiddler Dean Church. The show is hosted by magician & comedian Christopher James and backed by The Showboat's own live band The Castaways.
Made In The USA is a rousing musical salute to the land that we love. Every musical moment of this show is dedicated to America, from pop and folk hits to a grand finale that will make hearts swell with pride. Join us for an unforgettable musical journey!
Guests are asked to arrive one hour prior to scheduled cruise performance.
Made in the USA Show 1 Dinner Show
Made in the USA featuring Janice Martin and The ShowMen
And, experience the exciting stage show Made in the USA. The world's only aerial violinist Janice Martin and singing group The ShowMen accompanied by a rockin' live band will move you with a patriotic musical tribute to America! Plus, comedian Christopher James will fill the boat with laughter and illusions.
Martin brings her high-flying theatrics to the Showboat stage in a unique act showcasing her talents as a world-class violinist, vocalist, acrobat and multi-instrument musician. "Janice Martin is an amazing talent and we are excited about what she has in store for the new show," said Showboat General Manager Jim Moeskau. "Her aerial performance and mastery of the violin, piano and vocals is a unique experience, not just in Branson, but anywhere."
The ShowMen, five talented male vocalists and dancers from all across America, join Martin to fill the stage with a powerful blend of contemporary harmonies and standout solos. Comedian and magician Christopher James is the ultra-sharp, uber-funny master of ceremonies and entertainer, and all are accompanied by the Showboat's signature live band, the Rockin' Dockers, for a totally live entertainment experience.
Guests are asked to arrive one hour prior to scheduled cruise performance.
Made in the USA Show 2 Dinner Show
Made in the USA featuring Dean Church, Julie McClarey and the Showbelles
Beginning June 1, select cruises feature the Made in the USA show featured on noon and Sunday cruises presenting talented fiddler Dean Church and master pianist Julie McClarey, joined by The ShowBelles, a female quartet, and the live band, the Castaways. Comedian David Hirschi, two-time Branson Comedian of the Year, emcees and performs.
12:00 pm Lunch, 4:00 pm or 8:00 pm Dinner Show
Iceberg & Romaine Salad blend featuring a Sweet Vidalia Onion Dressing topped with homemade Croutons
Corn Biscuit
Slow-simmered Royal Beef Roast & Honey-Dijon Glazed Chicken
Garlic Mashed Potatoes
Sugar Snap Snow Peas
Julienne Carrots
Anna Belle's Golden Brittle Lemon-Berry Torte drizzled with Caramel
12:00 pm, 4:00pm or 8:00 pm Children's Show Menu (ages 4-11)
Chicken strips
Macaroni & Cheese
Steamed Vegetables
Mud Puddle Sundae dessert.
A vegetarian meal is available upon request. Please let our staff know you would like this meal option when ordering. A gratuity is not included in your ticket price and would be most appreciated by our wait staff.
Meet some of the Stars after the show!
Guests are asked to arrive one hour prior to scheduled cruise performance.