From heirloom-quality furniture hand-crafted by artisans at Silver Dollar City, to scuba and golf gear, to brand name fashions, jewelry and appliances, Branson is a great place to shop for quality, variety and value. Visitors can explore two outlet malls with more than 200 stores to find great deals on designer clothing and specialty merchandise. Branson also has hundreds of boutiques, craft and hobby shops, antique stores, toy stores, jewelry stores, art galleries and gourmet food markets.
At Tanger Outlet Center and The Shoppes at Branson Meadows, visitors can find designer brand clothing and shoes by manufacturers such as Gap and Old Navy. Guests can also shop for name brand appliances, jewelry, leather goods, glassware, home decor, electronics, books, music, movies, cosmetics and more at stores like Kay Jewelers and Pfaltzgraff. The after-Christmas sales are a great time to stock up and save even more. Opportunities to pick up the perfect souvenir abound.
In addition to outlet malls, the $420 million Branson Landing lifestyle development offers 95 acres of exciting shopping, anchored by Belk department store and Bass Pro Shops, complete with a floating restaurant and marina for testing boats and fishing equipment. Branson Landing includes the debut of national retailers to Branson and Springfield, such as White House/Black Market, J. Jill, and many more. With over 400,000 square feet of national brand name shops, galleries and specialty gifts, there is something for everyone at the Branson Landing.
---
Branson Hills
As you enter Branson Hills, you'll see Branson Tourism Center on your right, your resource for everything Branson! Then discover abundant shopping that includes Target, Home Depot, Books-A-Million, Best Buy, Pier 1 Imports, TJ Maxx, PetCo, Home Depot, a WalMart SuperCenter, and Bed, Bath & Beyond. Several smaller shops are intermingled with the bigger stores, making it easy to spend an afternoon in one of Branson's newest developments. Dining spots include Chili's, Freddy's Frozen Custard & Steakburgers, Pizza Hut, and Panda Express. Just beyond all the shopping and dining, you'll find the Branson RecPlex. Operated by Branson's Park & Recreation Department, the center features a large pool, walking paths, two gymnasiums, and more. Many services are available to visitors for a small fee.
---
Branson IMAX© Entertainment Complex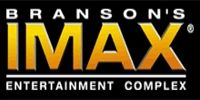 In addition to the new giant IMAX© with dual 4K laser projection movie screen, the Little Opry Theatre, McFarlain's Restaurant, and a multi-screen movie theater, you can explore several specialty shops at the Branson IMAX© Entertainment Complex. Discover gift shops with souvenirs and collectibles, quilts, clothing, jewelry, and clocks, as well as health care items and IMAX© film merchandise. It's the place where you can shop while you feed and entertain the family all in one location!
---
Branson Landing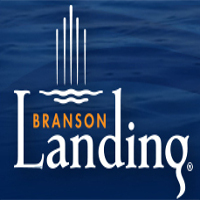 Discover uncharted waterfront shopping, dining and entertainment adventures at Branson Landing, located on the waterfront of beautiful Lake Taneycomo in downtown Branson.
At Branson Landing, you will have a whole new world to explore, with Belk Department Store, Bass Pro Shops and over 100 specialty stores and restaurants.
Don't miss the magnificent $7.5 million water fountain spectacular, synchronized to light, sound, music and fire!
Branson Landing Directory & Map
---
Branson Mill Craft Village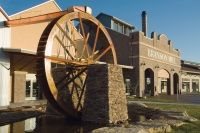 Branson Mill Craft Village is a one-of-a-kind shopping experience located in Branson Meadows. It has a dedicated and talented group of artisans and master crafters who both demonstrate and sell their works at Branson Mill. This working craft village is devoted to craftsmen with exceptional skills in leather carving, wood carving, pottery, pen and ink drawings, wood turned pens of exotic woods, custom embroidery, mosaic art, and the list goes on. The Mill's best feature is that there's no charge to watch these artists at work, but few can leave the Craft Village without that unique souvenir or two of authentic Branson arts and crafts!
---
Grand Village Shops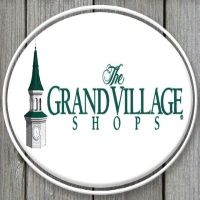 The Grand Village Shops takes visitors on a journey along cobblestone streets leading to an unforgettable world of shopping. Eighteen specialty shops provide a spectacular mix of boutiques, crafts, entertainment, and restaurants that you won't find anywhere else in Branson. Follow charming paths and sparkling fountains to explore the talents of Branson's best craftsmen, stop for great meals and treats, and indulge yourself and your loved ones with jewels, fashion, and unique gifts. Whatever your tastes, your experience at Grand Village will be a shopping trip to remember!
Location:2800 W 76 Country Blvd
Branson, MO 65616
417-337-5427
---
Historic Downtown Branson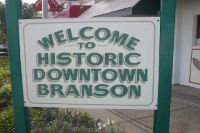 Historic Downtown Branson is a truly authentic downtown…a Branson attraction of the best kind! Fine art, flea markets, antiques, clothing and jewelry boutiques, cafés, music shows, and even that rare shopping treat, two family-owned shoe stores! No visitor to Branson should miss downtown's retail centerpiece, Dick's Oldtime 5 & 10! You'll be launched back to your childhood of visiting the local variety store, complete with green and white tiled floors, everyday household goods, and fun Branson souvenirs. Locals will tell you "if you don't find it at Dick's, it just can't be found!" There's even a free trolley service…the kids will love Sparky the trolley car, a great way to get to and from downtown and Branson Landing.
---
The Lakeside Shoppes at Branson Landing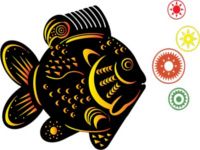 The newest retail development on the north side of the award winning Branson Landing with some of the hottest new trends in shopping and dining. With dining options like Qdoba, Jimmy John's, and Pie Five Pizza you are sure to get a satisfying quick bite to eat to recharge your shopping batteries. Shopping the Lakeside Shoppes is a great break from the hustle of the day, with boutique shops like Codé, iLets, and one particularly incredible shop, The Crystal Fish – Gifts of Distinction. The Crystal Fish remains one of the most unique shops in all of Branson for nearly 30 years. Now located on the north side of the Branson Landing in the wonderfully gorgeous Lakeside Shoppes, it is the only Vera Bradley Platinum Dealer in Branson and carries an extremely large selection. Also, stop in and shop for Pandora Charms, Swarovski Crystal, and other unique handmade and locally made gifts and boutique items that are sure to impress and delight.
---
The Shoppes at Branson Meadows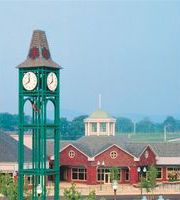 The Shoppes at Branson Meadows is an elegant outlet complex that features lovely landscaping and Victorian country style touches, like the pretty clock tower that chimes on the hour and cupolas that top several of the stores. This multi-use complex includes distinctive retail shops, a movie multiplex, and the locally owned, Upper Deck Grille, home to original 'toss' sauces and fun burgers like the Peanut Butter Bacon and Surf & Turf. Shops include Bon Worth, Tool Town, Tuesday Morning, Hush Puppies, Best TV Stuff & More, Phillip Zachary's Turquoise Gallery, and VF Outlet (Vanity Fair), where you'll find brand-name jeans, lingerie, children's clothing, and a variety of men's and women's fashion. You'll also discover a locally owned formal wear shop, Touch of Class, and FEB Food Service Equipment, that not only carries restaurant supplies, but a lot of handy kitchen items and bulk-sized supplies perfect for your Branson reunion picnic or other get-togethers! Parking is easily accessible and abundant.
The Shoppes at Branson Meadows Directory & Map
---
Tanger Outlets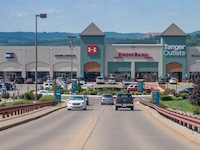 Tanger Outlets is a destination all by itself! The popular Branson center, located right in the midst of everything on The Strip – Highway 76, is packed with your favorite name brand outlet stores, including Coach Factory, Crabtree & Evelyn, Fossil, Lane Bryant, Rue21, Polo Ralph Lauren, Carter's Babies & Kids, Skechers, Banana Republic, Aéropostale, Bath & Body Works, Tommy Hilfiger, Zales, and dozens of others. You can find snacks at Mick's Nut Shack and The Fudgery, treats and premium food items at Harry & David, and your favorite root beer and diner fare at A&W Restaurant. Tanger's layout of shops makes it easy to find every store you're looking for, and repeat visitors will be happy to find that additional parking was recently constructed alongside the center. And new for 2015, Electric Vehicle Charging Station!