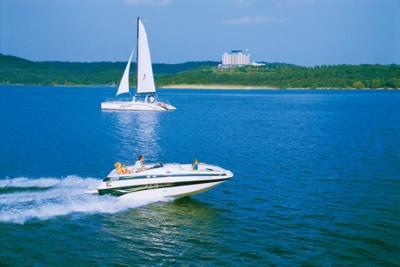 Looking for the next getaway for you and your family. How about Branson?
Branson, Missouri, is one of those vacation spots you can't miss.
In this article, we'll walk you through the nine spots you should visit when you vacation in Branson.
If you're ready to pack your bags, let's get started.
1. Table Rock Lake
Did you know Table Rock Lake is an artificial lake?
In 1958, the U.S. Army Corps of Engineers built Table Rock Lake on the White River. The creation of this river came hand in hand with the construction of the Table Rock Dam.
Since then, Table Rock Lake has become a popular destination for tourists and locals.
This lake features 800 miles of shoreline, perfect for all water activities. People take out their boats to enjoy a day of fishing.
If you're lucky enough to catch a fish, you can expect to find bluefish, bass, and catfish.
Table Rock Lake is a great place to go camping or spend the day if you're looking for fun and free activities.
2. Branson Landing
Branson Landing is one of those vacation spots you can't miss. Your visit to Branson will not be complete without walking the outdoor shopping stretch.
With over 100 storefronts, you can enjoy a day of shopping for the whole family.
Branson Landing runs alongside Lake Taneycomo. If you get tired of all the shopping, you can take a walk on the boardwalk.
The lakefront also features a water fountain show. These are not ordinary fountains. The fountains move to the sound of music and feature fire and light in the front.
This is free entertainment the entire family will enjoy.
3. The Branson Ferris Wheel
If you're looking for a fun activity for kids and adults, don't miss your chance to ride on the Branson Ferris Wheel! Since moving from Chicago to Branson in 2016, the Ferris wheel has delighted riders of all ages with fantastic views of the Ozarks.
You can take a spin on the Ferris wheel during any month of the year. Although opening and closing times vary by season, the wheel usually opens at 10 a.m. If you want to ride in the evening, make sure to see "Electrify," the music and light show that takes place after dark.
The Branson Ferris Wheel has 40 gondolas, and each gondola holds two to six riders. Due to the design of the gondolas, you cannot have wheelchairs, strollers, walkers, poles, or selfie sticks with you inside your gondola.
4. White Water Branson
What better way to spend a warm day on a family trip to Branson than a water park?
The White Water park has activities for the entire family. If you feel like relaxing, float along the Aloha River at Hula Hula Bay for the ultimate lazy river experience.
Enjoy unexpected twists and turns, fountains, bubblers, geysers, and more at this 800 feet long river.
If you're more adrenaline junkie, go to Kalani Towers drop slides and joy a drop of 75 feet at 40mph. That will make a splash.
5. Titanic Museum
Out of all the vacation spots you can't miss in Branson, this one is the most surprising. Who knew a Titanic Museum resides in Missouri?
The Titanic Museum resembles the original ship, but it's only half the size.
When they enter, visitors receive a Titanic boarding pass with the name of an original passenger.
Visitors will explore the museum and look at over 400 pieces rescued and preserved from the Titanic.
Some famous attractions include touching a real iceberg; you can dip your hands into the 28-degree water and stand on one of the wet, sloping decks.
At the end of the tour, visitors see if the original passenger on their ticket survived the sinking.
6. Silver Dollar City
Silver Dollar City is one of the many vacation spots you can't miss in Branson.
This theme park will transport you back to the 19th century with its incredible vintage vibe and decor. Don't worry; the rides are not from the 1800s.
The rollercoasters are modern and will have you screaming at the top of your lungs.
However, if roller coasters are not your thing, there are plenty of other attractions for you to enjoy.
Check you attractions such as McHaffie's Homestead, Lost River of the Ozarks, Homestead Animal Barnyard, and many more.
If you visit Silver Dollar City and would like a little break from the rides, explore Marvel Cave. Going down to Marvel Cave is included in the Silver Dollar City ticket.
When the cave opened for tours in 1894, it became Branson's first major tourist attraction.
So get ready to descend 300 feet below.
7. Branson's 76 Strip
When you drive into Branson, you must take Highway 76, also known as the Branson strip.
The strip runs from East to West which is the entire width of Branson. Driving through Branson Strip will closely look at the city's top entertainment spots.
If theatre is what you're looking for, expect to see popular shows such as Dolly Parton's Stampede, The Haygoods, Presley's Country Jubilee, and many more.
Aside from theatres, you can also find museums and some of the city's best restaurants along this road.
8. Shepherd of the Hills Fish Hatchery
Shepherd of the Hills Fish Hatchery is not your typical conservation center. This facility produces up to 400,000 pounds of brown and rainbow trout yearly.
Visitors to the facility get the chance to learn about fishing and aquatic life. Besides learning and touring the facilities, you can also fish.
If fishing is not your thing, you can also buy some fish food and fish the fish. This activity is delightful for children.
Once you're done touring the conservation center, explore one of the four hiking trails or enjoy a picnic in the picnic area.
9. JESUS at the Sight & Sound Theatre
Sight & Sound Theatres has been bringing Bible stories to life on stage for more than 45 years. Every show is a spectacular production with a meaningful message. Live animals and special effects accompany edge-of-your-seat action on a panoramic stage!
Branson Vacation Spots You Can't-Miss
Don't miss these attractions on your next visit to Branson. This area has a lot to offer for every member of the family.
Ready to plan a visit to Branson? If you are, visit our page for a complete list of lodging and hotels.
We also know where to find the best places to eat.