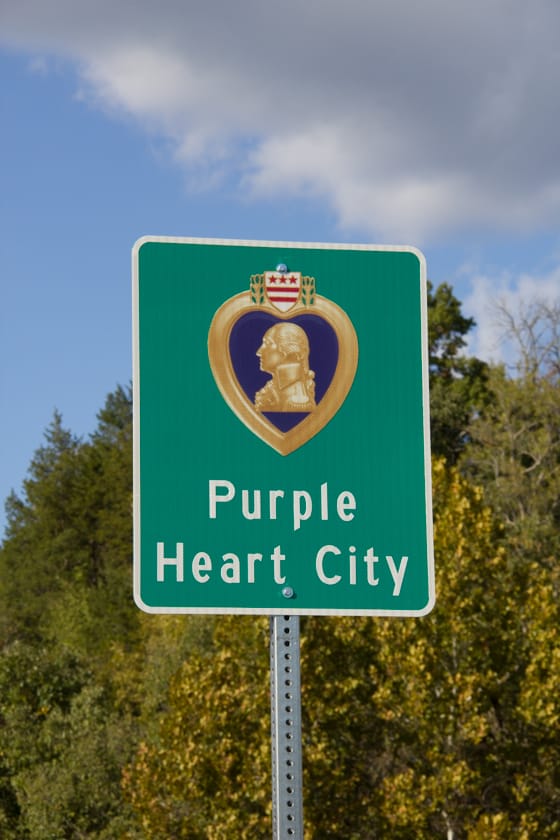 BRANSON, Mo., October 23, 2013 – At its May 8, 2012 meeting, the Board of Aldermen for the city of Branson passed a Resolution proclaiming itself as a "Purple Heart City" and presented the Proclamation to Everett Kelly, Commander of the Military Order of the Purple Heart (MOPH) Department of Missouri in a special ceremony. A press release from MOPH said that the Proclamation made Branson the first Purple Heart City in the State of Missouri and that Branson, "Already regarded as 'The most veteran friendly city in the United States,' by proclaiming itself a 'Purple Heart City,' pays special tribute to the almost 2 million dedicated and brave servicemen and women who have either been killed or wounded in combat, and honors not only Missouri's Purple Heart recipients but all veterans across the nation."
On October 22, thanks to the cooperation of the City of Branson, the Missouri Department of Transportation (MODOT), the Military Order of the Purple Heart Department of Missouri and Branson.Com, signs designating Branson as a "Purple Heart City" were installed on the north and south bound sides of Highway 65 coming into Branson. Jim Jewsbury, MODOT Maintenance Supervisor for the Southwest District, said that the erection of the signs on MODOT's right of way was made possible through an agreement signed between the city of Branson and MODOT and that, to the best of his knowledge, the signs are the first such signs installed on Missouri Highways designating a "Purple Heart City" and honoring Purple Heart Recipients.
Larry Milton, the co-owner of Branson.Com with his wife Lianne, who paid for the signs, said, "This cooperative effort between the city of Branson, MODOT, and MOPH had one purpose, to honor the recipients of the 'Purple Heart' and other Veterans by publicly proclaiming to them and everyone else that Branson is a 'Purple Heart City' that honors and respects their sacrifices on behalf of our Nation. How neat is it that, we were able to do it in time for 'Branson Veterans Home Coming Week' which will be celebrated Nov. 5 – 11."
Branson.Com is the sponsor of the Nation's only event dedicated solely to those who have received the "Purple Heart" as the result of wounds received in combat, "Branson.Com Honors Purple Heart Recipients" which will be held in Branson April 24 – 26, 2014 for its sixth consecutive year.