For current Veteran's Day information, please click here.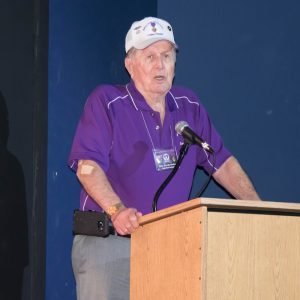 Hundreds of Purple Heart Recipients from all around the country gathered together in Branson April 20 – 22 , for the 9th  Annual "Branson.Com Honors Purple Heart Recipients" event. Started in 2009, it's the only Veteran's event dedicated to honoring and remembering those who have received the "Purple Heart" for wounds received in combat while serving in the Armed Forces of the United States and is endorsed by the Military Order of the Purple Heart.
It's three days of Branson sharing its heart for Veterans and doing what it does best. That's provide its guests with a fun filled experience that will give them a special moment, in a special place, that will create memories lasting a lifetime. The Honorable Hershel Gober, the National Commander of The Military Order of the Purple Heart, attended and said, "It's a wonderful event. You can feel the sincerity of everyone involved as they come together to honor the Purple Heart Recipients. This has been one of the most relaxing times of my life and, although this is my first time in Branson, it won't be my last!"
Paul Schmitz, Sr., received his Purple Heart as the result of wounds received while on a helicopter rescue mission in Vietnam on March 21, 1969. He has attended all, but one of the Branson.Com Honors Purple Heart Recipients. When asked what he thought of the event he said, "Oh man, this is awesome! You can feel the heartfelt sincerity of everyone involved."
During the event the Purple Heart Recipients were entertained by some of Branson's finest entertainers and shows during the Opening and Closing Ceremonies which, thanks to their generosity and hospitality, were hosted by the beautiful Starlite Theatre. These included The Texas Tenors; SIX; Doug Gabriel's #1 Hits Tribute; AYO, Starring Voices of Glory; Dave Hamner, Hamner's Unbelievable Variety Show; New South, Grand Jubilee, Mike Walker Lasting Impressions; Michael Peterson, Raiding the Country Vault; Amazing Acrobats of Shanghai, Pierce Arrow; Million Dollar Quartet; and The Temptations from Legends in Concert.
One of the events highlights was the Trout Fishing Tournament held out of Scotty's Trout Dock and Marina on April 21. Lamar Patton, a.k.a. "Scotty," furnished boats, facility, rods, reels and bait. Each boat had a volunteer Captain and helper, with many of them being professional guides who had donated their services. Although there was a lot of rain, Megan Miller, one of the many volunteers from Branson Tourism Center who was involved in the three-day event, said that everyone had a lot of fun and that Lee Stephens won first place with a total weight of 2.62 pounds.
"It went absolutely wonderful. What a joy it is to be able to host this event and honor those who have served and sacrificed so much for our Country," said Annette Wood, Director of Sales and Marketing for the Branson Tourism Center, the owner of Branson.Com. "I think that we live in the most amazing community on the earth! This event would not be possible, but for the generosity and efforts of all those who gave of their time, talents, efforts, and facilities," she continued."
"Here's just one example of what I mean," Wood said. "Taney County Sheriff, Jimmie Russell, who has lead a Motorcycle Run during this event every year, was unable to because of a sudden family emergency. Instead of just cancelling it, he talked with a dear friend, Randy Mayfield, the sheriff of Carroll County, Arkansas, who volunteered to lead the run. Now, how awesome is that!"
Wood encourages all Purple Heart Recipients to mark their calendars for the 10th Annual Branson.Com Honors Purple Heart Recipients event to be held in April 12-14, 2018.