Bull Shoals Lake, governed by the U.S. Army Corps of Engineers, spans 45,000 acres and has nearly a one-thousand-mile shoreline surrounded by deep forests.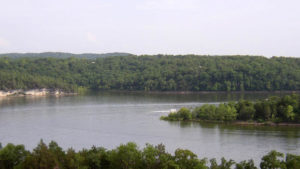 History: Bull Shoals Lake is a famous water sports and recreation destination in north central Arkansas and southwestern Missouri. The lake was created in 1952 after the Bull Shoals Dam was built for hydroelectric power generation and flood control in the White River basin. Numerous small and large cemeteries were relocated with care to facilitate the dam's construction.
Fishing: Bull Shoals Lake is a renowned fishing destination in the Midwest, with Missouri and Arkansas state record fish catches for species such as largemouth, striped bass, and walleye. Efforts to improve habitat and fishing programs have led to its success. Downstream of Bull Shoals Dam, the White River is known for its exceptional trout fishing and has produced Arkansas state record catches for cutthroat and rainbow trout.
Facilities: Nineteen developed parks around the lake offer campgrounds, pavilions, docks and boat launches, picnic sites, swimming areas, and commercial marinas offering boat and equipment rentals, supplies sales, and fishing guide services.
Activities: Visitors from across the nation come to the clear blue waters of Bull Shoals to enjoy camping, water skiing, tube floating, sail boating, wakeboarding, scuba diving, and top-rated fishing.
Click Here for Bulls Shoals Lake Fishing Reports


View more pictures in the Photo Gallery.