Branson, and the surrounding area, is teeming with trails and walking paths of all lengths and surfaces, and trails that wind through a variety of topography. You won't have to travel far from your hotel to find excellent walking and hiking opportunities; the City of Branson's Parks & Recreation Department has excellent trails and walking paths right here in the city limits.
Walking paths or trails can be found in the City of Branson at:
Branson RecPlex – 1 mile asphalt path that loops around the entire complex.
North Beach – 3/4 mile path located on the banks of Lake Taneycomo and connecting to the Branson Landing Boardwalk.
Stockstill Park – 1/2 mile asphalt path that wraps around the playground and ball fields and takes you past Cox Medical Center. From there, you can take a sidewalk to Branson Landing or Historic Downtown Branson.
Sunset Park – 6/10 mile paved and lighted path with exercise stations along the way.
Hiking trails can be found at:
Lakes Forest Wilderness Area – 4.4 miles of trail featuring the city's most rigorous hiking, including 315 stonework steps constructed in the last 1930s. You'll come upon beautiful woodlands, an old homestead and barn, two caves, a grotto, a waterfall, and some of the area's most stunning views of Lake Taneycomo and the Ozarks' countryside.
Roark Creek – 3.2 miles of trail with all but the last 1/2 mile paved. It ends at a bluff overlooking the creek, and there's also a 1/2 mile ADA-accessible trail.
Waterfall – 2/3 miles, and the city's newest trail. Unpaved, it runs along an unnamed tributary of Roark Creek. Features include two creek crossings, beautiful rock formations, a waterfall, and a dense tree canopy.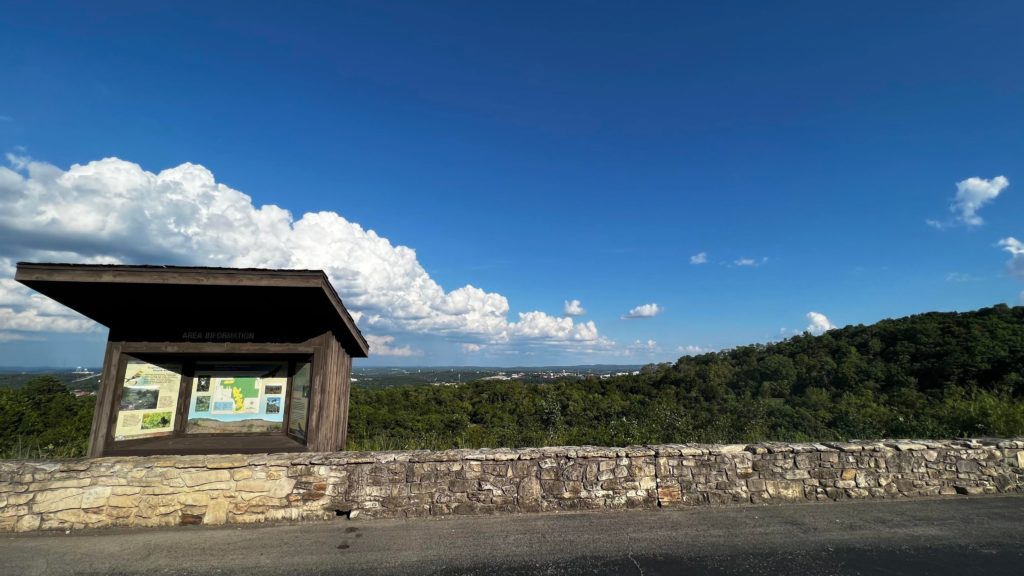 State parks, wilderness areas, and extensive state and national forest land is all around the Branson area. You'll find substantial hiking and walking opportunities here:
Busiek State Forest – Approximately 18 miles of well-marked trails for use by hikers, bicyclists, and horseback riders. Located just 20 minutes north of Branson.
Chinquapin Trail at Table Rock State Park – 1.5 miles of natural surface trail with access to several areas of park services. It shares a section with Table Rock Lakeshore Trail.
Drury-Mincy Conservation Area – features 1.5 miles of difficult-level hiking on Bear Creek Trail, and Thurman's Sink, a .30 mile trail with moderate difficulty. Less than 10 miles from Branson.
Hercules Glades Wilderness – 32 miles of maintained trails following open glades, forested ridge tops, and Long Creek. Stunning panoramic views and other scenic features.
Ruth & Paul Henning Conservation Area – 3.6 miles with four different hiking experiences: Homesteader's Trail, a difficult hike of 3.4 miles; Glade Exploration Trail, a moderate hike of 1.1 miles; Shane's Shortcut, a difficult hike of .30 miles; Dewey Bald Trail, a moderate hike of .40 miles; and Streamside Trail, a moderate hike of .40 miles.
White River Valley Trail – 10.25 miles and built on Table Rock State Park and US Army Corps land, land that was used during the construction of Table Rock Dam in the late 1950's. The trail is sectioned into loops that offer a variety of surfaces and challenges.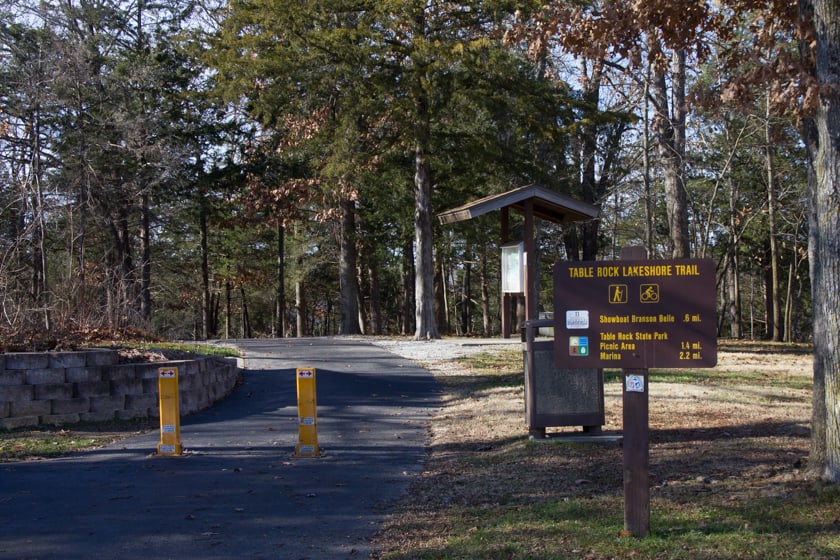 Trails can also be found in these areas:
Branson Creek – several trails of varying lengths are located in the extensive acreage of this gorgeous residential development that's privately owned; however, the trail system is accessible to the public. You'll find caves and some fascinating historical sites, like the remains of Melva, a ghost town destroyed by a storm in the early 1900s.
Dogwood Canyon – of varying lengths, trails are found throughout the groomed and rugged landscapes of this privately owned but publicly accessible, 10,000-acre property owned by Bass Pro Shops. It's located about 25 minutes from Branson, and unlike most of the hiking trails in the area, admission to the park is required to access the trails.
Shepherd of the Hills Fish Hatchery Trails includes The White River Corridor Trail below Table Rock Dam .40 of a mile along the Lake Taneycomo shoreline. It connects to Canebrake Trail, less than a half mile through forested areas, and includes winding wooden bridges. Fisherman's Trail is only .40 of a mile and has access to great fishing holes. White River Bluffs Trail is a 1.6-mile loop offering a challenging hike on a dirt/gravel path with some gain in elevation.
Table Rock Lakeshore Trail – 2.25 miles along the shore of Table Rock Lake from the State Park to Dewey Short Visitor Center. It's a paved, relatively flat trail popular with walkers and wheelchair users. A section of the trail is shared with Chinquapin Trail.
Shop Branson's top live music at low rates—with NO booking fees! Explore Branson talent on your next vacation.
With so much fun to be had in Branson, it can be hard to make final decisions! Check out Branson's hottest attractions and book with confidence!
Make it easy on yourself and book one of our money-saving packages for your next trip to Branson!