Horseback riding in Branson, MO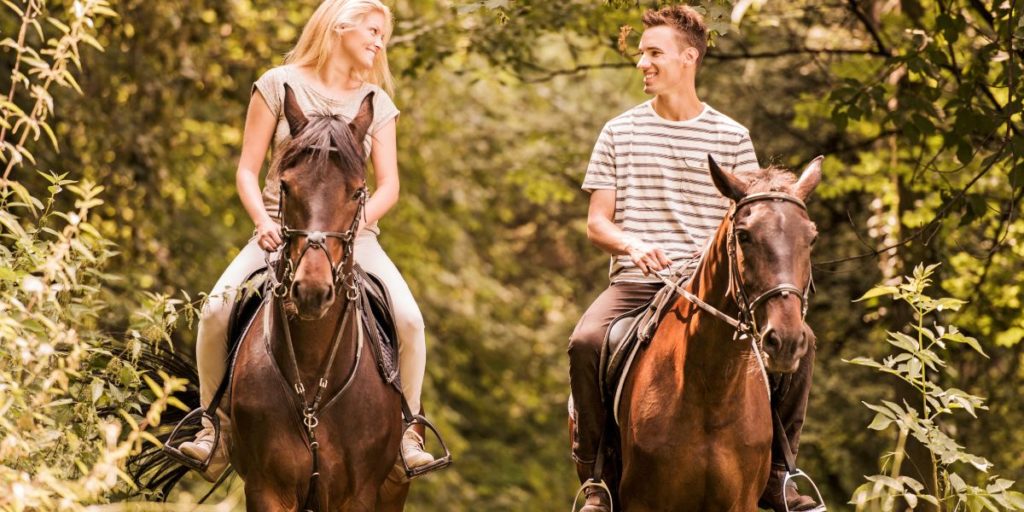 If you're seeking an exciting and unique way to explore the natural beauty of Branson, Missouri, look no further than horseback riding. Branson offers a variety of horseback riding adventures in Branson that allow you to immerse yourself in scenic landscapes and create lasting memories. Saddle up, and let's embark on a journey through the breathtaking trails of Branson!
The expansive landscape of mountains, hills, valleys, lakes, and forests in and around the Branson area is a stunning sight to behold and accessible to visitors in various ways. An excellent way to see the beauty of Branson is on horseback!
If you have your horse, an excellent section of the extensive acreage of Busiek State Forest is accessible by trail, with 18 miles of maintained trails shared by hikers, horseback riders, and bicyclists. This beautiful, multi-use state-maintained forest is just a few miles north of Branson.
The Branson area also features several horseback riding services, including Bear Creek Trail, Dogwood Canyon, and Shepherd of the Hills.
---
Bear Creek Trail Rides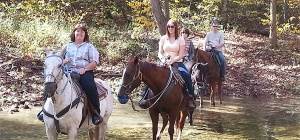 A one-hour guided ride is available at Bear Creek Stables in Walnut Shade, a small picturesque community just 10 minutes from Branson. Using gentle, well-trained horses, they'll guide you on a relaxing walk that crosses pastures, meanders through wooded areas, and climbs up and down a few hills. You'll even see a pretty waterfall when you venture along Bear Creek.
---
Dogwood Canyon Horseback Riding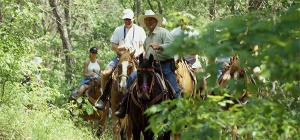 Dogwood Canyon will have a wrangler guide you on a two-hour trail ride where you'll enjoy incredible views of the breathtaking Ozark Mountains. You'll travel to ridge tops that afford you a 360-degree view of the Ozarks and make your way down winding valleys and across rolling pastures. On most trails, you'll encounter some wildlife; on this journey, you'll see buffalo and longhorn cattle! You can also discover what it's like to be a cowboy. The ultimate cowboy experience involves gathering the herd of colorful Texas Longhorns and driving them to greener pastures. Following that new adventure, you'll settle for a hearty meal at the Chuckwagon site.
---
Ozark Mountain Trail Rides at Shepherd of the Hills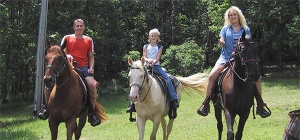 Ozark Mountain Trail Rides is located on the gorgeous and historic Shepherd of the Hills Homestead. The exact property where you'll find the long-running, famous outdoor drama based on the best-selling book, The Shepherd of the Hills, and the Inspiration Tower, from which you can zoom down on the Extreme Vigilante ZipRider. The Homestead offers a one-hour horseback trail ride through the lovely Ozark hills. It's a mostly shaded area, so even summertime riding can be pleasant, and the horses are exceptionally gentle, well cared for, and expertly trained. Your journey will include seeing the Old Mill Theater, where the outdoor drama is performed, and you'll even be riding one of the drama's featured actors. Yep, that's right; you'll ride a horse used in the show!
---
As you can see, enjoying Branson and the Ozarks on horseback is easy for the seasoned rider and novice alike!
Are you looking for more outdoor activities in Branson? Click here for more information.