Groups
---
Family Reunions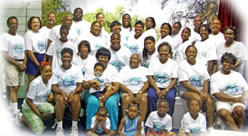 Family Reunions in Branson
Treasured family members, co-workers, barracks mates, old friends. Reunions are more than just getting people together. Reunions join a tightly woven group of companions in celebration of memories and opportunities. Whether seeking a chance to look back and recognize obstacles and accomplishments, or an opportunity to reestablish life-long relationships, Branson is ready to help you plan a memorable reunion.
The Branson/Lakes Area provides a unique environment for both commemoration and celebration. Nestled in the scenic and secluded Ozark Mountains, Branson offers a peaceful respite for those who want to enjoy a quiet reunion away from the cares of the world. Branson is also the "Live Entertainment Capital of the World" and can dazzle with its glittering lights, legendary performers and non-stop entertainment. This remarkable combination of neon and nature offers reunion groups a very special environment for reflection and recreation.
Branson is a community that still knows how to be neighborly, how to welcome its visitors, put on great show and remain family friendly. The almost endless array of entertainment options is ideal for kids, parents and grandparents. Branson combines old-fashioned hospitality and world-class entertainment into an unforgettable reunion destination.
Located in America's heartland, Branson is less than a day's drive from more than half the country's population. Whether traveling by car or flying into the area, traveling to Branson has never been easier. This convenience coupled with the area's exceptional value, low crime rate, and of course the spectacular entertainment, has made the Branson/Lakes Area the vacation choice for more than seven million people per year.
---
For Groups Information, Questions, or a Free Proposal call
Toll-Free 1-800-268-4014 or visit Branson Tourism Center Groups