Branson Landing Boardwalk
Although there are many free hiking opportunities in the Branson area, one that is very accessible to everyone, is level and very family friendly is the scenic paved boardwalk running 1.5 miles along Lake Taneycomo. Parking is available right off Branson Landing Boulevard in either the Belk or Bass Pro parking lots. Walk east toward Lake Taneycomo and you can't miss it. The leisurely and level walk will provide a view of Branson Landing that most people never see, such as the beautiful landscaping between the east side of the landing's buildings and the lake.
The walk will pass the Branson Landing Fountains and the docking facilities of Branson Landing Cruises, the "home port" of the "Branson Landing Princess" and the river boat replica, "Lake Queen." Along the way there will be the opportunity to observe the boat traffic and activity on the lake and an excellent chance to observe various species of ducks, Canada Geese, Grey Herons, Black or Turkey Vultures (buzzards), an occasional Bald Eagle and other birds and water fowl.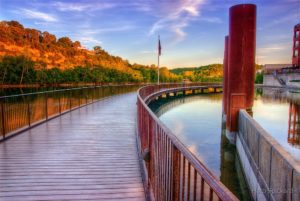 ---