by Linda Burlingame
From a tiki hut on a beach in Mexico with Kenny Chesney, to Elvis tossing teddy bears, Legends in Concert will have you singing along and tapping your toes. It was fun for me to look around the audience and see the smiles … "and your laughter too!" That's a line from the finale song, Celebration (Kool & the Gang, 1980). I think that would be a good opening song, because "There's a party goin' on right here, a celebration to last throughout the years. So bring your good times, and your laughter too. We gonna celebrate your party with you!" It's actually five concerts rolled into one. You'll enjoy Kenny Chesney, Bruno Mars, The Blues Brothers, Aretha Franklin and of course, Elvis Presley!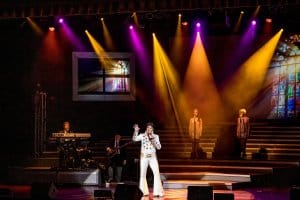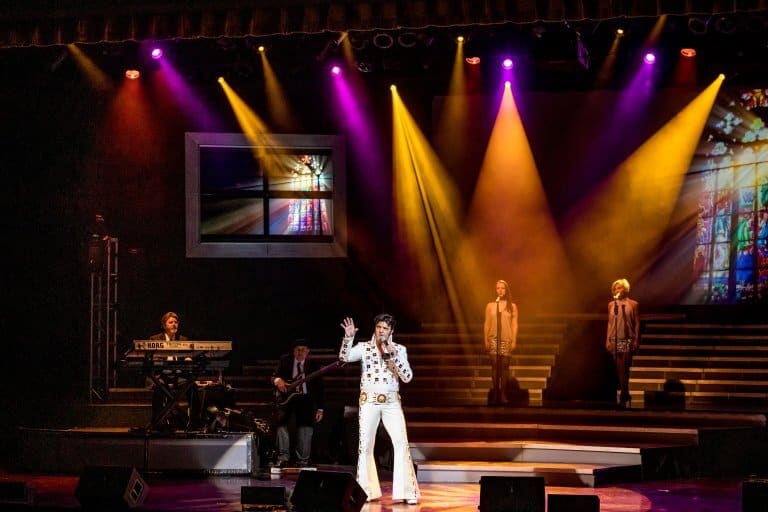 Kenny Chesney (portrayed by Todd Bradshaw, a Branson "local" entertainer!) gets things rolling with his tunes like When the Sun Goes Down, Beer in Mexico, and Summertime. The singers and dancers change from their black and white, ruffled cowgirl costumes into beach attire for their time on the "beach," when the audience gets involved in beach ball! The costumes for everyone in the show are impressive. I love the adorable dancers' outfits with suspenders they wear with Bruno Mars (Ryan Jagru)! He's charming with the audience. Ladies swoon when he sings Just the Way You Are and everyone knows Uptown Funk, the 2014 hit that is the fifth most viewed YouTube video, with 3.48 BILLION views. The song was everywhere!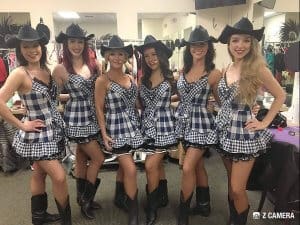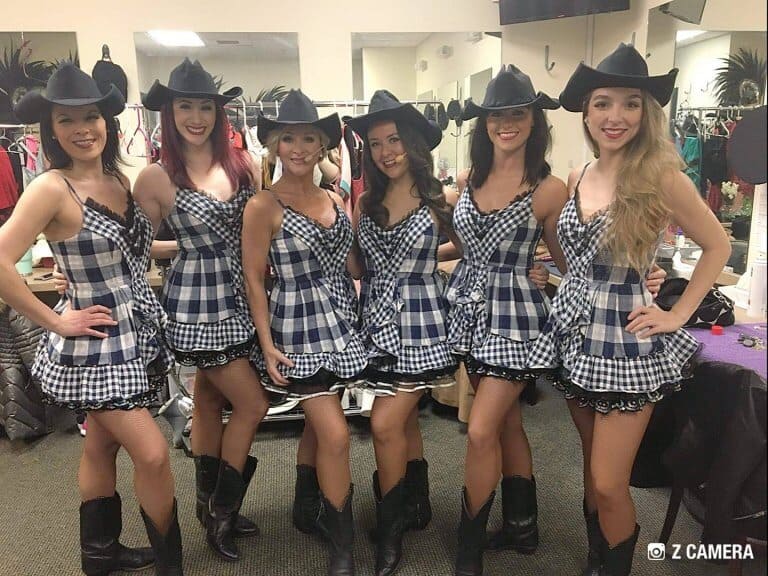 The audience is energized by now, so when your favorite fugitives from Rock Island, Illinois, take the stage, "the crowd goes wild." Yes, Jake and Elwood, The Blues Brothers, enthrall audiences, so much so that they are on stage at Legends in Concert all season. Hey Bartender, Almost, Sweet Home Chicago, Jailhouse Rock (Did you forget they recorded that one in 1980?) and of course, their classic Soul Man … what fun Jake Blues (Clint Nievar) and Elwood Blues (Danny Zeligman) bring to the stage!
Aretha Franklin is ranked first among female vocalists with the most Billboard chart hits during the rock era (1955–2012) with a total of 88. Diane Gordon portrays the Queen of Soul and charms the audience not only with her big voice but also with her stage presence. Respect in 1967 was the first of Franklin's two #1 Hits; Natural Woman was her fourth Top Ten Hit of 1967. Chain of Fools is a classic from 1968. The Blues Brothers revitalized Franklin's career when she appeared in their 1980 movie Blues Brothers. "The Blues Brothers" join "Aretha" on stage for a rousing rendition of the movie's Freedom.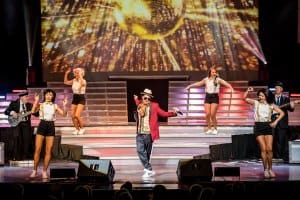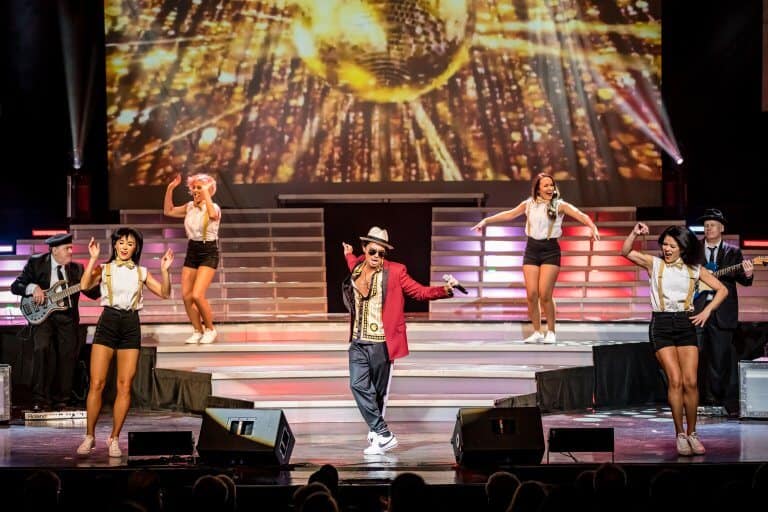 The Legends in Concert two female vocalists and four dancers are beautifully talented. The dancers are lively with precision and energy, and they have bright smiles and good eye contact with the audience. The vocalists, Kenya Wilhite and Melissa Rivera, possess extraordinary voices; this was most evident to me when they backed up "Elvis" on In the Ghetto. Beautiful! Ryan Pelton is remarkable as Elvis Presley. He wears the white 'Las Vegas jumpsuit' from 1969, and his versions of See See Rider, How Great Thou Art, Suspicious Minds, America the Beautiful will captivate you. He's an audience favorite and is in the show year 'round. The singers and dancers are an integral part of the show's appeal. The dancers are Cindy Dardas, Melody Boyens, Dasha Ruden, and Sarah Michelle Deeter.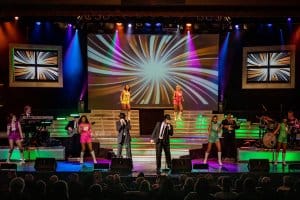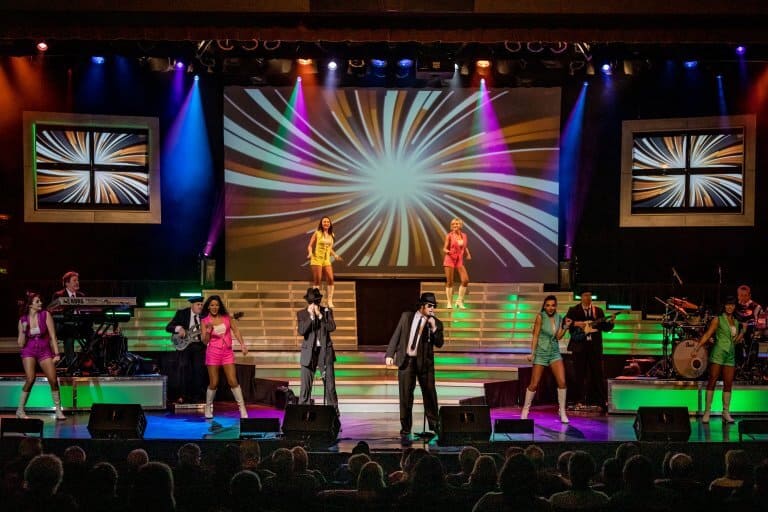 The Legends in Concert Band is stellar, too, with good arrangements that give the artists' portrayals even more authenticity. Kevin Allen is musical director and plays lead guitar; Brian Zerbe, bass; Eddie Howard, drums; and Lyman Clark, keyboard. They play for all the artists on stage with Legends, at the Dick Clark American Bandstand Theater. Other "Legends" appearing this year include Donna Summer, Alan Jackson, Lady Gaga, Marilyn Monroe, Garth Brooks, and Stevie Wonder. Special one-night performances include Gary Lewis & the Playboys; Moe Bandy; Crystal Gayle; Lee Greenwood. You can always count on Legends in Concert for an evening of timeless entertainment. Enjoy!