by Linda Burlingame
It was December 4, 1956. According to Billboard, Elvis Presley had the top two records for that year, Heartbreak Hotel and Don't Be Cruel. Three other Elvis songs were in the top 50. On July 7, 1956, Johnny Cash stepped onto the Grand Ole Opry stage for the first time. His I Walk the Line was one of the summer's biggest hits. Blue Suede Shoes was a big hit in 1956, the up-tempo rockabilly song written and released by Carl Perkins in January of '56. Blue suede shoes? A men's luxury fashion accessory in the south at that time!
Jerry Lee Lewis wasn't yet known outside Memphis in 1956. But that day Sun Records owner Sam Phillips brought Jerry Lee in to play piano for a recording session scheduled for Carl Perkins. When Johnny Cash stopped by the studio, and later Elvis Presley, the evening became one of the most memorable nights in music history. In Branson at The Branson Hillside Theater, you get to sit on that impromptu jam session, and it's a musical experience you won't soon forget — Million Dollar Quartet! The show is based on the Tony Award-winning Broadway musical, a recreation of that December night in Memphis, when Sam Phillips kept the tape rolling in his storefront studio. It was the first and only time those four talents would sing together.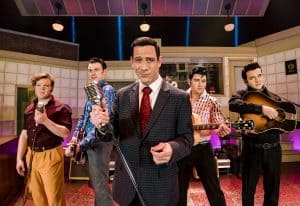 In this Broadway-style show, Phillips occasionally addresses the audience, providing background about past events as well as current happenings. Phillips refers to them as "my boys". He's released their records, driven around the country with a trunk full of records, getting DJ's to play them. Before the evening is over, Johnny Cash will toast Phillips as the "Father of Rock 'n' Roll." At another moment, Phillips christens them the "Million Dollar Quartet."
The conversation and interactions are fascinating. You'll love listening to them talk about their lives and careers. (Elvis remarks about a recent Las Vegas appearance, "I will never play Vegas again." That gets a laugh!) Phillips states his belief that rock 'n' roll is not a fad, "It's a revolution!" The music is legendary. Folsum Prison Blues, Long Tall Sally, Blue Suede Shoes, I Walk the Line, Whole Lotta Shakin' Goin' On … so many! You'll enjoy unexpected songs, too. Peace in the Valley, when they talk about people they've lost. (Johnny, Jerry Lee, and Elvis have all lost brothers.) Johnny sings Sixteen Tons. Elvis has brought his girlfriend, Dyanne, that evening and wants them to hear her sing; you'll like her performance of Fever.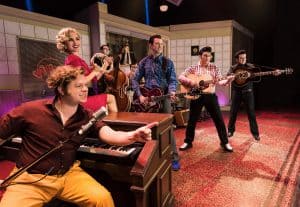 The extraordinarily talented cast of Million Dollar Quartet has impressive credentials and performance history. Cliff Wright portrays Johnny Cash. I knew Johnny Cash when he performed in Branson. When I met Cliff and saw him in this show four years ago, I immediately sensed a strong likeness — Cliff's voice, the way he walks, his presence on stage! Elvis Presley is played by Tyler Hunter. The audience screams when he sings with those trademark Elvis moves. He's portrayed Elvis in the National Tour of the Broadway show Million Dollar Quartet. Jerry Lee Lewis is played by John Countryman, whose mother introduced him to the music and style of Jerry Lee. John is crazy good on the piano, and it's just plain fun to watch his antics. Brad Waters plays Carl Perkins, who isn't quite as well known as the other three legends, but Brad's portrayal reflects not only Perkins's talent and drive but also his frustration that his biggest hit was more often associated with Elvis.
Matt Joyce's portrayal of Sam Phillips shows the passion Phillips had for rock 'n' roll and his belief these young singers needed their own style. When Elvis auditioned for Phillips singing Memories Are Made of This (You get to hear that in a flashback!), he tells Elvis, "We already have a Dean Martin." Dyanne is played by Lindsey Perenchio, who has performed and choreographed productions around the country, including working with Radio City. Besides Jerry Lee on piano, Jay Perkins (Carl's brother) is on the upright bass; Austin Williams is perfect for that role. W.S. "Fluke" Holland was on drums that night. Back then drums weren't that common to rock 'n' roll. Daniel Dossey keeps the beat going for Branson's MDQ.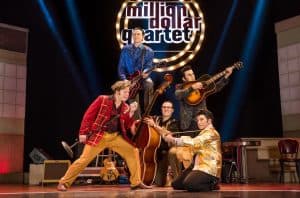 The finale for this magical night is … well, it's perfect. I won't give away the excitement, and you will be excited. You'll love the music, enjoy the stories behind the songs, you'll laugh, and your heart will be touched by the poignant moments. Some futures were altered that night.
The Branson Hillside Hotel is a beautiful complex, and The Branson Hillside Theater has state-of-the-art sound and lighting, comfortable seating, and an adjacent restaurant, Stage Door Restaurant. Million Dollar Quartet has evening performances through December 30. Don't miss the chance to be part of this extraordinary night of music!
Take a moment to see all of our SHOWS Branson has to offer.  There are entertainment options for everyone in your group or family!