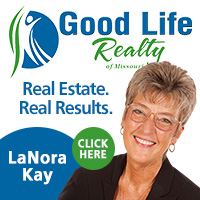 Branson is located in southwest Missouri, 35 miles south of Springfield on U.S. 65. It is ranked 20th for overnight leisure vacation destinations in the country. Branson is a year-round destination. Throughout the year, there are many special events including those during Ozark Mountain Spring (March-April-May) Veterans Homecoming (November) and Ozark Mountain Christmas (November-December).
DEMOGRAPHICS About the Branson Lakes Area
10,520 – City of Branson Population
51,675 – Taney County Population
32,202 – Stone County Population
20.7 square miles – Branson's incorporated area
$458,772,601,00 – Total assessed Branson property values
20.7 Square Miles
$458,772,601,00 Total Assessed Property Value
200+ Shops/Retailers
35,000 Restaurant Seats
16,500 Hotel/Motel Rooms
12 Golf Courses (Several ranked nationally)
100 Shows
57,000+Theater Seats
115 Real Estate Businesses
Source: Branson/Lakes Area CVB (2014 Fact Sheet)
REAL ESTATE INFORMATION
Houses: 3,455 (2,771 occupied: 1,871 owner occupied, 3,111 renter occupied)
% of renters in Branson: 62%
State: 33%
Housing density: 214 houses/condos per square mile
Median price asked for vacant for-sale houses and condos in 2013: $180,969.
Median contract rent in 2013: $448 (lower quartile is $302, upper quartile is $542)
Median rent asked for vacant for-rent units in 2013: $716
Median gross rent in Branson, MO in 2013: $510
Housing units in Branson with a mortgage: 723 (42 second mortgage, 76 home equity loan)
Houses without a mortgage: 426
HOUSEHOLD INCOMES & HOUSING COSTS
Median household income for houses/condos with a mortgage: $61,904
Median household income for apartments without a mortgage: $45,805
Median monthly housing costs: $672
Estimated median house or condo value in 2013: $167,326 (it was $111,800 in 2000)
Branson: $167,326
Missouri: $133,200
Lower value quartile – upper value quartile: $121,417 – $270,952
Median year house/condo built: 1992
Median year apartment built: 2001
AREA DEVELOPEMENT
The city of Branson's Economic Development department answers many queries from potential investors. And the Branson Commerce Park, now under construction, is a 200-acre master-planned mixed-use park for light industry, warehouse, showrooms, retail and 600 affordably priced homes for the workforce.
Recent projects include:
Branson Landing, the $450-million downtown lakefront lifestyle center with shops, restaurants, condos, a public plaza, Fountains of Fire and a two-mile boardwalk.
The $75 million Sight & Sound Theater features Christian Broadway musicals.
Herschend Family Entertainment added the $8 million Grand Exposition of family-friendly rides at Silver Dollar City.
The largest new retail project is Branson Hills Plaza with stores including Target, Home Depot, a Wal-Mart Supercenter, Kohl's, Bestbuy, Books A Million, Bed Bath & Beyond, Pier 1, MC Sports, and many more.
Nearby is the 1,200-acre master-planned Branson Hills community anchored by the Tribute Golf Club dedicated to golfing legend Payne Stewart. This development is near the RecPlex and Branson schools, and the community offers housing from condominiums to custom homes.
$155 million Branson Airport. The first privately financed and operated airport in the United States provides full commercial service.
$1.9 million infill of the new Veterans Administration Clinic in Branson. The clinic will serve the needs of veterans from a broad, under-served region of Southwest Missouri and Northwest Arkansas.
$4 million expansion of the Branson Heart Center.
$755,000 First Community Bank building.
Quarterly Status Report from City of Branson Planning & Development 2nd Qtr, 2016 –http://www.bransonmo.gov/DocumentCenter/View/5896 (PDF FILE)