It's a rare occasion meeting someone who doesn't like cheesecake. But sometimes this author stumbles across an individual who doesn't care for the dessert that was created for every good boy and girl across the world. Instead, they come up with ideas like this month's star recipe from Billy Dean; a healthy alternative to the not so healthy Cheesecake.
Now, Billy Dean is a nationally known artist with many Country hits, so he has to be doing something right…right? When I first saw this recipe for "cheese cake" grape salad I quickly dismissed it as another healthy, tasteless version of my favorite cheesecake! But I was pleasantly surprised, no, I was actually excited to share my opinion with my co-workers at Branson.Com. They grew tired of me singing Billy Dean's praises with this sweet, cheesy, yet just a slight taste of tartness joy!
Give this month's recipe a try. I guarantee that even your most sour relative will enjoy this alternative to everyone's favorite. "Cheese Cake" Grape Salad…its "What's for dessert" tonight.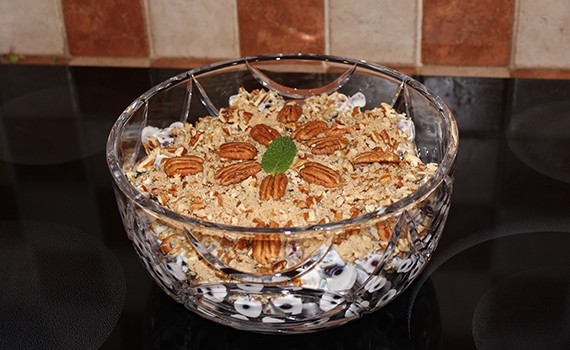 | | |
| --- | --- |
| | |
Mix cream cheese, sour cream, white sugar and vanilla together.

Add washed grapes and blend well.

Place in glass serving bowl.

Mix chopped pecans and brown sugar together.

Sprinkle on top of grape mixture.

Cover with plastic wrap; refrigerate at least 2 hours (overnight is better).