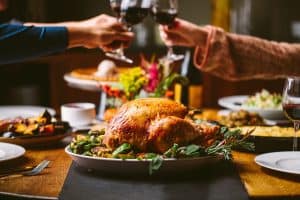 If you've seen National Lampoon's Christmas Vacation, you will undoubtedly remember the infamous Christmas Turkey scene. Cousin Catherine has prepared a beautiful and festive feast, and then with the whole Griswold Gang present, Turkey is brought out, looking magazine-worthy.
But, as they quickly discover, everything is not as it seems. Once Clark starts to cut into the golden brown skin, the whole thing implodes, releasing what we can only imagine being a less-than-appealing stench.
While this scene is classic comedic gold, you don't want to be caught in the same predicament this Christmas. We have provided below instructions on how to make Ellen's (Clark's wife) version of the perfect Christmas Turkey that will impress even the most forgetful Aunt Bethany at your Holiday table!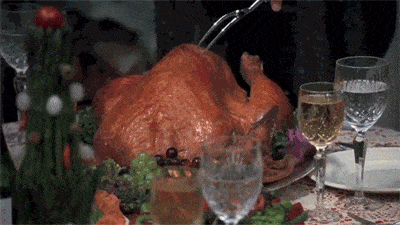 | | |
| --- | --- |
| | |
Preheat oven to 500 degrees to start

Rinse turkey inside and out, pat dry with towel, and arrange in roasting pan.

Combine stick of butter, salt, pepper, lemon juice, minced garlic, and chopped herbs together.

Carefully slide your hand under the skin of the turkey, being cautious not to tear the skin. Spread half of the herb butter mixture over the turkey, under the skin.

Using the other half of the butter mixture, spread over the turkey on top of the skin, being sure it is completely coated.

Stuff the turkey with the quartered lemon, apple, halved garlic head, and sprigs of herbs. Use twine to tie the turkey legs together.

Form a triangular shape with tin foil, and spray oil on one side. (This will be used to cover the breast portion while roasting.)

Place Turkey (no foil) into 500 degree oven to brown skin, cooking for approximately 30 minutes.

Reduce oven temp to 350 degrees, add tin foil over breast portion, and add Turkey back into oven. A 14-16 pound Turkey should take approximately 2-2 ½ hours to cook. Use a thermometer to check internal temp in deepest part of thigh. Turkey is done when temp reaches 170 degrees.

Be sure to check Turkey before the 2 hour mark to ensure you aren't over cooking. (Something tells us that is where Ellen went wrong.)

When Turkey is done, be sure to let it rest with tin foil covering the whole turkey for at least 20 minutes to ensure it stays juicy.

Serve on a platter with sprigs of pine, thyme, rosemary, apples, cranberries, etc. for garnish, and Enjoy!