When you're a member of one of the hottest shows in town and you want to enjoy a good meal after entertaining your adoring fans, what do you crave? Mexican food of course! We asked the fellas from the vocal group SIX to tell us their favorite dish to eat after they get done performing for a packed house. They sent us "En-SIX-lada Pie"! This easy to make family meal will have everyone craving more.
Enjoy!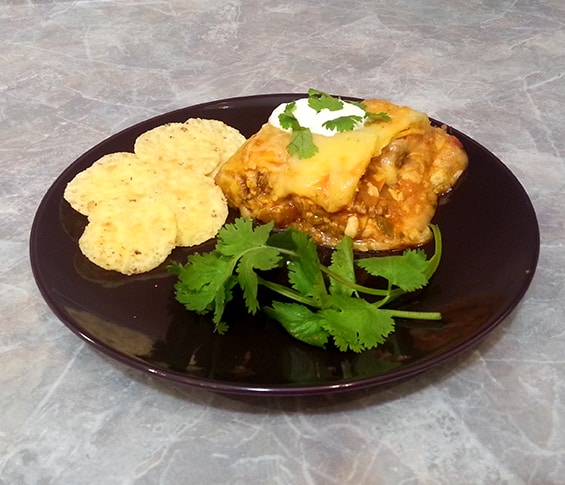 | | |
| --- | --- |
| | |
Preheat oven to 400 degrees.

Cook and stir ground beef and onions in a large skillet over medium heat until the meat is browned and crumbly (7-10 min.). Add garlic and cook until fragrant, about 30 seconds. Stir in diced tomatoes, green chilies, cilantro, and taco seasoning mix. Remove from heat.

In a separate bowl, mix in refried black beans and 1 can enchilada sauce until creamy.

Mix pepperjack and Monterey Jack cheese together in a separate bowl.

Place one tortilla on the bottom of an 8 inch pan. Spread a generous layer of black bean mixture on top, then add a layer of ground beef mixture on top. Then add 1 cup cheese mixture on top of the meat mixture and pour 1/4 cup of enchilada sauce over the top. Repeat the layers, finishing with cheese and enchilada sauce on top.
Cover with aluminum foil and put back in preheated oven until the cheese is bubbling and cooked through, about 40 minutes.
Cool for 15 minutes and then top with sour cream.