Do you remember the first time you tasted Mexican Food? I think Clarisse Dyer remembers. I would bet that when she first tasted the delicious flavors of roasted green peppers, sauteed onions, chili powder, or cilantro they created a lasting memory for her. Maybe the simple taste of a warm corn tortilla filled with your favorite meat or vegetable would be the memory that brings it all back for you.
I can't speak for everybody, but the tastes I described above bring me back to my Grandmother's home. As many author's before me have said, "A simpler time" is what I remember about my Gramma's home, and cooking. She always had a fresh tupperware bowl of "chili" in the refrigerator, and it went on everything (not the kind of Chili we make today that has beans, meat, and tomatoes, but the kind we may call Salsa now, but not Picante style-I digress)!
My Gramma made some fantastic recipes! Granted, she was born and raised in Chihuahua City, Chihuahua so she would naturally have a bent towards great Mexican cuisine, but one dish she created could be hailed as her masterpiece. It was enchiladas smothered in Green Chili. As a child I didn't appreciate the full ferocity of it's flavors, but as I aged, so did my taste buds. As an adult, I miss my Gramma, and I miss eating with the whole family-Mom, Dad, Brother, Sisters, Uncles and Aunts, Cousins and friends.
Mickey Gilley was once quoted as saying, "If you have good food, people will come to your restaurant."
I'm thankful for Clarisse Dyer, wife of and performer in the George Dyer show! She has brought me back to Grammas, and she has given us "good food". Her recipe is truly reminiscent of my younger days. Thank you Clarisse!
So why not head to your grocery store today and purchase the ingredients for Clarisse's "Green Chili Chicken Enchiladas"? My Grandmother would be proud.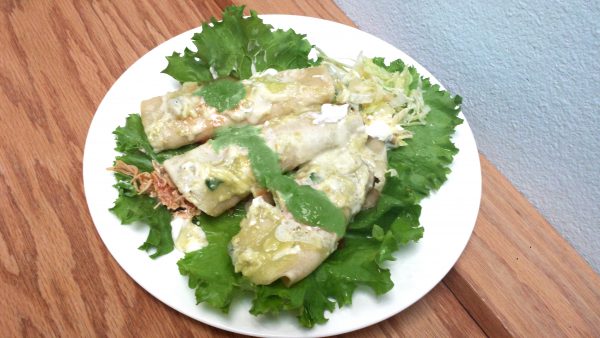 | | |
| --- | --- |
| | |
Chicken/Cheese Chile Soup Mixture:
Mix ingredients: sour cream, cream of mushroom soup, monterey jack cheese, chicken stock, chicken, green chilies, and enchilada sauce together. (Hold back about 5 to 6 tablespoons of the enchilada sauce.)
Lightly fry corn tortillas
Place a sautè pan on a medium heat stove top, with 3 to 6 tablespoons of your favorite oil. You may need more depending on how many tortillas you decide to use.

Lightly fry each side of your tortilla. Do not brown the tortilla. Only cook enough so the tortilla is soft for folding your enchiladas.
*Spread a little bit of the green enchilada sauce on the bottom of the casserole dish to begin with. This will help prevent sliding.

Take lightly fried tortilla, put a scoop of the chicken-cheese-chile soup mixture, roll it, put it into a casserole dish.

Continue with the next lightly fried tortilla… And so forth....until all the tortillas are rolled with the chicken mixture sauce cheese etc.

Pour the remainder of the sauce over the chicken rolled tortillas. Sprinkle with cheese, put in a 350° oven for 20 minutes until cheese starts to bubble.

If you held back some of the enchilada sauce, you can serve it with the enchiladas on the side so that guests may spoon on as much, or little as they'd like. (Warm in microwave to your liking.) Serve with mixed green salad and you have an easy authentic Mexican meal.