When we asked the wonderful folks from Branson's Dublin's Irish Tenors and The Celtic Ladies if the cast had a favorite recipe from home we could share. They offered this recipe for a hearty Cottage Pie/Shepherd's Pie for our visitors. It's very easy to make and a perfect recipe to feed the entire family.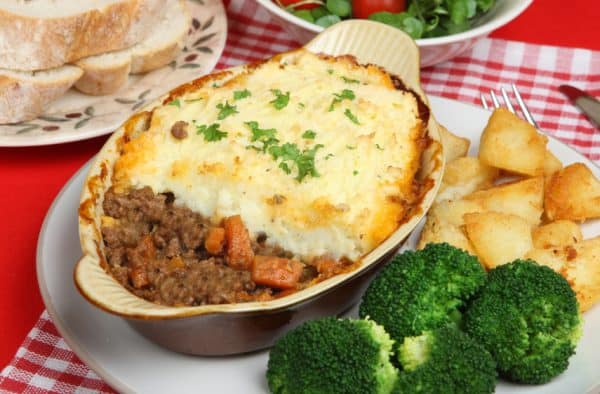 Heat 1 tbsp oil in a large pan fry the mince until browned. Set aside.

Add remaining oil to the pan, add the vegetables and cook on low heat until soft, about 20 minutes.

Add the garlic, flour and tomato paste, increase heat and cook for 5 minutes then return mince to the pan.

Add the stock, worcestershire sauce and herbs. Bring to a simmer and cook, uncovered, for 45 minutes. The gravy should be thick and coating the mince.

Season well and discard bay leaves.
Cover the potatoes in cold salted water, bring to a boil and simmer until tender.

Drain well then allow to steam dry for a few minutes.

Mash well with milk, butter and 3/4 of the cheese, then season with nutmeg, salt and pepper.
Spoon meat into 2 oven proof dishes.

Pipe on the mash to cover and sprinkle on remaining cheese.

Heat oven to 425° and cook for 30 minutes or until top is golden.