Free Area Information
Free maps and directions (including the best back roads and shortcuts through town), brochures, and information. All of the information you'll need to take on your vacation is here, and free!

Local Advice and Recommendations
Not sure of the best way to get to your hotel? Or where to go for dinner? Or the best local fishing spots? Local experts at the Branson Tourism Center are here to help answer any questions you've got about your Branson vacation. They are friendly, knowledgeable, and here to help you.

Free Computer Access
Connect to our free wireless internet with your own computer, tablet, or smart phone…open to the public, and completely free.

Gas Station and Convenience Store
You'll want to gas up, refill your fountain drink, grab a snack before you hit the town, pick up a new purse, or a souvenir. Our convenience store is fully stocked, and our gas station has some of the best prices in town.

Super Clean Restrooms
Some of the cleanest restrooms in town are at the Branson Tourism Center (and you've got to see the hand dryers…if they were any more powerful, they'd take off!).

Brushless Car Wash
Get the bugs and dirt off of your car before cruising the strip. Car washes here are brushless, quick, and start at just $5.

Discount Show & Attraction Tickets
The Branson Tourism Center offers tickets (many with great discounts) to nearly every Branson show and attraction. Plus, all Branson Tourism Center customers get discounts on gas!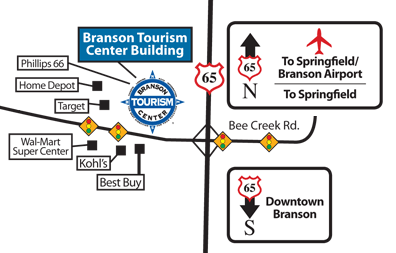 Convenient access to everything you need to get going!
The Branson Tourism Center is located right of the first exit into Branson on Highway 65, and is right next door to some of the best shopping in town! This is one stop you won't want to miss to start your vacation off right!