Branson, Missouri, offers a sweet escape for ice cream enthusiasts seeking delightful frozen delights. Whether you prefer classic flavors, nostalgic parlor experiences, or customized creations, the city has a scoop to satisfy every craving.
From the rich custard of Andy's Frozen Custard to the vintage charm of Mr. B's Ice Cream Parlor, these ice cream destinations capture the essence of Branson's vibrant culinary scene. So, the next time you find yourself in this enchanting town, treat yourself to the creamy delights and discover why Branson's ice cream options are the best.

Our team has curated five of the most delectable ice cream and frozen custard experiences in Branson to help you make the most of your time there.
Andy's Frozen Custard
Andy's Frozen Custard is famous for its concretes, which combine the creaminess of custard with a wide range of toppings mixed in. Andy's Frozen Custard also offers traditional treats, including the classic hot fudge sundae with pecans and the iconic American favorite banana split. The Jackhammer puts a new spin on the sundae by taking delicious Andy's concrete and filling it with hot fudge or a topping of your choice.

Andy's Frozen Custard is at 3415 W 76 Country Blvd in Branson. Andy's is open from 11 a.m. to 11 p.m. and can be reached by telephone at 417-337-5501.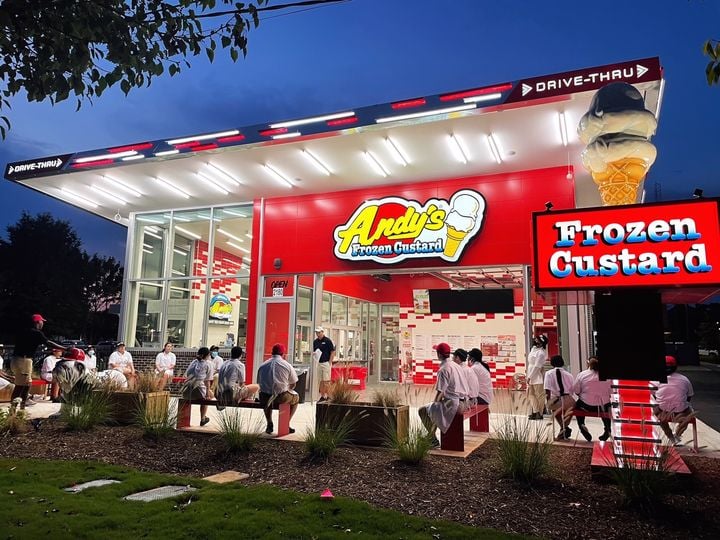 Mr. B's Ice Cream Parlor
Large scoops and homemade cobbler are preferred for Mr. B's Ice Cream Parlor patrons. Sundaes, floats, shakes, and malts are among the most popular items on the menu and are available in a rainbow of flavors sure to appeal to the young and young at heart. Large waffle cones hold two enormous scoops of ice cream in your favorite flavors.

Along with its extensive selection of ice cream options, Mr. B's offers an assortment of snacks and desserts, including soft pretzels, hot dogs, chili dogs, Frito pies, and nachos. The blackberry cobbler, in particular, has earned rave reviews — with or without a healthy scoop of Mr. B's ice cream.

Mr. B's Ice Cream Parlor is located at 102 S 2nd St in Branson and is usually open from 10 a.m. to 6 p.m. You can call them at 417-336-5735 for more information.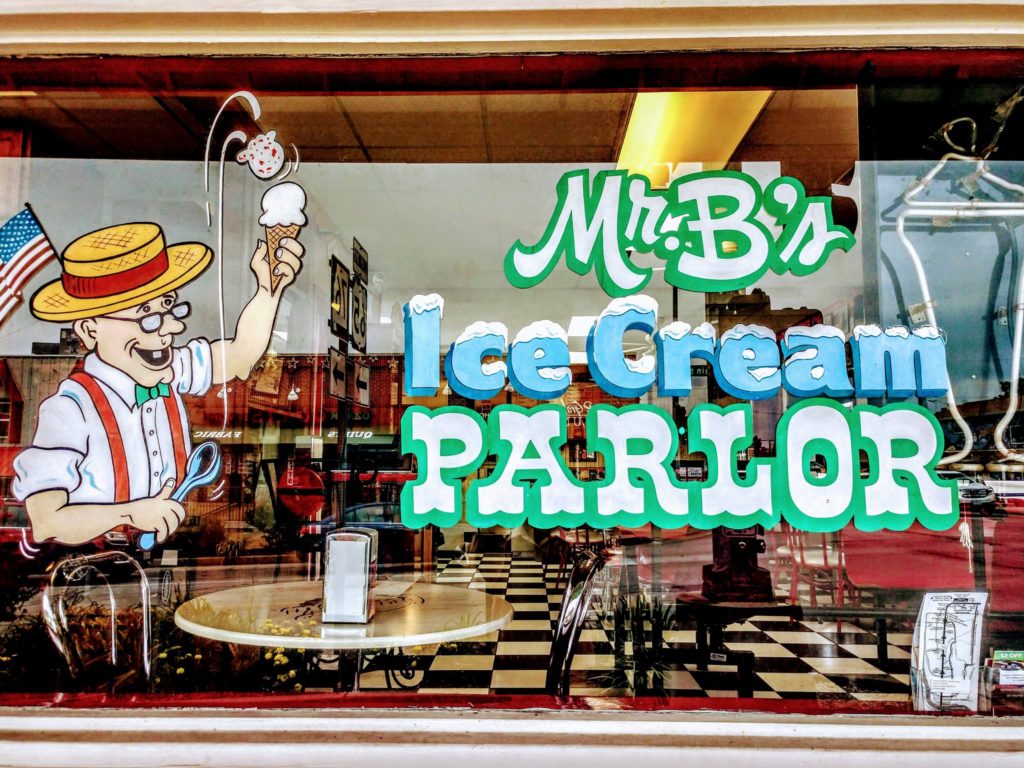 Cakes-n-Creams 50's Diner
If you and your companions are nostalgic for an absolute blast from the past, look no further than the Cakes-n-Creams 50's Diner, which combines excellent ice cream, outstanding food, and an American 76 Drive-In Replica complete with classic movies, feature films, and cartoons to tickle your funny bone. The Diner is open from 11 a.m. to midnight every day.

Along with ice cream flavors that include basic vanilla, strawberry, and chocolate, Cakes-n-Creams offers strawberry cheesecake, mocha almond fudge, and sugar-free ice cream options to suit everyone in your traveling party. The grill serves up hamburgers, grilled chicken, sirloin steak sandwiches, chicken strips, French fries, and funnel cakes that are deep-fried and delicious.

Cakes-n-Creams 50's Diner is an excellent stop for a sundae, ice cream cone, or root beer float to return to a simpler time. Cakes-n-Creams is located at 2805 W 76 Country Blvd in Branson and can be reached at 417-334-4929.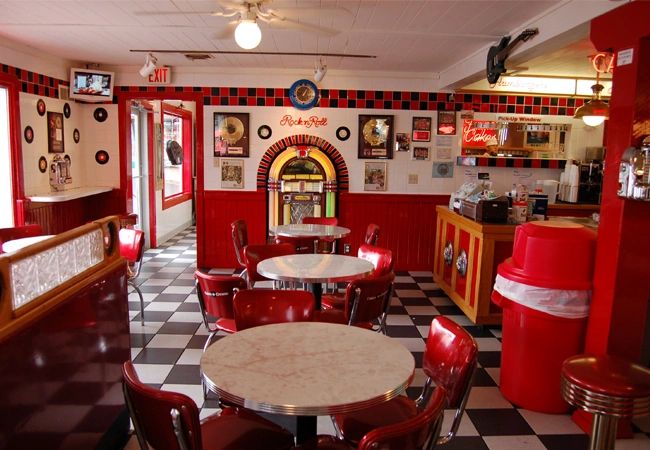 Sammy Lane Sweets N Treats
Sammy Lane Sweets N Treats serves ice cream, candy, fudge, and coffee to make just about any mouth water. The ice cream recipes at Sammy Lane Sweets are top-secret and include perennial favorites like vanilla and strawberry, along with butter brickle, black walnut, coffee, and black raspberry.

Fudge and candy treats are always on the menu at Sammy Lane Sweets, which also serves up a tasty array of signature lattes, coffees, and cappuccinos that go perfectly with the sweet taste of ice cream from this establishment. Maggie's Cup is one of the most popular lattes at Sammy Lane Sweets and blends lavender and honey for a unique taste treat.

Sammy Lane Sweets N Treats is at 5586 W 76 Country Blvd in Branson. Store hours vary by season but generally range from 11 a.m. and 8 p.m. Call 417-334-4191 to verify the hours on the day of your visit.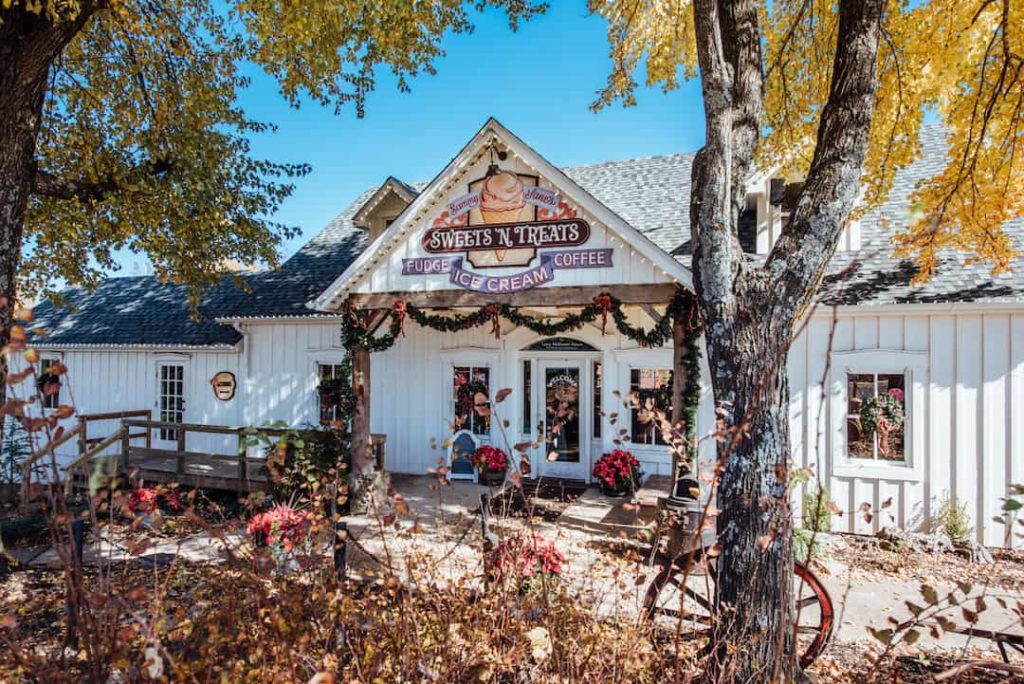 Scoops Ice Cream & Sandwiches
Scoops Ice Cream & Sandwiches serves up some of the tastiest flavors in specialty sundaes, milkshakes, or traditional banana split options if you are in the mood for delicious Blue Bell ice cream. Waffle cones and ice cream sodas are available, as are root beer floats. You can also select the sample tray containing four flavors to share with your companions.

As its name suggests, Scoops Ice Cream & Sandwiches also offers an array of sandwich fare that includes the Scoop, a combination of turkey, bacon, avocado, and cheddar cheese served on French bread with a side of chips. Chicken salad and BLT sandwiches are also available, along with the Commercial, which allows you to build your sandwich by choosing a type of meat, cheese, and spread.

Scoops Ice Cream & Sandwiches is close to the scenic railway depot at 111 S Commercial St in Branson. It's open from noon to 6 p.m. Monday through Friday and from noon to 7 p.m. on Saturdays. It's closed on Sundays. You can reach Scoops Ice Cream at 417-860-5726 if you have any questions.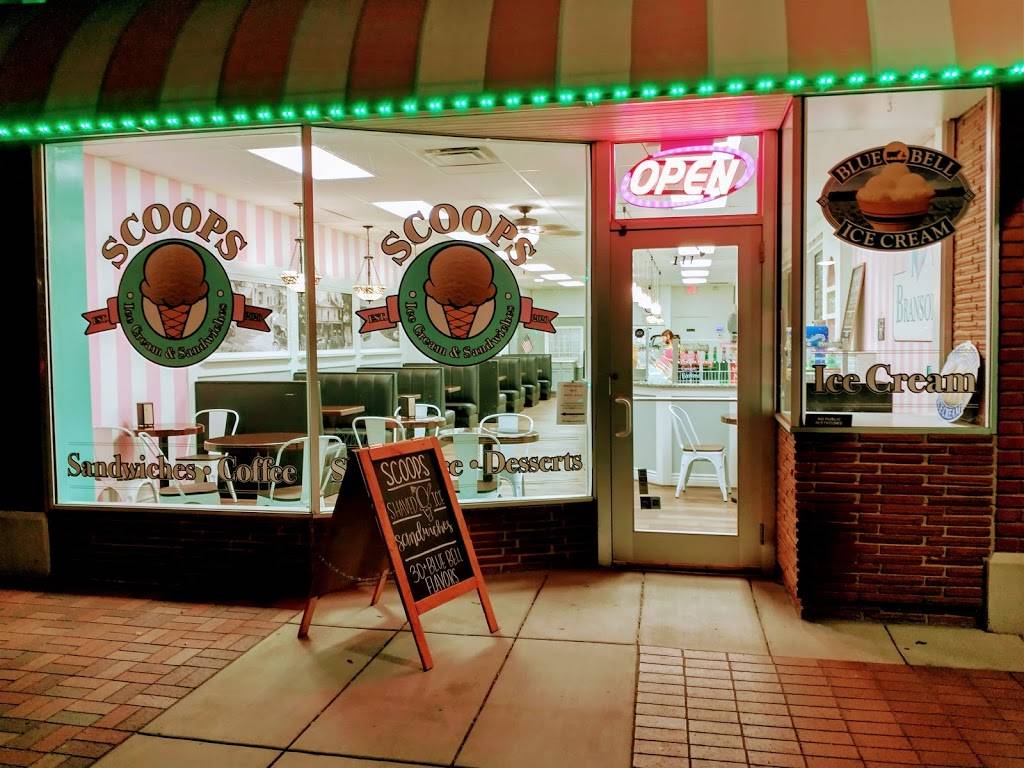 At Branson.com, we offer the most accurate information to help you enjoy your stay in our city more thoroughly. Visit us online to learn more about the entertainment options, attractions, and dining choices available in beautiful and historic Branson.
Looking for Branson Vacation Rentals? Visit us at Branson.com