Here are 5 of the Best and Fan Favorite restaurants in Branson that we know you will love!
A trip to Branson, Missouri, can create memories that will last for a lifetime. Food and fun are all part of the holiday experience in this down-home destination with a natural country flair. However, with so many restaurant choices, finding the right places to eat in Branson, MO, can sometimes be a real challenge. We are here to make it easier for you with five of the most popular fan-favorite restaurants in Branson and the surrounding areas.
Level 2 Steakhouse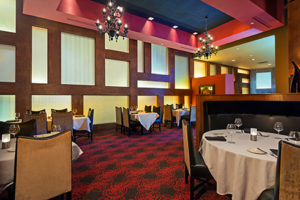 If you are looking for non-chain restaurants in Branson, MO, the Level 2 Steakhouse is a fine-dining establishment that delivers on taste, atmosphere, sophistication, and overall experience. Start your meal with the hearty steakhouse soup, which includes cheddar cheese, smoked tomatoes, and savory steak tips garnished with sour cream and green onions. Seafood lovers can enjoy the lightly battered calamari appetizer served with Key lime miso mayonnaise or a light shrimp cocktail with poached white shrimp and red cabbage slaw.
The salad selection is pretty standard except for the signature L2 salad, which includes candied walnuts, strawberries, pineapple, and Missouri's finest goat cheese and spring greens in season.
Entrée choices include various seafood dishes, including grilled ahi tuna steak, pan-roasted Atlantic salmon, and linguini with baby clams. However, the natural appeal of Level 2 Steakhouse lies in its exclusive selection of steaks. A petite filet mignon is perfect for lighter appetites. True steak lovers will appreciate the 14-ounce rib-eye or the 12-ounce Kansas City strip, cooked to order and served with a choice of toppings and sauces to suit just about any taste buds.
Don't forget to save room for dessert. The Missouri butter cake is served with vanilla ice cream and fresh berries for a can't-miss finish to your meal.
Located in the Hilton Promenade at Branson Landing in the heart of downtown Branson, the Level 2 Steakhouse is within easy walking distance of the Branson Landing Boardwalk and the always-popular Branson Scenic Railway attraction.
Billy Gail's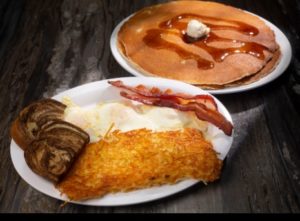 Residents and visitors swear by the enormous portions and the delectable menu items at Billy Gail's. This local landmark has served omelets, grits, and catfish since 1995. Billy Gail's has earned its reputation as one of the best places to eat in Branson, MO, with good-old home cooking and an atmosphere that is in a class by itself. They're known for standout menu items, such as their famous 14-inch pancakes made from scratch.
Those with a healthy appetite will love Billy's Belly Buster Breakfast, which includes three eggs, a choice of bacon, sausage, or ham, two sweet-cream vanilla pancakes, and a selection of bread. For lunch, indulge in a half-pound Billy's Burger or Josh's Smoked Tri-Tip Sandwich. Vegetarian, vegan, and gluten-free options are available to ensure that everyone in your party leaves full and happy after the meal.
Billy Gail's serves breakfast all day and is open until 3:00 p.m. Sunday through Thursday and until 9:00 p.m. on Friday and Saturday. The restaurant is just over half a mile from Silver Dollar City and just down the road from Table Rock Lake, making Billy Gail's the perfect place to fill up on food in Branson, MO.
Paula Deen's Family Kitchen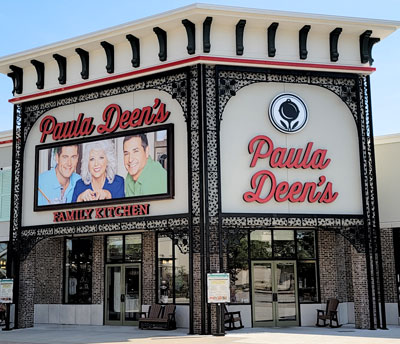 Known as the First Lady of Southern Cooking, Paula Deen has lent her name and knowledge of down-home Southern cuisine to this popular spot for dinner in Branson, MO. Family-style lunches and dinners at Paula Deen's Family Kitchen are served with a selection of sides and a choice of entrees, including Paula's own Best Ever Southern Fried Chicken, chicken and dumplings, Georgia fried catfish, and a Southern meatloaf that is covered with crispy onions. Sides include creamed corn, black-eyed peas, and collard greens.
Seasonal cobblers, banana pudding, and Paula's signature Ooey Gooey Butter Cake round out the menu. Bring your appetite; to-go boxes are unavailable at Paula Deen's Family Kitchen.
Paula Deen's is within walking distance of North Beach Park and Branson Landing, making it an ideal spot for dining in Branson, MO, before or after a day of shopping and sightseeing in this popular area.
Top of the Rock
Johnny Morris is perhaps best known as the founder of Bass Pro Shops. He is also responsible for creating the Top of the Rock Ozarks Heritage Reserve and Big Cedar Lodge, which offer opportunities for golfing, sightseeing, shopping, and casual and fine dining in a scenic, natural setting. Top of the Rock is several restaurants in one:
For a romantic, elegant and unforgettable experience, the Osage Restaurant offers stunning views of the surrounding Ozark Mountains and food that encompasses the best o local and international cuisine. The house-made pappardelle pasta can be ordered with salmon, shrimp, scallops, or lobsters for a special night out. The 22-ounce bone-in rib-eye is a favorite for guests of the restaurant, as is Genny Morris' Buttermilk Fried Chicken.

Arnie's Barn is the perfect option for dinner in Branson, MO, if you love Mexican cuisine. One of the most beautiful Branson dinner restaurants, Arnie's Barn, was moved from its original home in Latrobe, Pennsylvania, and was reassembled painstakingly by local craftsmen on this site. Buttermilk corn soup and burnt-end loaded fries are popular starters for this entry into the ranks of Branson's unique restaurants. Arnie's famous fajitas, cast-iron seared salmon, and jumbo "Dinosaur" smoked beef ribs are among the must-try entrees when enjoying dinner overlooking the golf course.

For those looking for a casual dining experience after a round of golf or a day spent seeing the sights, the Buffalo Bar offers a lineup of appetizers that include dips, maple-roasted pork belly, jumbo shrimp cocktails, and blue crab cakes. Karl's Ozark Surf & Turk Special consists of the signature Genny Morris' Buttermilk Fried Chicken alongside brown-sugar glazed salmon. Gluten-free and vegetarian options are available upon request.
While exploring Top of the Rock, you can tour the Ancient Ozarks Natural History Museum or look at the Cathedral of Nature, which may conceal a massive cave system as yet unexplored. Golfers can also enjoy proximity to the Top of the Rock golf course, a par-3 nine-hole course designed by Jack Nicklaus.
Guy Fieri's Branson Kitchen + Bar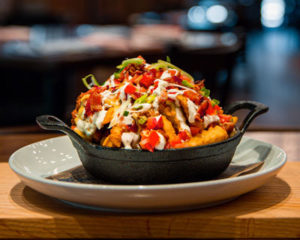 Affectionately known as the "Mayor of Flavortown," Guy Fieri is known for his experimental food approach and love of bold flavors. Guy Fieri's Branson Kitchen + Bar offers an eclectic assortment of customer favorites, including queso and corn dip, chicken wings, and salads to start.
Entrees include Guy Fieri's signature Motley Que pulled pork and Old Skool steak sandwiches. The Jack Daniels NY strip steak or American Royal ribs will satisfy any carnivore in the group. Finally, the Seven-Layer Dark Chocolate Whiskey Cake is a welcome challenge for chocolate lovers and a real treat for the adults at the party.
Guy Fieri's Branson Kitchen + Bar is located on Branson Landing, which puts it within easy reach of numerous attractions and shopping opportunities in this busy area. Parakeet Pete's Waterfront Zipline is just a short stone's throw away for the adventurous at heart.
Branson Awaits!
With so much to see and do, you may not find time to pack a visit to these fantastic Branson, MO restaurants into your trip. You need not worry, though. Branson will be waiting for you with new attractions and familiar sights every time you visit our area. Call us today to book your Branson Vacation!