Must See Branson Christmas Trees
Silver Dollar City – "Joy on Town Square" 399 Silver Dollar City Pkwy, Branson, MO 65616
The 8-story tree stars the new animated color, music, and light show, including surrounding buildings, trees, and landscape. One million LED lights and high-tech effects make up the entire immersive experience.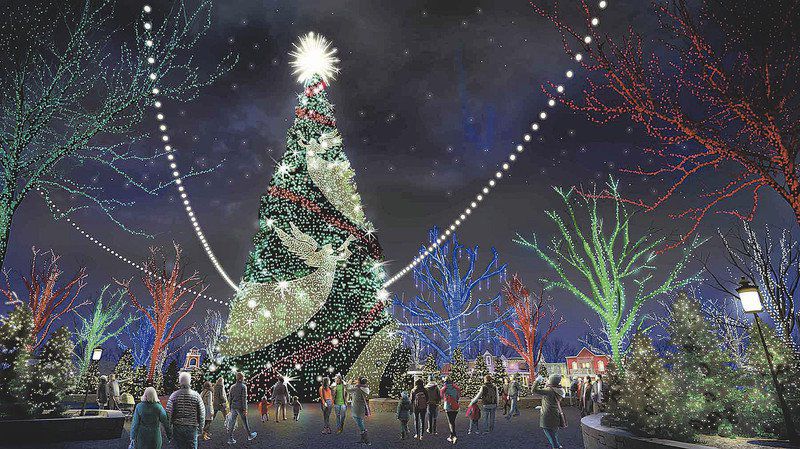 Branson Landing Animated Giant 100 Branson Landing Boulevard, Branson, MO 65616
The Landing's second giant tree is a natural beauty with animated lights set to music and bright LEDs that dance with holiday cheer. Catch the show daily thru January. 5:30 pm every evening.
Christmas Tree Lighting Ceremony at Branson Landing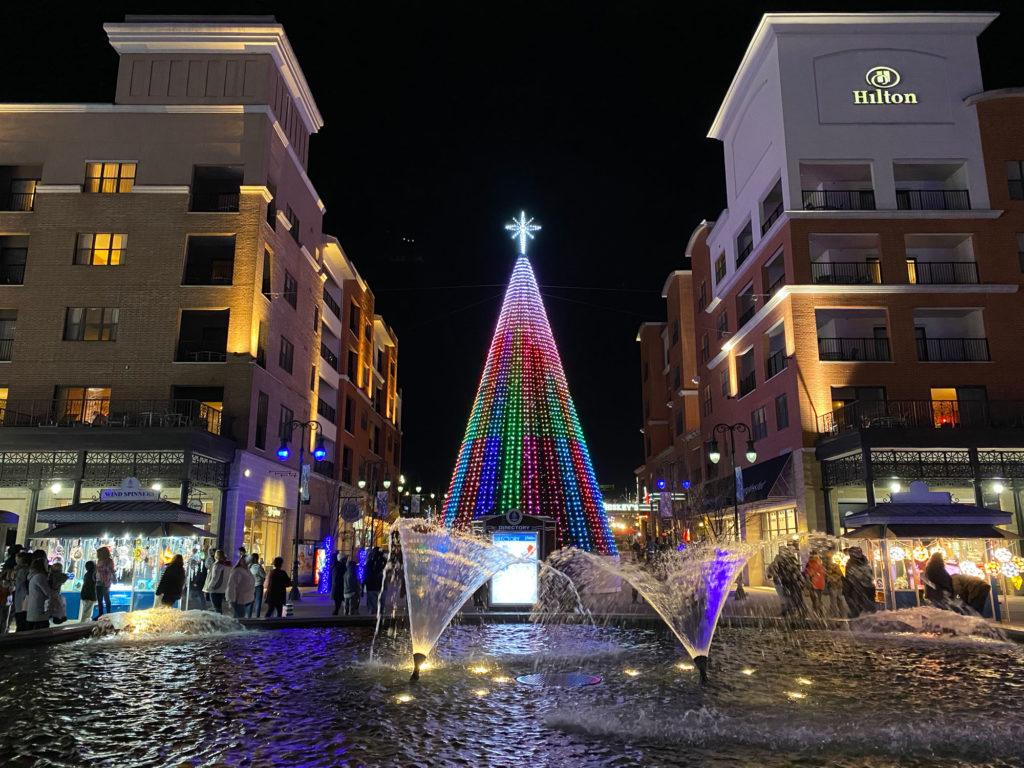 Dick's 5 & 10 Don't miss these TWO beautifully decorated light trees: on the way to the store attached to their billboard on Main Street heading into Downtown Branson, and on top of the building on the corner of Main and Business 65.
The Grand Village 2800 W. 76 Country Boulevard, Branson, MO 65616
Two traditional beauties, one 14′ and one 17′, add holiday elegance with gold ornaments and dazzling lights in front of the property and on the south end inside this Charleston-style village.
Sight & Sound Theatre 1001 Shepherd of the Hills Expressway, Branson, MO 65616
Lights are shining, almonds are roasting, and wonder fills the air. This 52′ traditional evergreen featuring 4,300 LED lights and 1,260 ornaments is a spectacular welcome to this beautiful theatre. Peek through the branches to see a lion and a lamb.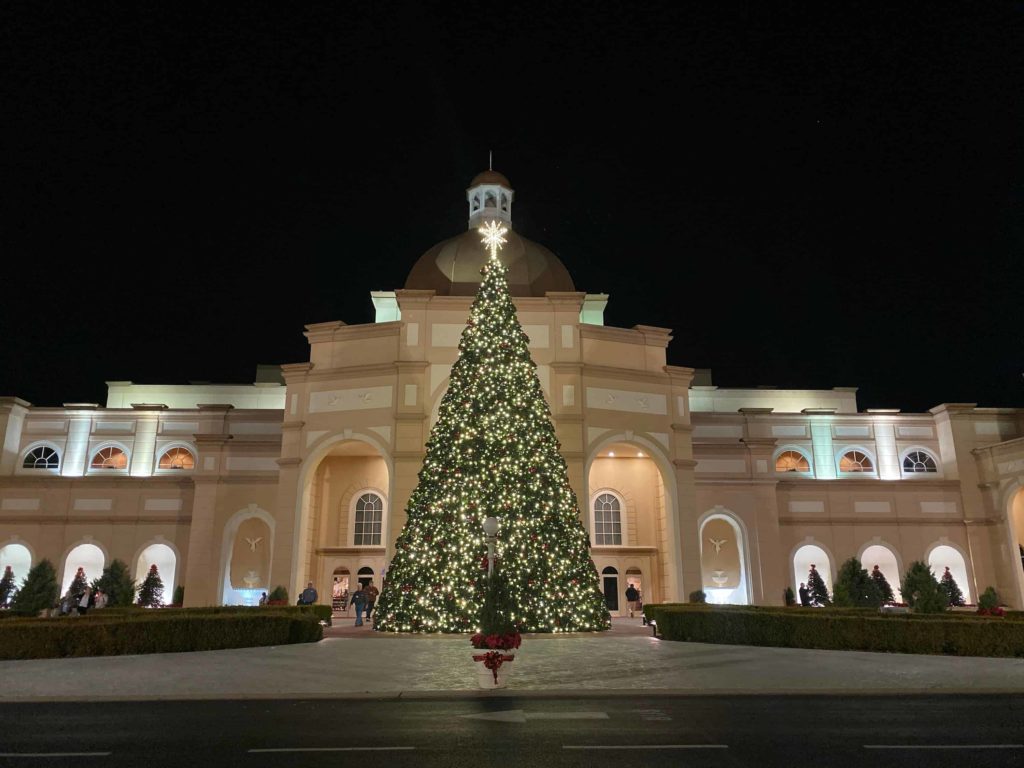 Tanger Outlets 300 Tanger Boulevard, Branson, MO 65616
Enjoy three 14′ traditional evergreen trees decorated in red, gold, and 3,640 lights, plus an 8′ wreath on the patio at Shopper Services that is the perfect holiday photo spot.
Presleys' Country Jubilee 2920 West 76 Country Boulevard, Branson, MO 65616
Don't miss the giant nutcrackers standing guard outside this Entertainment District icon. Then explore inside, where 15 themed Christmas trees featuring angels, elves, musical instruments, and more fill their lobby with the spirit of the season. Stop in to lift your spirits or inspire your tree decorating.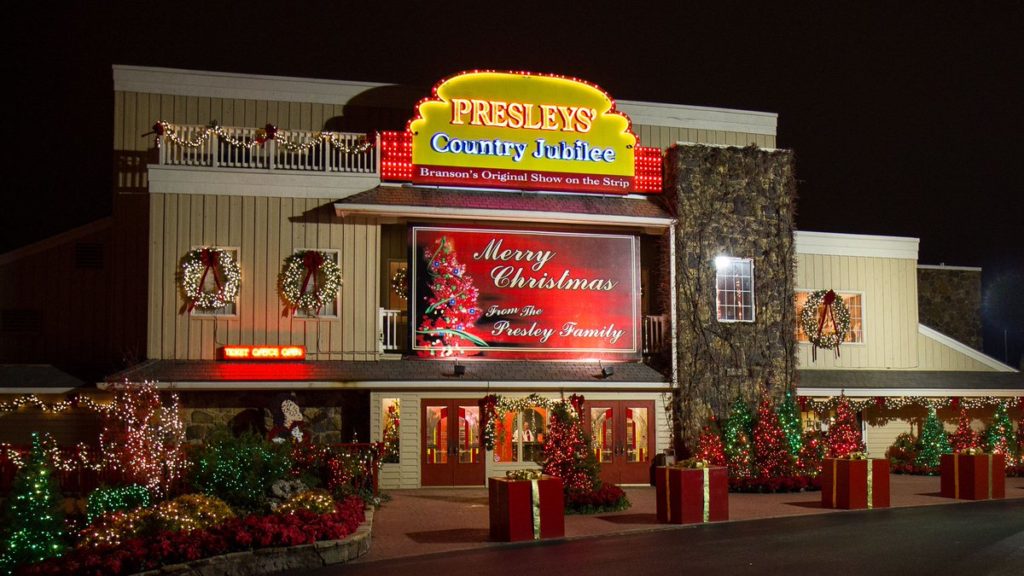 Veteran's Memorial Garden 1107 W Main Street, Branson, MO 65616
Dolly Parton's Stampede 1525 West 76 Country Boulevard, Branson, MO 65616
A 28′ evergreen stands regally at the entrance, but it's just one of 15 trees on the property!
United We Stand – Branson's 2021 Community Tree 3335 West 76 Country Boulevard, Branson, MO 65616
This new 39′ tree features large ornaments submitted from all 50 states and more than 40 from Branson-area businesses, schools, organizations, and artists.
Big Cedar Lodge
During our Home for the Holidays season, Big Cedar Lodge offers festive fun with ice skating, visits from St. Nick, and weekly winter workshop activities. With over 1 million holiday lights, Big Cedar is a must-see destination for any family holiday tour.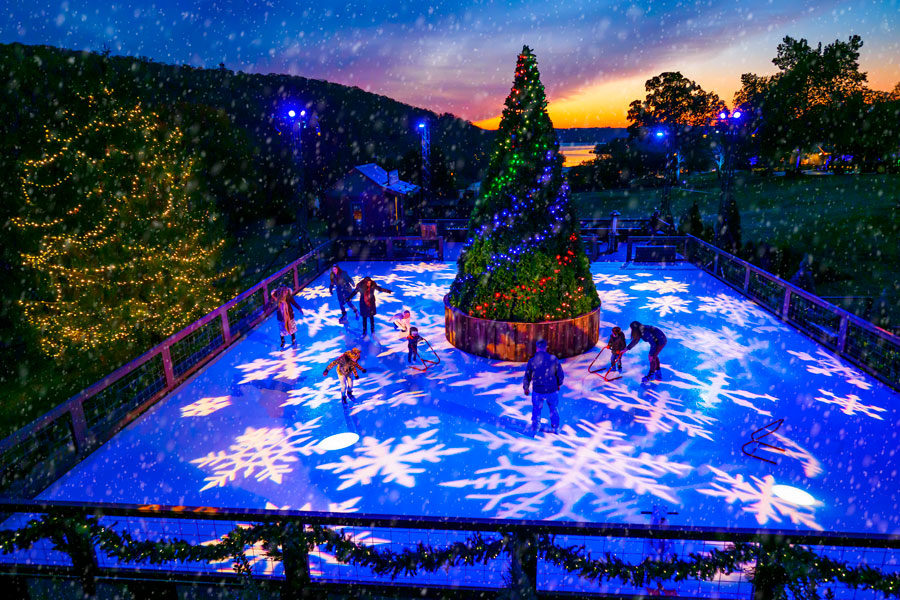 Fritz's Adventure 1425 West 76 Country Boulevard, Branson, MO 65616
This family attraction offers a Christmas tree adventure for the holidays. Visit their outdoor 18′ tree made of welded metal. Inside, you'll find a Christmas tree lot with adventure-themed décor perfect for family photos.
Christmas trees in Branson are just one way Branson is celebrating the holiday season. There is only a short time each year that you can come to enjoy the Christmas lights, shows, and festivities that Branson offers during the Christmas season.
Branson Christmas Shows begin on November 1st, for a list of Christmas shows, please visit us at Branson.com.