Branson is home to more Veterans celebrations than anywhere in the country. An annual parade (for more than 80 years), reunions, special shows, and events that make Branson a unique destination.
The Veterans Memorial Museum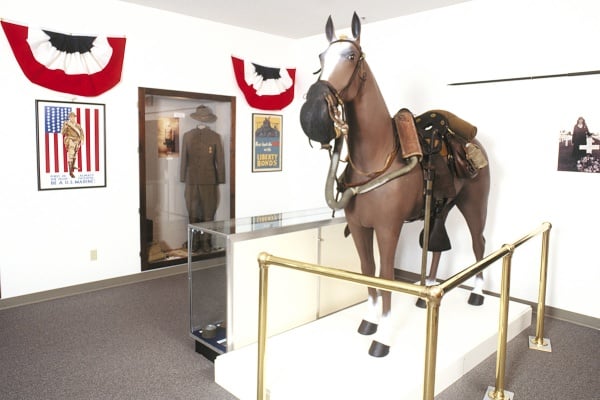 The Veterans Memorial Museum in Branson is one of the city's most popular attractions. Visitors of all ages are captivated by the history presented with photos and memorabilia of the wars U.S. soldiers have fought in the 20th Century. The museum is a fascinating tribute to Veterans. There are emotionally moving displays of love and support shown by friends and family back home, of the industrial support that was so generous and necessary. Visitors are awestruck by more than 2000 pieces of memorabilia, art, photographs, letters, weapons, posters, uniforms, medals, motorcycles, dozens of combat murals … the displays in the 18,000 sq. ft. museum are extraordinary.
Veterans Memorial Museum honors veterans of WWI, WWII, Korea, Vietnam, Desert Storm and more, in ten great halls; all major battles and campaigns are recognized. Throughout, the walls of each hall list names of soldiers killed in action during Korea, Vietnam, Desert Storm and other 20th Century conflicts.
Fred Hoppe, Jr., is the creator and owner of the Veterans Memorial Museum, located on Hwy. 76 east of Dixie Stampede. There is a World War II P-51 Mustang Fighter plane standing guard outside. (And stay tuned, because "coming soon" is a Vietnam-era Huey Helicopter.) Hoppe created the museum because of his father, the late Fred Hoppe, Sr., one of the most decorated combat Veterans of World War II. The museum brings back memories for many, while creating valuable memories for younger visitors.
---
The ALL HANDS ON DECK! Show
Branson's newest show is a beautifully written and produced performance set in 1942. Before the curtain goes up, large video screens show Movietone News trailers. A preview of the movie Casablanca. An Abbott & Costello commercial for defense bonds that is humorous yet poignant. Clips of rallies with stars like Greer Garson, Tyrone Power, Hedy Lamar, and Irene Dunn. President Roosevelt addressing the country. The scene is being set. The orchestra can be heard tuning up, and when the curtain rises, theAll Hands on Deck! Show audience knows they are in for a very special show.
It's the "Hollywood Victory Caravan 1942," a road show and radio broadcast reproduction, with singing and dancing that's reminiscent of the fabulous old song and dance movies. The song selection is excellent — 42 of the greatest songs ever written. The four cast members have magnificent voices; the harmonies and arrangements are superb.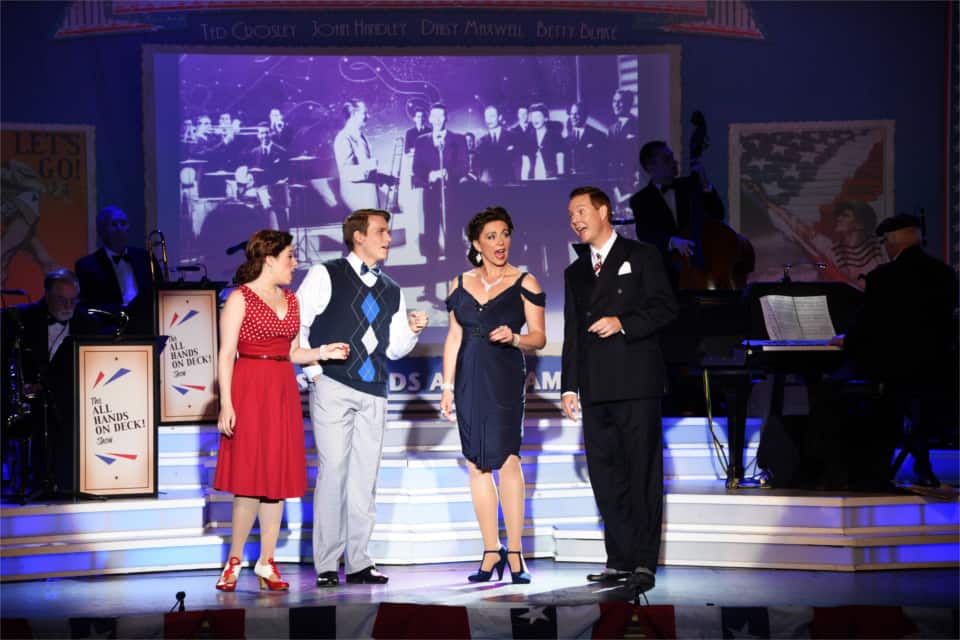 The costumes are "swell" — dresses and suits of the time period, from an argyle vest and bow tie, polka dot dresses, to the straight seams in the ladies' stockings! The stage is draped with red, white, and blue bunting. The overhead banner reads "Hollywood Victory Caravan" … the Caravan is traveling to cities that pledge a million dollars for the war effort. There are terrific songs like Chattanooga Choo Choo, Moonlight Bay, Atchison Topeka & the Santa Fe, Sentimental Journey … how long since you've heard really good saxophone music or a muted trumpet? Everyone in the audience is glad to remember the tunes … or perhaps wishes there were more like them today.
But then there's a hitch. "Ted Crosley" receives a telegram that bad weather coming in means they have to fly out early in order to get to Chicago for their scheduled radio broadcast. Will the Branson show be cut short? What about the broadcast? Well, stay tuned, because you are in for even more fun. A Maxwell House Coffee ad, "Did you get a bouquet with your coffee today?!" "You get more of everything you want with a Mercury!" All Hands on Deck! has been touring the country for three years, but they have brought their delightful show to the Dutton Theater in Branson for extended schedules. Jody Madaras, "Ted Crosley," wrote and produces the show; he also does the arrangements and choreography. Valerie Hill, "Betty Blake," is co-producer. Beth Conley is "Daisy Maxell," and Patrick Scholl is "John Handley." These are four extraordinarily talented singers and entertainers. Their impressive credits include Broadway, musical theater, television … and a passion for what they do. The orchestra is comprised of nine of the finest musicians anywhere.
A few Christmas touches are added for the season (which starts early in Branson!). White Christmas, with video clips of Holiday Inn (with Bing Crosby and Fred Astaire), the 1942 movie that made the song famous. A wartime photo of Santa Claus in a jeep with a Christmas tree, surrounded by soldiers. Of course, the cast recognizes Veterans in the audience with the songs of each branch of the military, including The Army Air Corps!
Waitin' for the Train to Come In, Thanks for the Memory, There's a Long Long Trail, America the Beautiful, Don't Sit Under the Apple Tree, I'll Never Smile Again, clever and heartwarming songs … The ALL HANDS ON DECK! Show, was written with a "heart filled with gratitude and patriotism" and is a perfect "Thank you" to the greatest generation, an enchanting step back in time.
---
Traveling Vietnam Veterans Memorial Wall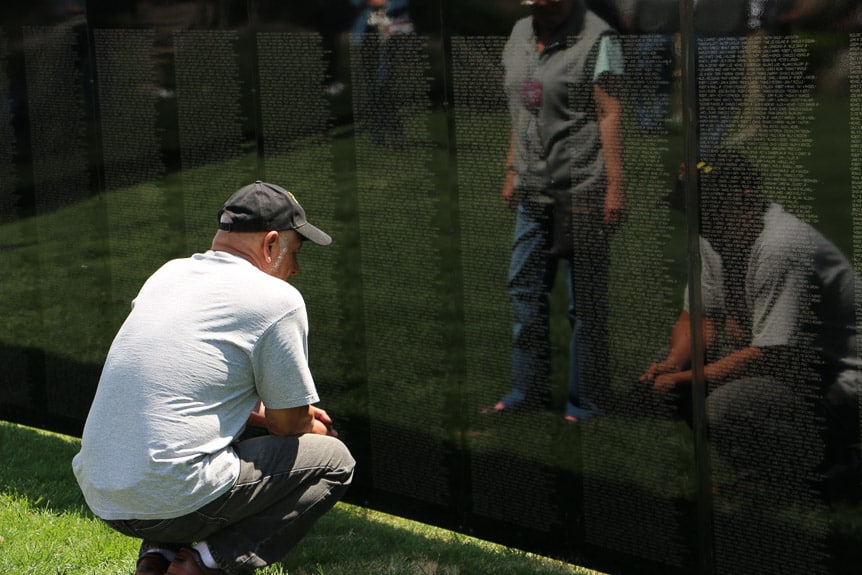 Known as "The Wall," this official half-scale replica of the memorial in Washington D.C., has been at the Welk Resort in Branson for many years and was purchased by the Welk Resort in 2013. It stretches almost 240 feet and lists more than 58,000 names of heroes who died in the Vietnam conflict. According to tradition, volunteers read names aloud. The Wall at the Welk Resort is available for public viewing November 7-13, from 8 a.m. until 6 p.m.
Branson celebrates Veterans … not only this week but all through the year. The Annual Veterans Day Parade is 11/11 at 11 a.m. Information on more special Veterans Week 2016 events can be found at http://www.bransontourismcenter.com/holidays/veterans-week