Here in Branson, things just move a little slower in this season of the year. The leaves take their time turning the lovely gold color we love so much, the cool air leisurely makes its way to our little corner of the Ozarks, and we simply feel no need to rush the few hours in a day we are allowed.
Vacation in Branson is a time to get away from the struggles and realities of the daily grind. It's a time to unwind, relax in a cozy inn or enjoy the grand views from an upper level hotel room, experience fun and exciting new things, taste incredible food, and most importantly, create memories with those you love. For most, vacation is a sacred time, something you look forward to and work hard to earn. That's why when it comes to deciding on the perfect destination, it's very important you choose the right one for you.
We're exploring the top five reasons people just like yourself are making Branson their destination of choice for their much needed vacation time. We know that this year has been difficult and that now more than ever vacation is needed. We also know that Branson is the best backdrop for memory-making and  you might be surprised at what all you'll find! Let's get swept away this September in Branson, Missouri:
First on our list is the shows. Branson, Missouri has long been known for its plethora of live entertainment, even holding the title for the Live Entertainment Capital of the United States! With over 100 shows to choose from, Branson has a show for everyone in your group. From the incredible magic of Reza, to the over-the-top production of The Haygoods, to the talented dancers and impression artists at Legends in Concert and even some acrobatics, you won't be at a loss in the entertainment department!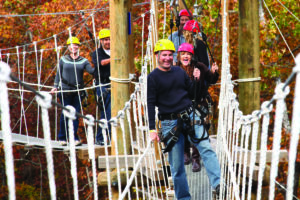 After you've hit the shows on the famous 76 "Strip", you can find thrilling adventure around nearly every corner! Maybe you'd like to feel the wind whip through your hair as you zip through the beautiful canopy of a zipline tour, or catch the view from the top of the famous Branson Ferris Wheel. Speaking of wheels, you might want to take the wheel of the high-rise go karts at The Track, or even experience the high-speed intensity of racing down the side of a mountain at the Runaway Mountain Coaster  (pro tip: it's even cooler at night!) If you animals are more up your ally, you won't want to miss The Butterfly Palace & Rainforest Adventure featuring a live butterfly garden, mirror maze and more! the Whatever your thrill, Branson has got it, and then some! Check out all the amazing attractions Branson has to offer!
3. Beautiful Lakes and Scenery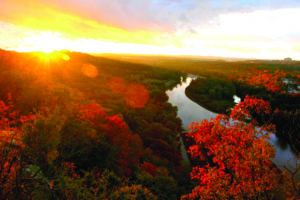 Branson is located right in the middle of the beautiful Ozark Mountains and is surrounded by three amazing lakes. Table Rock Lake boasts more coastline than the state of California with all it's fingerling alcoves. It's a great lake for fishing, but more importantly, boating and tubing. Families and anglers alike can enjoy not just one beautiful lake, but three! The river-like Taneycomo, ideal for kayaking and trout fishing in the cooler water and nearby Bull Shoals lake, a local favorite for swimming and tubing, are both popular options as well! In addition to the lakes, Branson is also home to many beautiful and challenging hiking trails that make it the ideal getaway for outdoorsy types. See more on all the outdoor adventures Branson has to offer!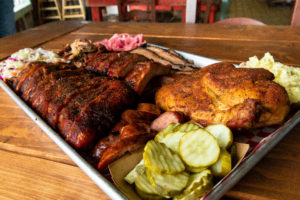 When it comes to good food, Branson is not playing around. A few of our favorites include breakfast at either Billy Gail's or Clocker's Cafe, lunch at Sugar Leaf Bakery or The Pickin' Porch Grill, and dinner at either Big D's or Gettin' Basted BBQ. There are so many more great options to choose from. One thing's for sure—you won't go home hungry!
5. Shopping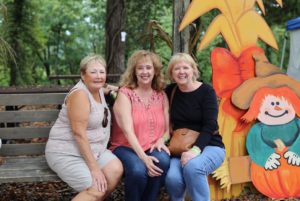 Are you a shop-til-you-drop kind of vacationer? Do you love stumbling upon unique finds in cute local shops or grabbing your favorite brands on sale at the outlet malls? If the answer is yes, then Branson is right up your alley. With many unique and wonderful shopping options, such as the beautiful lakeside outdoor shopping center The Branson Landing, or the beloved outlets of Tanger Outlet Mall, or even the nostalgic finds in Historic Downtown Branson, or even the many craft malls in town, you'll be sure to find something to treasure in Branson. Check out more info on shopping options here.
---
If you're ready to slow things down and take it easy, Branson welcomes you into our cozy corner of the Midwest. To plan your next Branson getaway, call us at 1-800-785-1610 or visit Branson.com today.
We can't wait to see you in Branson!
-Your Friends at Branson.com
---
Click HERE for COVID-19 Branson travel updates.