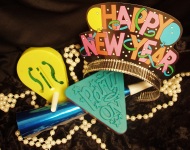 There's nothing like New Year's Eve in Branson where you can spend the year's biggest night of celebration with the stars! Because Branson has it all, you can party amongst the glitz and glamour of shows and attractions, or enjoy a relaxing evening with dinner by the lake.
If a spectacular countdown party is your style, many Branson shows offer an end-of-the-year celebration with a special version of their show, party favors, drinks, balloon drops, and more! You'll find shows with champagne toasts, and family-friendly versions with alcohol free beverages. It's also a great opportunity to get up close and personal with many of your favorite entertainers.
So who wants to spend New Year's Eve in front of the TV? Not you! Ring in the New Year with fantastic party favors, food, fun, and frivolity! Do it up right in Branson, Missouri; we're saving a place just for you!
Many of Branson's New Year's Eve shows fill up quickly, so call Branson Tourism Center now to book your celebration. We can take care of booking your shows and lodging and handle all the details, because at Branson Tourism Center, we're your best source for everything Branson!
New Year's Eve Dinner at the Keeter Center
Join us for a New Year's Celebration on Monday Evening for a farm-to-fork inspired four-course meal featuring dancing, live music, and a sparkling cider toast.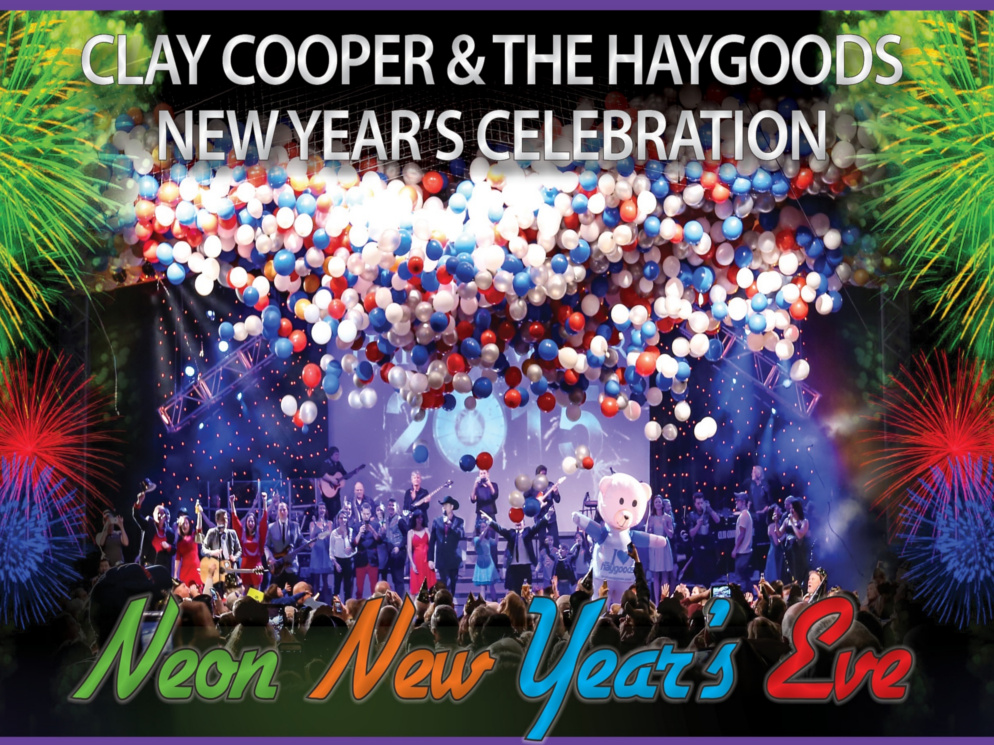 "Clay-Goods Jambor-Eve" is the place to be for New Year's Eve! Why spend your evening of celebration with just one show when you can party with Clay Cooper and the Haygoods? That's more incredible talent on one stage than you'll find anywhere! You'll begin your amazing evening of music and mayhem with those five brilliant boys, and that one glamorous girl, known as "The Haygoods." Following an intermission where you'll enjoy hors d'oeuvres and a cash bar, you'll be dazzled by Branson's one-and-only "Clay Cooper!" With a little help from his wife, Tina Cooper, rising star Colt Cooper, and an impressive team of veteran entertainers, you'll enjoy a performance that's filled with a wide variety of country, gospel, and pop hits and enough laughs to make your belly ache!Your evening will include party hats and favors, hors d'oeuvres, and a cash bar . The exciting finale brings out both "Clay Cooper" and "The Haygoods" to help you welcome the New Year with a bang, and with an alcohol-free toast and the traditional balloon drop. You can sit in front of a television and see the New Year arrive, or you can ring in 2019 at the delightfully, fun, funny, and fabulous "Clay-Goods Jambor-Eve!"  CALL NOW AS SHOWS SELL OUT FAST!!
Only Branson has "Hamners' New Year's Eve Fiesta Party," the best night you'll ever spend ringing in the New Year! You'll celebrate with the cast, crew, and staff of the incredible Hamners' Unbelievable Variety Show, enjoying an extended version of the show. And, of course, there's a marvelously festive dinner of hand-held foods from Mexican Grill Villa, fun contests with excellent prizes, and family-friendly beverages to keep everyone safe into the New Year! Your favorite show will be all dressed up in a festive theme, with the added feature of a phenomenal laser show countdown to midnight! This fantastic version of the year's biggest celebration is perfect for couples, singles, and families alike, so don't spend your New Year's staring at the television, spend it with one of Branson's most beloved couples and their extended family of feathered friends and talented entertainers at the "Hamners' New Year's Eve Fiesta Party!"
Nothing says celebration like a luxury cruise on Lake Taneycomo to say goodbye to the old year and bring in the new one. Main Street Lake Cruises will make you a part of the party on their 100 ft yacht.Bring you friends or loved ones along and bask in the beauty and toast in the new year! Tickets start at $99 + tax per person. Tickets will sell out in advance.
Coming to you live at Dick Clark's American Bandstand Theater in Branson, Missouri, New Years Eve with the Legends in Concert: has some of the best live tribute entertainment to be found!You'll experience performers such as the Blues Brothers, Brooks & Dunn, Tina Turner, Elvis, Elton John, and special guest Cher!!! Guests can also enjoy party favors, a gourmet boxed lunch, and more.
Chateau on the Lake New Year's Eve Celebration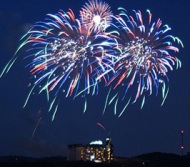 Please make your reservations to Rock in the New Year and to dance the night away!! From the moment of arrival to the end you will enjoy an evening filled with Fantastic Entertainment, Food, Toasts, Balloon Drop and Fireworks!
Celebrate the end of one amazing year and the beginning of a brand-new one at 
Silver Dollar City
 during the 
All-NEW New Year's Celebration
 featuring special entertainment including:Our indoor venues will feature special entertainment including:  Biff Barker New Year's Radio Show – Music and comedy are hallmarks of the Silver Dollar Saloon and both are in full force as we step back in time to the Golden Age of radio with an original production. Become part of the live studio audience as make-believe radio station KSDC rings in the New Year with a melodious and madcap style of entertainment. The Biff Barker New Year's Radio Show will have you laughing and singing along as we stroll down memory lane.
Red Gold Heritage Hall Dance Party – What New Year's celebration would be complete without a rockin' Dance Party? Silver Dollar City is proud to welcome the phenomenal band, Members Only, to help us ring in the New Year. These talented musicians provide the electric energy for everyone to dance the night away with songs from iconic groups like Chicago, Journey, and Kansas.
Plus, while you're strolling through the park you can enjoy Silver Dollar City's 6.5 million lights, including 1.5 million lights in the Christmas In Midtown light spectacular. Don't miss your chance to visit the place The Travel Channel hailed as "The Most Illuminated Park on Earth" before we close for the season!
The exceptional talent of the Americana Theatre is teaming up to give you a New Year's Eve event that you won't want to miss. The "Americana New Year's Eve Show" will showcase the talents of C.J. Newsom, Terry Sanders, The Cajun Connection, Comedy Magician Scott Davis, and many more! Also, Big D's BBQ will be catering and there will be a champagne toast at midnight.Date: Monday, December 31th, 2018