Enter For Your Chance to WIN a Branson.com $500 Gift Card in our Giveaway Sweepstakes.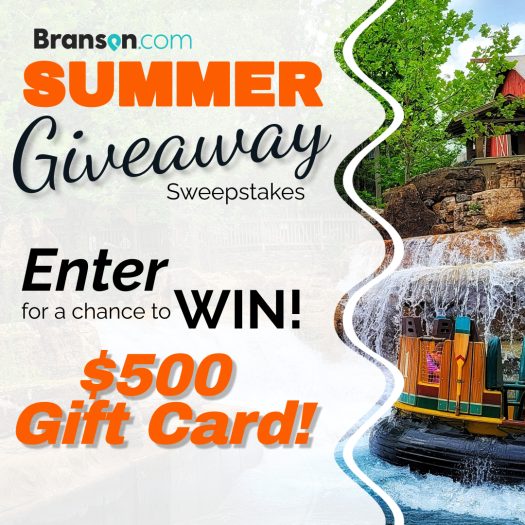 Branson.com Giveaway Sweepstakes
Abbreviated Rules
NO PURCHASE NECESSARY. The Sweepstakes is only open to legal residents the fifty (50) U.S. states and Washington, D.C., (excluding U.S. possessions, territories, overseas military installations in foreign countries, outside of the fifty [50] U.S. states) who have reached the age of majority in their state of residence at the time of entry. Sweepstakes begins 10:00:00 of AM Mountain Time ("MT") on 3/31/2023; ends 5:00:00 PM MT on 12/30/2023. During the Sweepstakes Period, participants may enter the Sweepstakes (each an "Entrant") as follows: (1) by visiting https://www.branson.com/branson-com-giveaways/ ("Sweepstakes Website") and filling in the online entry form; (2) (i) visit the Sponsor's Instagram page and locate the Sponsor's Branson.com Giveaway Sweepstakes post, (ii) follow the Sponsor's Instagram Page, (iii) post a favorite vacation photo which must include "#bransoncomgiveawaysweepstakes" and mention three (3) friends; (3) (i) visit the Sponsor's Facebook page and locate the Sponsor's Branson.com Giveaway Sweepstakes post, and (ii) post a favorite vacation photo which must include "#bransoncomgiveawaysweepstakes"; or (4) to enter on the Sweepstakes Website without consenting to future marketing contact ("AMOE") complete the entry form as described above but do not check the Consent Box (each, an "Entry"). No marketing contact will result from Entries made via the Facebook or Instagram Entry methods. The same photograph may not be used for more than one (1) Entry. All Entries must be received within the Sweepstakes Period. Entries will not be carried forward for subsequent drawings, if any. Odds of winning are based on the number of eligible Entries received. One (1) Entry into the Sweepstakes will be given for each Sweepstakes Entry method up to three (3) Entries per person per day (no method of Entry may be used more than once each day). Each prize will be a $500 Branson.com Gift Card. Retail value of the gift card is its face value. Gift card is not redeemable for cash and is not transferable and can only be used through Branson.com for the purchase of events, shows and attractions located in Branson, Missouri. For the name of the Prize Winners, available for thirty 30 days after the Prize Winner's verification, send an email to https://www.branson.com/branson-com-sweepstakes-giveaway-winners/. For a copy of the Official Rules, visit the Sweepstakes website at https://www.branson.com/branson-com-giveaways/ and for a copy of the Sponsor's Privacy Policy visit https://www.branson.com/privacy-policy/, both of which will be available for thirty 30 days after the Prize Winner selection.
Sponsor: Ozark Tourism Marketing, Inc. d/b/a Branson.com
This Sweepstakes is in no way sponsored, administered or endorsed by Facebook, Inc., nor is Facebook, Inc. associated with this Sweepstakes.
This advertising material is being used for the purpose of soliciting the sale of timeshare periods.
©2023 Branson.com. All Rights Reserved.
865208-5; SW-23-_____
Enter Here For a Chance to WIN!
Summer is about having fun and making unforgettable memories, and Branson.com's Giveaway Sweepstakes is here to make that happen! Participate in the sweepstakes for a chance to win a $500 Branson.com Gift Card!
Entering the sweepstakes is quick and easy. All you need to do is fill out the entry form with your name and email address, and you'll be automatically entered into the sweepstakes.
It's that simple!
Branson Vacation Packages: Your Gateway to Endless Fun and Adventure!