The dictionary defines "vacation" as a rest, or time of respite. Your vacation can be a holiday, an escape, a getaway. And some savvy travelers might say, "Vacation? That means Branson!" Whether you are looking for family fun, a girlfriends' escapade, a couple's timeout … outdoor adventure or indoor entertainment, Branson has something for everyone. And 2017 promises even more ways to enjoy this wonderful Ozarks area.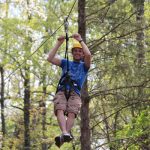 Spring Break time is here, and Branson can quench young people's thirst for adventure. Branson Zipline & Canopy Tours at Wolfe Creek Preserve has several zip lines for all skill levels. They also offer a unique Photo Safari Walking Tour, which starts out with a ride up Wolfe Mountain in one of the Pinzgauer Swiss Army Troop Carriers. It's a stunning Ozark mountain setting. Parakeet Pete's zip line over Lake Taneycomo is a seated ride that soars from Branson Landing to the bluff across the lake. What a view!
Branson's Track Family Fun Parks – 14 different go-kart tracks include high-rise tracks, flat tracks, a Sprint Track … and you can rent a GoPro camera to record the entire experience! If you haven't tried the new Branson Ferris Wheel, you're in for a treat. It's the former Chicago Navy Pier Ferris Wheel, moved here in 2016 by The Track. At 150 feet tall, it boasts a quite a panorama, and at night its 16,000 LED lights are a spectacular sight. Enjoy the dazzling "Electrify" light shows Friday and Saturday evenings.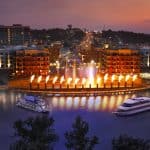 Board the Lake Queen at Main Street Lake Cruises on Branson Landing. This modern day replica paddles along the banks of Lake Taneycomo, and lunch is available on all sightseeing cruises. There is an Easter cruise on the Landing Princess at Main Street Cruises. This luxury yacht's schedule gets into full swing in May, when "The Gem of Lake Taneycomo" offers a three-course meal, as well as specialty cruises, including a Mother's Day Cruise, Fireworks Cruises, Thanksgiving Day and New Year's Eve Cruises. The Branson Landing Fountains put on a beautiful show with synchronized water, light, fire, and sound – the cruises offer a great view!
"Spring Ride Days" at Silver Dollar City, select dates March 15 – April 2, 2017, offers a special lineup of thrilling rides, attractions, and entertainers. Out on Table Rock Lake, Showboat Branson Belle opens March 4 with Celebrate. Rhythm, the "fastest feet west of the Mississippi;" vocalist Cassandre Faimon-Haygood; The ShowMen, a five-man vocal group; host Christopher James and The Rockin' Dockers Band make Celebrate a beautiful dining cruise. The Princess & Pirates Cruise will delight young visitors May 7 – August 13. A barbecue meal accompanies the new Country on the Lake concert cruise, May 27 – November 19, with classic rock to current country hits. "Young Christians Weekend" is March 31 – April 2, 2017, and later this summer, look for the Southern Gospel Music Cruise.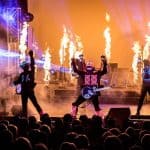 The Haygoods Show, at Clay Cooper's Theatre, is popular with young and old alike. These talented brothers and their sister have been performing together since they were very young and are celebrating 25 years entertaining in Branson. Their show is packed with great music, innovative lighting and staging … and look up! Who's that flying in?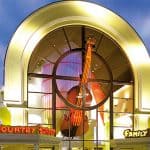 Dixie Stampede opened in February with a new feature, "Canine Capers." This fast 'n' fun segment stars specially trained rescue animals. A delicious dinner accompanies all the fun, including 32 magnificent horses, top-notch riders, racing pigs, a buffalo stampede, and, well, just tons of fun. Grandparents, Dixie is guaranteed to score points with the kids and create some magical memories for you! Grand Country Resort is packed with entertainment and exciting things to do. Shows, numerous dining, snack, and dessert options, shops, an indoor water park, and new this year – an indoor go-kart track! A good destination for all kinds of adventure, and kids love the clubhouse bunk beds.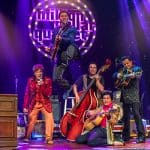 March 11, 2017, marked the opening of Million Dollar Quartet's third season at the Welk Resort Theatre. The show is based on the Tony Award-winning Broadway musical and is the true story of the night of December 4, 1956, at Sun Records in Memphis. It was happenstance that brought Elvis Presley, Johnny Cash, Jerry Lee Lewis, and Carl Perkins together. It was the only time the four sang together. Sitting in on this musical history is extraordinary.
Meanwhile, back outdoors! There are hundreds of miles of hiking trails in the Branson area, great sites for camping and cookouts, and fantastic fishing on Lake Taneycomo and Table Rock Lake. It was the natural beauty of this area that first attracted visitors to Branson in the early 1900's, with the publication of Harold Bell Wright's novel, The Shepherd of the Hills. Gorgeous scenery makes a round of golf at any one of Branson's championship golf courses not only a great golf experience but also a picturesque outing.
Titanic Museum Attraction is fascinating, always presenting something new. March 12 thru June 11 the Museum is celebrating the historic Titanic movie that came out 20 years ago, winning eleven Oscars and taking its place in movie history. The new gallery showcases costumes, set pieces and props, signed scripts, and more. The Irish will be celebrated the entire month of March. The Titanic was built in Belfast, and Irish passengers outnumbered all others on board. There are more than 20 galleries uniquely displaying more than 400 artifacts, recreations of cabins and other areas of the ship, an interactive gallery, and so much more. Titanic is an incredible experience for everyone.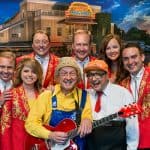 This year Presleys' Country Jubilee is celebrating 50 years of entertaining Branson audiences. The Presleys were the first to build a theater on the now-famous Hwy. 76 "Strip" – designed to be used as a boat barn, just in case the "music thing" didn't work out! Now with three generations of Presleys on stage, along with other talented vocalists and musicians, their fast-paced show is packed with great music and hilarious comedy. You'll want to help them celebrate this year!
Some of your favorite shows have a new theater home this year. The Amazing Acrobats of Shanghai have moved to the Mickey Gilley Grand Shanghai Theatre. Mickey Gilley is back, too, for the Urban Cowboy Reunion with Johnny Lee. Eight weeks in spring, eleven weeks in the fall. One of last year's most popular shows, Raiding the Country Vault has moved to the Starlite Theatre for a full 2017 schedule. And Raiding the Rock Vault makes an appearance this year, with select dates July 6–July 22. The Texas Tenors and AYO featuring Voices of Glory are two of the other fine shows on stage there.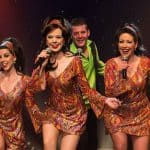 The fun and fabulous #1 Hits of the 60's & 50's too has joined the lineup of shows at Clay Cooper's. With a live band, groovy costumes, and lots of costume changes, this energetic show sparkles with iconic songs. SIX, the Knudsen Brothers vocal band that astonishes everyone, has moved to the Hughes Brothers Celebrity Theater. No instruments involved! Forever Young is at the Americana Theater this year. Six friends tell the music story that shaped their lives; the "soundtrack" of this show features some of the best ever pop, rock, and country music.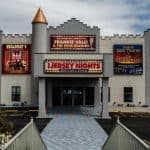 Broadway's Greatest Hits is the newest show at King's Castle Theatre. It joins a terrific lineup of shows – New Jersey Nights; Puttin' on the Ritz; Dublin's Irish Tenors & Celtic Ladies; and Christmas Wonderland round out the extraordinary roster. All Hands on Deck! stepped onto the Branson stage in 2016 at the Dutton Family Theater. It was a huge hit with audiences and is back at Duttons' for extended runs in 2017. The beautifully written and produced "Hollywood Victory Caravan 1942" is a road show and radio broadcast reproduction. Don't miss this one!
Branson stages are a popular destination for touring entertainers. Up Close Concerts at the Welk Resort Theatre this year include appearances by Kris Kristofferson; Trace Adkins; and Pam Tillis, Collin Raye & Sammy Kershaw ~ Roots & Boots Tour! At The Mansion Theatre; Johnny Mathis with Gary Mule Deer; Neal McCoy; Sawyer Brown; Grand Funk Railroad; Wynonna & the Big Noise and the Oak Ridge Boys are just some of the performances on the schedule.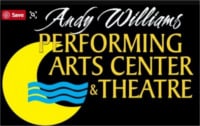 The Andy Williams Performing Art Center & Theatre has an exciting array of legendary stars. Neil Sedaka; Loretta Lynn; Paul Anka; and The Lettermen are just some of them. Select dates April 25 thru September 29, Jimmy Osmond stars in Moon River and Me! This is an extraordinary tribute to Andy Williams and his career; Jimmy and his older brothers got their career start on The Andy Williams Show.
Silver Dollar City's new 2017 Festival of Wonder presents astonishing features, like The Earth Harp Collective, the world's largest playable stringed instrument. You may have seen it on America's Got Talent. And the Glass Armonica is "one of the world's largest instruments made of glassware." The Festival even offers special culinary creations – "Fry Bread of Heaven," "The World of Bacon," and other innovative and taste-tempting edibles. National Crafts & Cowboy Festival in the fall is a favorite festival. All season long the sights and sounds, enticing aromas, the smiles and fun … Silver Dollar City feeds all the senses. Especially at Christmas time!
Have you planned your Christmas trip to Branson yet? You know how we love Christmas around here! Hallmark Presents Maxine's Christmas Carol at the Andy Williams Performing Arts Center again this year. It's a rollicking yet poignant version of a favorite Christmas story. Miracle of Christmas comes to the stages of The Sight & Sound Theatre for Christmas 2017. Moses is onstage there March 4 until the Christmas season begins November 4. There are exciting backstage tours available for both shows! The Andy Williams Christmas Extravaganza is back and more exciting than ever. Christmas shows, Christmas parades … Branson loves sharing the Christmas spirit.
All year long there are countless shows and attractions to enjoy in Branson. Butterfly Palace & Rainforest Adventure; Veterans Memorial Museum; National Tiger Sanctuary – all venues that entertain, educate, and enlighten. Lodging in Branson is marvelous, from modest motels, to rustic elegance, to high-rise elegance. And you'll never be hungry! Branson Café in Historic Downtown Branson (opened in 1910!); fine dining at Chateau on the Lake; contemporary favorites with an Ozarks flair at The Keeter Center; singing waiters at Mel's Hard Luck Diner … the 'bill of fare' is long when it's time to eat!