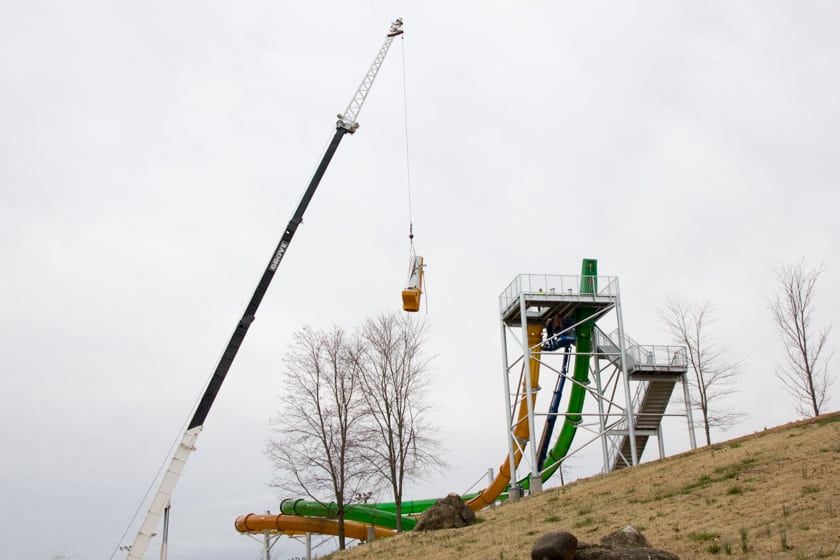 Here's a list of five things you should know about the new Branson thrill ride water slide:
1. The thrill's in the launch: "It's all about that launch. You'll be standing on a clear acrylic floor looking down at where you are about to fall, waiting, anticipating the time at which that floor drops out underneath you and you fall at an angle of 70 degrees, reaching speeds of 26 feet per second; it's going to be exciting," Roebuck said.
2. Launching Position: The launch is from one of two "Drop Floor Aqua Launch Capsules" located on top of a four story tower.
3. Initial Drop: At the end of the countdown "3, 2, 1 KAPAU," when the floor drops out, starting you on your journey, you are going to fall almost two stories. You are actually riding on water and while you start out at 70 degrees, after you go about 15 to 20 feet, it's going to level out some before the ride catches you, spins you around a horizontal loop and spits you out in an almost horizontal position at the bottom.
4. Translucent Waterslide Tubes: The entire 240 foot length of the water slide tubes are translucent. Once you drop into the tube from the launcher your entire journey will be visible to spectators.
5. Specifications: The tower is 40 feet tall. Its two three foot wide slides use 1000 gallons of water per minute, are each just over 240 feet long and transport riders at speeds up to 26 feet per second. The $1.7 million ride has a capacity of 360 riders per hour.
Although it was a chilly cloudy day, with a small crowd gathered near the ride to watch the second launch capsule put in place it didn't take too much imagination to envision the shrieks of excitement as riders plummet through the drop door into "the biggest thrill in White Water history." It all begins on May 17 at the top of KaPau Plummet's 40 foot tower with the words, "3, 2, 1 KAPAU!"