Hi, friends!
How is your end-of-summer treating you? We like to call this time the "Golden Hour" of the year, and just between us, it might be our favorite (don't tell Christmas)!
One awesome way to spend a Golden Hour Getaway in Branson is by experiencing new and exciting attractions such as Beyond The Lens! For those of you who don't know, Beyond the Lens is a way-cool interactive walk-through attraction in which you get to explore pop culture up close and personal! Things like posing inside a life-sized Barbie or G.I. Joe box, a massive pile of $50,000 in cash, a larger-than-life Bigfoot or an Alien Egg Pit! Once you've snapped all the selfies your heart desires, check out the intriguing facts surrounding high-profile mysteries such as JFK's assassination or jump into a high-rise virtual experience you'll have to see to believe!
Beyond The Lens is a must on any trip to Branson for a truly unique experience and it just got even better. September 4th, 2020, they opened a brand-new attraction experience- and it's BIG!
Introducing… FlyRide.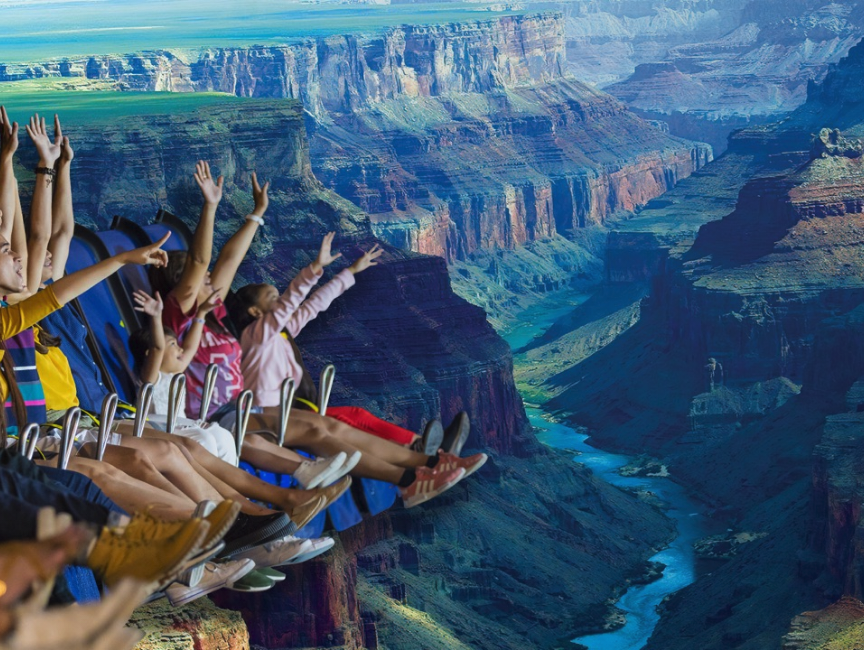 To sum it up, FlyRide at Beyond the Lens is a virtual, sensory experience that gives you the feeling of soaring thousands of feet over the entire United States.  From your roller-coaster style seat—feet dangling and all—you'll be amazed as you soar high above a massive, four-story curved screen and take flight into beautiful sights and sensations typically reserved for daredevil hang gliders!
Of course, as your local experts on all things Branson, we had to experience it for ourselves to give you the low-down on this top-notch new addition to the Branson attractions scene. Let us walk you through the play-by-play!
Entrance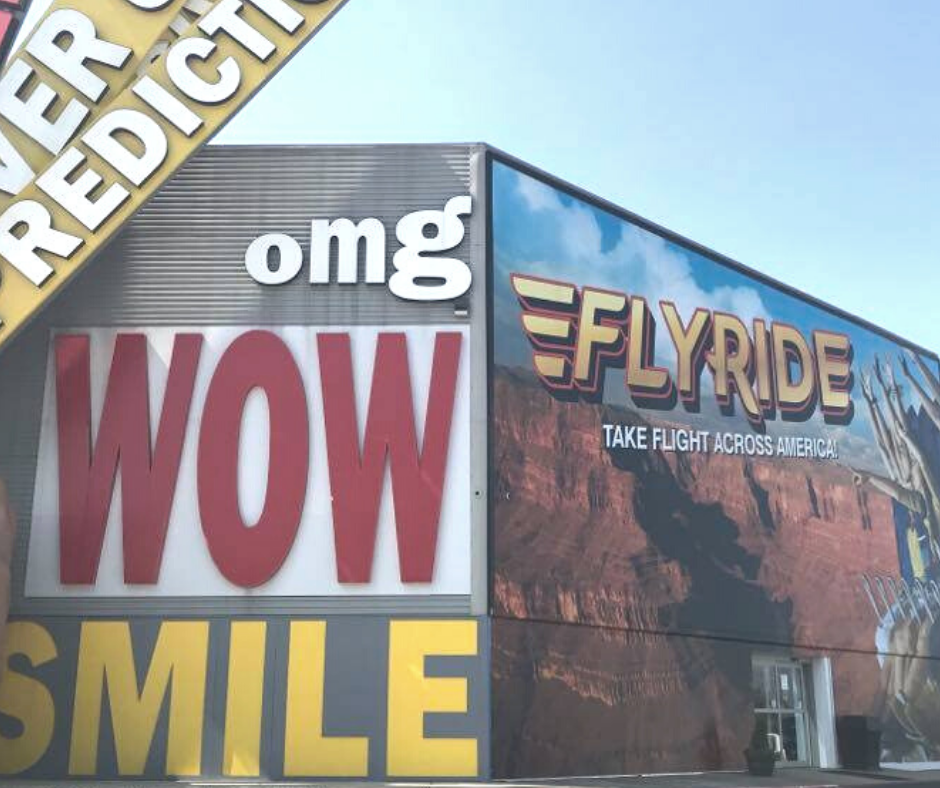 "Wow" is right! From the moment you pull up to Beyond The Lens, you'll be welcomed by the larger-than-life entrance. You can't miss the giant, four-story sign covering both sides of the building, encouraging drive-by visitors to "take flight" with FlyRide! You have your choice to enter through a side door as you see here or the main entrance photo op that looks like a massive pair of paparazzi hands holding a camera—so do you really have a choice?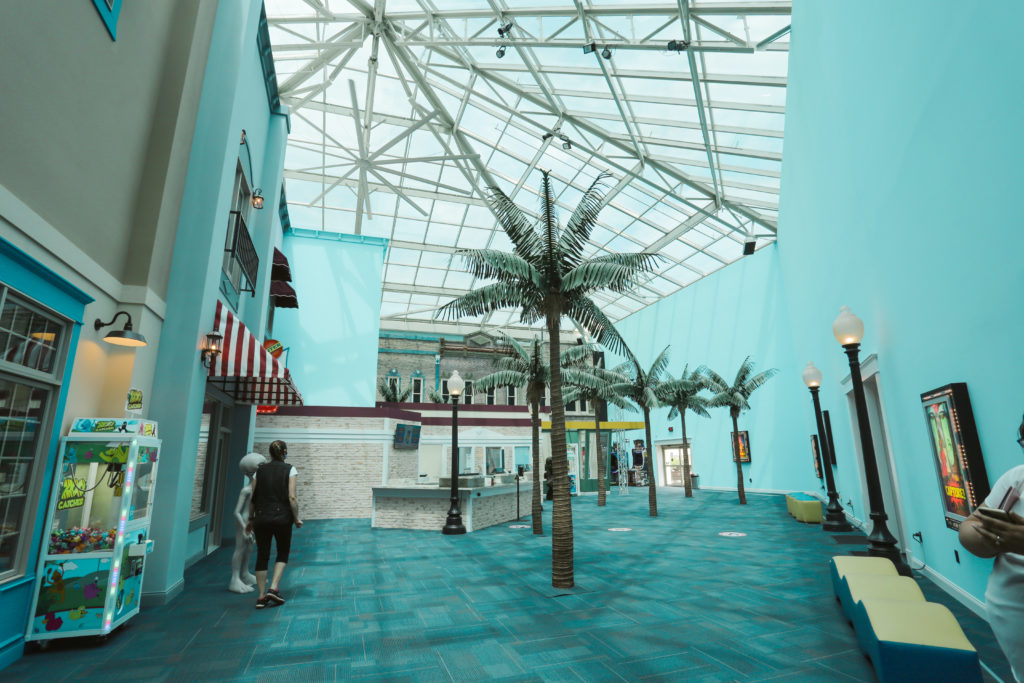 Once you're inside the building, you'll be entertained by the lifelike palm trees, enticing FlipZone (bumper cars that allow you to flip and spin suspended in air), and augmented reality photo ops. Don't get too overwhelmed though—a combo ticket will gain you access to all the fun inside! Get your tickets with the friendly staff at the ticket counter or hand them your Branson.com Voucher for your combo ticket and they'll point you on your way to Flyride!
Boarding Area
Once you've got your tickets, you'll head through the funky gift shop to the boarding area to prepare for your flight. The paint still fresh, this clean, blue-lit holding area is lined with "travel posters" showcasing the many sights waiting for you.
Come November, the feature film will change from sweeping views and vistas across the nation to the North Pole with The Polar Express Train Ride! You won't want to miss out on this fun holiday adventure as you take a front seat on the iconic train ride scene! Be sure to put this on your list of plans for Christmas 2020 in Branson!
Ladies and Gentleman, Please Take Your Seats
After a cute preparation video with your flight attendant, Bambi, you'll be ready to board for your flight. Numbered stickers are administered while waiting to board to make it easy to find your seats once inside. Bins are provided near your seats in which to stow your loose items. The seats are comfy and the seat belts easy to use.
We were able to snap a quick (low-quality) selfie before we "took off" but not without a stern look and reminder that all loose items are to be stowed in the bins provided from our flight attendant. 🙂
FlyRide is unlike anything else in Branson. As you prepare for takeoff, a large, sliding door opens in front of you and the row of seats slides forward, allowing for your feet to dangle above the massive screen that curves beneath you. Sweeping, breath-taking views abound as your seats simulate the feeling of flying, complete with wind, scents, sounds, and even mists! You truly feel like you've taken flight! Needless to say, you'll have to experience FlyRide for yourself to truly see what all the hype is about. And there is certainly grounds for all the hype.
FlyRide is an incredible addition to Branson's attractions, and we can't wait for you to experience it yourself. This is a must-do on your next trip to Branson and is fit for all the members of  your family. Get your tickets today, and we'll see you in Branson again soon!
-The Branson.com Team