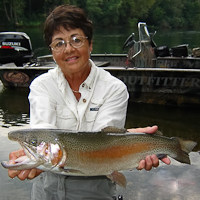 BRANSON, Mo., August 9, 2012–   The most comprehensive fishing report available Branson's Lake Taneycomo submitted by people who fish the lake on just about a daily basis. As used in this report "Trophy Area" refers the portion of Branson's Lake Taneycomo between the mouth of Fall Creek and the base of Table Rock Dam. It is the primary wade fishing area, a trophy management area and has special regulations and limits in effect within the area. Natural baits, Gulp and soft plastic baits are illegal in Trophy Area. but ok for the other 19 miles of Lake Taneycomo.
Lake Taneycomo Trophy Area – Fly Fishing – by Carolyn Parker, River Run Outfitters
Branson had a pretty good rainfall over the weekend. My grass is now green! We will take every little drop we can get.   No more rain in the forecast after today, but the temperatures look like they are going to be in the mid 90s for awhile.  This makes for a little more comfort on the water when we're fishing.
The generation is still a pretty similar.   We had up and down, low one to low two generators Saturday day…all day.  Sunday the generation was off until the afternoon when it came on for a while.  The pattern seems to be Bulls Shoals one day and Table Rock the other day.  But, on the days it is off at Taneycomo, we get plenty of wading time in the morning.  Also, with the low one, you can still wade many places.
Fishing has been tough the past few days.  We are catching some fish, but really having to work for them.  Usually the day starts with no generation and we are fishing size 18 zebra midges in the following colors, either the copper bead black, primrose and pearl, copper dun, or ruby.  We are also stripping the CQ sculpin with a 2.6 ips sink leader with success most of the time.   When the generation is on, we are fishing the Big Ruby at about 5 feet deep, and sometimes dropping the size 18 ruby from that.  That is not much different than what we've been doing for a month.  But it works!
River Run guides were in teaching mode last week because just about every trip was for folks wanting to experience or learn about fly fishing.   We might have worked hard at catching the trout, but everyone had a lot of fun learning to cast and succeeded in landing some fish.   It is downhill through summer now, and so we hope to see you at the fly shop and out on the river.
Submitted by Carolyn Parker, River Run Outfitters
Lake Taneycomo – by Eric Prey, FocusedFishing.com
A variety of techniques are being employed to bring both numbers and quality Lake Taneycomo trout to the boat from Fall Creek all the way through Branson. Fishing guides have been using a one two punch of marabou Zig Jigs and small jerkbaits to fool trout early in the day. Cast either lure close to wood cover and docks and work them back with an erratic retrieve allowing the jig to fall and the jerkbait to pause to draw strikes from Taneycomo trout holding tight to cover.
As the sun comes up most Branson fishing guides are switching to a Trout Magnet or a marabou micro jig fished below a float. A six to eight foot leader below the float is key to draw strikes and the less you work the rig the better.  Natural colors link ginger, brown and olive have been best on the micro jig and mad dog, brown and black have been producing with the Trout Magnet.
As the sun rises higher in the sky swith to bottom hugging presentations to keep the Taneycomo trout biting. Live night crawlers and prepared egg style baits from Gulp and Power Bait have been the ticket on a drift rig. Without much current it is important to slowly move the bait along the bottom to draw strike, less is more in this situation a retrieve should take at least a couple of minutes.
When the bite gets really tough a number of Branson fishing guides have been resorting to weightless presentations to keep the action going. Live crawlers and prepared baits fished on two pound fluorocarbon line with only a swivel or bb shot for weight have been fooling some of the most wary Taneycomo trout. Be sure to adjust your drag accordingly when using the light line as better fish will make several runs before coming to the boat.
Submitted by Eric Prey, FocusedFishing.com
Don't Miss Eric's Tournament Fishing Radio on ESPN 1400 AM Springfield
Mondays 5:30pm and Saturdays 5:00 am or on-line at www.espn1400.com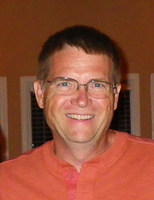 Lake Taneycomo by Phil Lilley, Ozark Anglers
It's August already.  When I was in school, in my younger days in Parsons, Kansas, I used to think summers flew by and the rest of the year dragged on at a snail's pace.  Now time flies all the time, but summer still seems to go the fastest.  August… already.
Generation patterns haven't changed all that much here on Lake Taneycomo.  The water temperature coming out of Table Rock Dam is still about 50 degrees, clear and cold.  If you wet wade (wade without waders) below the dam,  you'll find out really fast how cold 50 degrees is.  It makes the bones your feet hurt.  The water quality and oxygen content is still good and our trout are in great shape.  The rainbows in the upper lake look to be well fed–big and fat….ng this link.
In the mornings with the water off, it's been a little tough getting the trout to bite–but not impossible.  This morning, for instance, there was a small thunderstorm in the area and the wind was blowing slightly.  It was enough to get the fish biting early and a lot of anglers did well.  Power Bait nuggets and Gulp eggs using yellow, orange or pink have been working fairly well, as well as air-injected night crawlers, which are working the best.
Only use half a worm, hook it one time in the middle, and then hang it off both sides of the hook.  Shoot air in it with a worm blower (available at Wal Mart or a tackle store).  The worm will then float off the bottom as an enticing bait.
Above Fall Creek, there seem to be a lot more trout up there than in past weeks.  I've been up there a few times this week and have  just seen more numbers while boating around.  Conditions dictate how you fish up there:
In the early morning when there is no wind, and it's very still and  foggy,  use a float and something under it; an olive micro jig, copper head or a ginger micro has been working well.  A small #18 rusty zebra midge or a black zebra midge is also good,  or throw and working a 1/16th- ounce sculpin jig with no float.  With all of these use small line – – 7x leader or two-pound line, preferably fluorocarbon.  The bite will be slight and you really have to watch.  Sight fish if you can . . . lots of fun.
Later when the wind picks up, fish the same way but you try hoppers, stimulators, black ants and beetles along the bluff bank and under the trees.  The chop on the water breaks up the surface enough that the trout can't distinguish between a real bug and a fly, plus the wind blows insects into the water so they're looking for them.
After the generation starts, try a pink full micro or marabou jig under a float six- to  seven-feet deep and drift it from Lookout to Fall Creek.  Stay close to the channel in deeper water.  Also try throwing small to medium stick baits along the bluff banks.  And don't forget that marabou jigs, 1/8th-ounce in black, brown/orange, sculpin/ ginger or white worked deep along the bluffs and in the channel from the dam down through Lilleys' Landing are working very well.  Work them slow and deep….
Fly fishing below the dam: there are a bunch of trout up there right now.  Early, they're a bit particular, especially if there's no wind, but once the wind starts and there's a chop on the water, strip a #18 crackleback, soft hackle or wooly on the flats between outlets #1 and #2, below #2, below Rebar and at the flats at Big Hole and at Rocking Chair down through the chute below the Missouri Department of Conservation boat ramp.  Also, try black ants on the surface if there's a chop.
I fished for an hour this morning just above the boat ramp.  At times the wind was blowing pretty well,  and when it did the trout were eating off the top aggressively.  I had a flesh-colored  HiViz Rainy's hopper on the line from fishing it the other evening when I arrived at the water's edge.  Since the wind was blowing  I threw it out there and immediately got a blow up –  but it was a miss.  On the next cast there was no miss as I hooked a pretty rainbow…  The wind quieted down and I had no more takes, so I started changing flies to match the conditions.  The wind had me hopping (pun intended), but  I did find the trout would take a red #18 soft hackle, then a #24 red thread midge, but it was slow.  I only brought two to hand, but still, it was a rewarding trip.
By the way, we just got a huge hopper (grasshopper) fly supply into the fly shop.  They look awesome!
Submitted by Phil Lilley, Ozark Anglers
As part of its continuing commitment to serving the community, Branson Tourism Center (BTC), one of Branson's largest and most respected sellers of vacation planning services, Branson show tickets, attraction tickets and lodging is proud to sponsor this fishing report, the Central Pro-Am Association and K.A.S.T. (Kids Are Special Too). BTC can be reached by calling 800-785-1550 or by visiting their website www.BransonTourismCenter.com. The Central Pro Am Association, through such sponsorship and that of Ranger Boats and Mercury Marine,is pleased to participate in furnishing this report to those fishing the Branson Tri-Lakes area.